To Skye!
We are glad to leave Durness and set out to Skye. These past days a storm has
been raging. Damages were limited but the TV failed. We did not mind much as the
heating in the parlour did not work anyway and so we did not need TV-evenings.
Many years ago we have been to Skye already, with backpack and by train. In
those days there was only one ferry from the mainland to the island. By the way,
there still is a ferry - the last and only rotation ferry of the world. More to follow.
We start with surprisingly fine weather.
The landscape is flying and offers any number of interesting sights. This route
certainly is one of the most beautiful of Scotland. We pass the long Kyle of Durness.
A little over 160 miles are ahead of us.

Once more one of those lonely rides we do like so much. We meet few vehicles and
the scenery is gorgeous.

Partly straight and open, partly rollercoster. Something for every taste.

In between the weather changes its mind and everything drowns in pouring rain.
The saying that in Scotland every glen has its own weather is unfortunately not true
today. It's raining all over.

When the reain ceases a little, we reach another highlight: the bridge of Kylesku.
What a mighty, majestic construction!

WhatW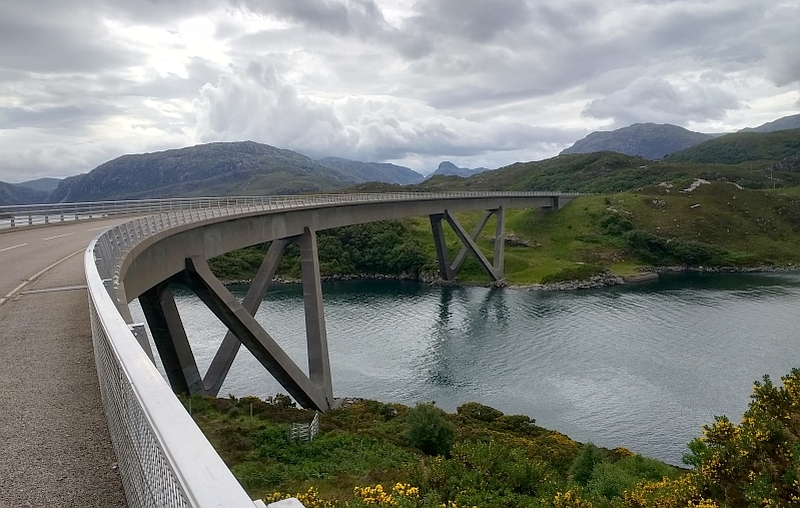 It crosses Loch Gleann Dubh and connects Kylestrome and Unapool.
By now we approach our first stopover, Ullapool at Loch Broom. But before this we
will pass Ardvreck Castle...

...built by the McLeod Clan end of the 15th century, this castle ruin is situated on a
peninsular in Loch Assynt.

The rain just will not stop and we are glad to reach the small coastal town of
Ullapool. It's a charming place but in rainy weather and without a roof over our
heads we prefer to postpone a longer visit to another time.

Closer and closer we get to our destination and the permanent rain has no chance
to spoil our good spirits. Now however we have to take care as we are on the route
of the 'Celtman Thriatlon' and many soaked bikers are on the road. There are
sports I'm not really keen on.

At the 'Celtman' you have to swim through a loch, run 23 km across high plain and
mountains and make 200 km by bike. However, anyone wishing to list: Celtman
Behind Kinlochewe the bikers turn off - and soon we see the long wished for sign
indicating Skye.

Arriving in Kinlochewe with a first view at the Skye Bridge.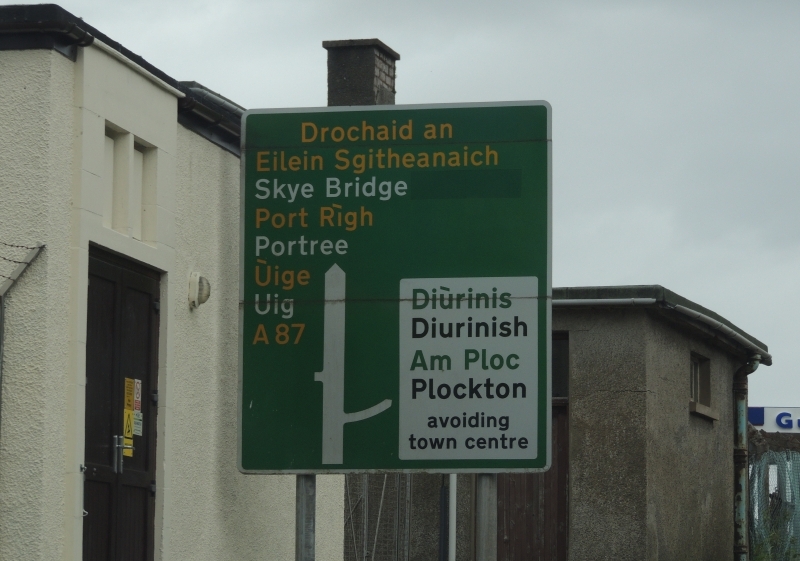 As mentioned before, on our first tour with backpack and tent this bridge did not yet
exist, it was only finished in 1995.

The total length is 500 meters with a passing height of about 30 metres.

A few miles only and we cross the bridge. Our next stop will be the small town of
Broadford to get supplies.

Roads are obviously better here. Financing is mainly due to EU-funding (Hear that,
English Parliament?) as so many things here in Scotland or Wales and England.
And now we made it!And
A pleasant surprise is waiting for us. Different to our former cottage a fire is burning
in the fireplace. And in the kitchen a welcome tart - 'Victoria Sponge' - is expecting
us.

That's quite something to start our Skye adventure!