Old Man of Storr
The weather increased and today we take ourselves to Portree which we remember as a small, romantic place at Loch Portree.
Passing waterfalls on the jammed roads of Skye. Roadworks all over.
Then the route becomes more open and we reach Portree.
Time had stopped here betwen black cliffs and several mounds.

Already in early medieval times the Irish monk St. Columba is said to have preached in Portree. Therefore in old times the bay has been called. Eilean Choluimcille.

For a long time Portree was nothing but a small pub and a few houses. Only with Sir James, the 16th clan chief of the MacDonalds, who in 1766 at the age of 25 found a tragic death in Rome, this place became of more importance.

Portree is the tourist centre of the Isle of Skye and overcrowded in summer. Especially during the Highland Games in August, the greatest regional event, accomodations are booked out in the area. In 2017 there even was an official recommendation that travellers should book their accomodation long before their arrival - after tourists without rooms turned to the police stations for help.

We visit a few shops before setting out to our actual destination, the Old Man of Storr.
Our jam warning device give alarm: a giant jam ahead of us. When approaching however, the jam shows to be a great number of cars parking left and right along the road on the peninsular of Trotternish.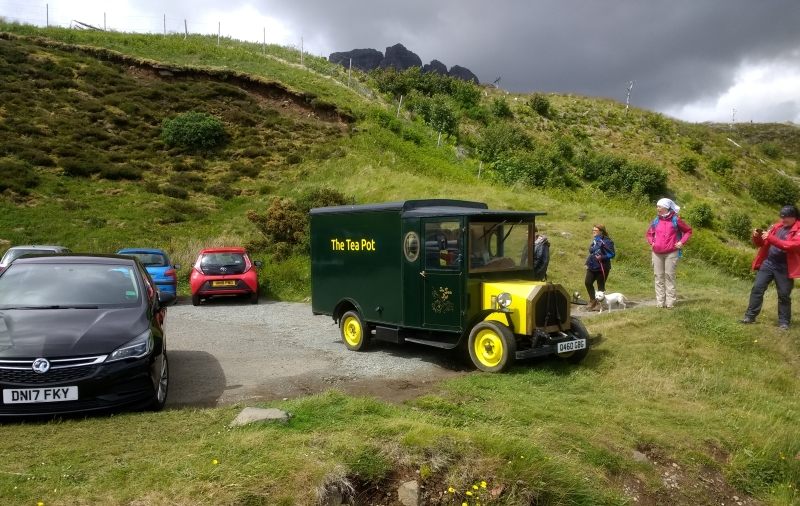 There are snack bars and many crazy vehicles. Several hundred hikers are already here to pay a visit to the Old Man. That much to independent travels.

We certainly will not meet dinos during our ascent... Like most of Skye the peninsular of Trotternish consists of Tertiary basalt, resting on the older Jurassic sediments.

After finding a parking space we walk with the crowd.

It's a few kilometres and of course constantly uphill so that the crowd of adventurers by and by splits up.

Every minute the outlook becomes more interesting, below we can see Loch Leathan.
The path is rocky and steep, several sandal wearers have given up early. The word 'storr' has old nordic origins, meaning 'big' and also 'peak'.

Close to the Old Man are further rock needles who occasinally are called his family. His ex, the rock needle formerly called his wife, has however collapsed years ago. Legend will have it that an old man and his wife were looking here for a run away cow. They met a giants and fled from them. When they once looked back, they were petrified.

Sunlight in a fascinating play across the scenery.

We are almost there, 719 metres high Storr in front of us. Because of the rather brittle basalt it cannot be recommended to mount the Starr - but after the walk we don't have the breath for that anyway.

You clearly see the 'face' which may however differ very much, depending on light and shadow.

The Storr looks like a giant menhir...

Back we go, passing panting newcomers. Quite warm today...