Fossen and Glacier

Five years ago we visited Norway for the first time, unforgotten the overnight stay in Haukeliseter Fjellstue, more than 1,000 met high. Once the workers slept there who built the train connection Oslo-Bergen bauten. Today lots of hikers go there.

Haukeliseter was not on our menu this time. Anyway, we once more took the ship from Kiel to Oslo.

Our actual schedule is the Flam-Train, the visit of a glacier and the cableway to the Ulriken in Bergen as final highlight.

The breath-taking view from the Flam-Train again and again is interrupted by one of the many tunnels which add up to one third of the 20 kilometres route. Actually this is one of the most challenging and spectacular routes of Europe.

It took more than 17 years to establish this steepest adhesion railway on standard gauge. The construction swallowed 26.5 million Kronen, a tremendous sum in those days. 18 of the 20 tunnels were dug by hand. The vertically towering mountain wall in the upper part of the valley was an absolute challenge for the engineers. To overcome the big drop the workers drilled a turning tunnel within the mountain. In four storeys on top of each other a train spirals up from sea level to a height of 866 metres and the mountain village of Myrdal.

We met Hulda there, who according to legend abducts men. Later on she will dance in her red gown at the Kjosfossen waterfall. Luckily nothing happened...

We shall then proceed to Nigardsbreen to see a glacier.


Starting from Kiel, the passage by ship will take about 20 hours.

It's there again: The prickle in the stomach when the ship lands at the terminal.

One last glimpse, where are the most important documents? Where we put them, of course, everything is all right. What will the cabins be like? I think that first of all I'll lie down on the bed to drink a Coke... Once more I check my pockets... Yes, there's the chip card for the cabin, together with the dinner menu card. Now, when shall we start? Six p.m.? Good, I'm looking forward to it.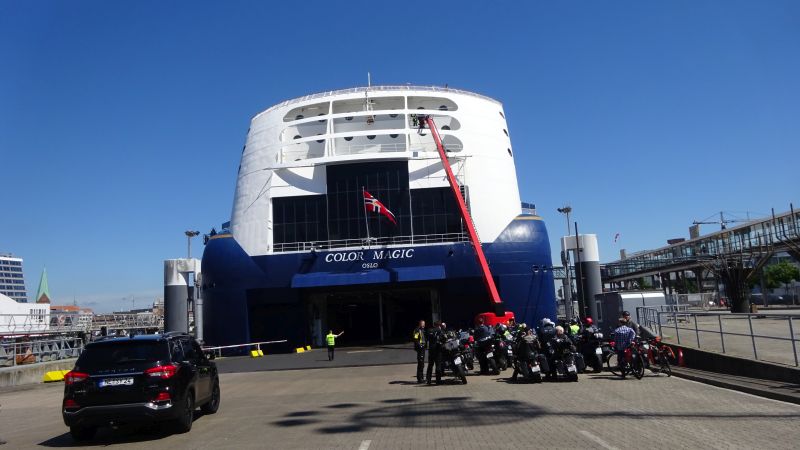 The ship is already unloaded, we are in the first car line. Very good, that way we won't get into the crowd of the other passengers. With horror I remember many a voyage when we were in the jam of the cars and their relaxation addicted passengers and had to squeeze through to get out. Unforgotten one time when a fat woman right in front of us laboured up the stairs, carrying bags left and right. It's recommendable to memorize the exit number, a mobile shot will do. Anyway, being the first ones today, everything is much easier.

We take along a small backpack with the overnight necessities and get going to the 9th deck. A staircase takes us out and we make use of the lift as long as there is a chance. Only one family is waiting there and we get in. The lifts are fast, we reach our deck at 12.30 h, much too early. But once more we are lucky and the chip card already gives us access. The ship however is to leave Kiel harbour only at 14.00 h.

So we first of all make ourselves comfortable before starting the inspection of the ship.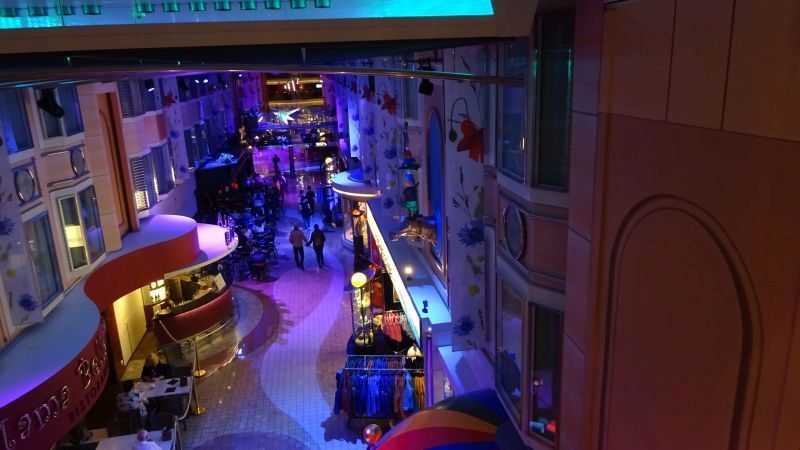 From an earlier trip we know that this ship can boast of a shopping mall. Everything you desire and which is absolutely useless you can get at inflated prices - from lobster to perfume. With some nostalgia we remember our passages to Scotland which were not half as posh but certainly more genuine than all this bric-a-brac.

Uncomparable to our first passage from Kiel on a Polish ship with inner cabin. Meals on that ship certainly were 'genuine', tough schnitzel and giant potatoes blinking at you were much more of an adventure than this.

By the by, better do not book a cabin right beside the Mall on the ship. You are in the middle of life - but who wants to be every night?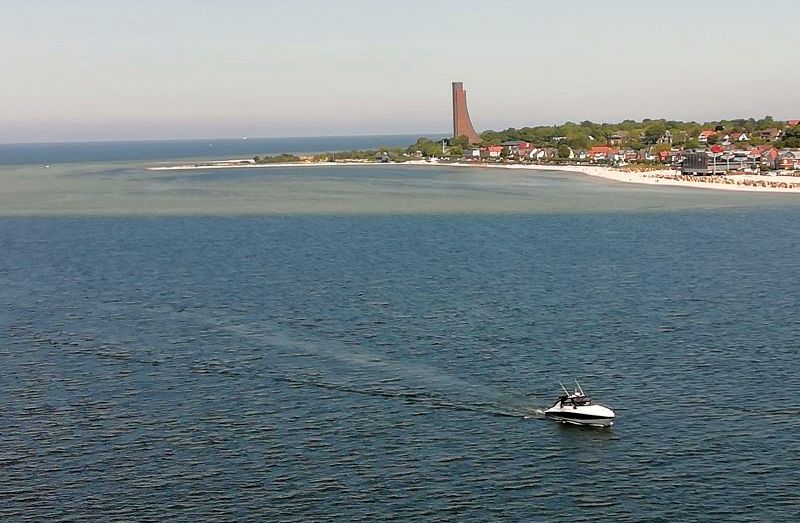 Spirits on board are excellent of course. For most, Corona no longer seems to exist, we belong to the few still wearing masks. The weather is just glorious but not too hot. We withdraw to our cabin and fall on the fridge.

With lots of Coke and seltzer we celebrate our first day on sea. We are passing Laboe and the permanent submarine which we can make out easily from the ship. That is the U 995, German submarine of the former Navy, Type VII C/41, which was committed in WW II. In September 1943 it was put into service and had 9 missions. It was constructed at Blohm und Voss.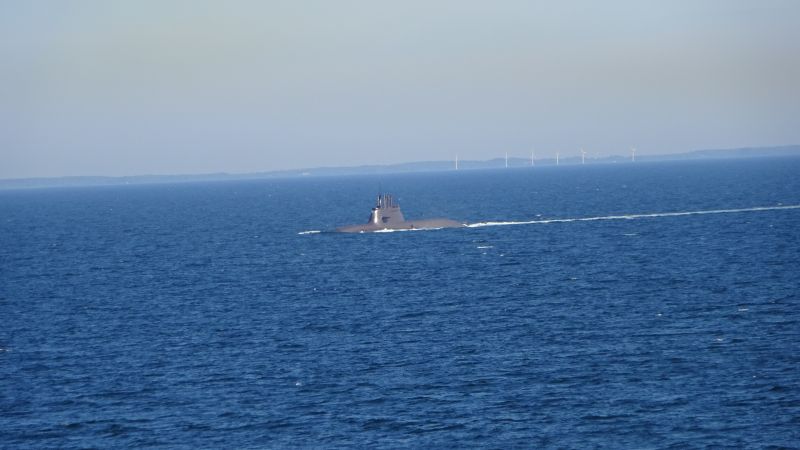 Soon we are accompanied by a real submarine. We are a few miles offshore and probably this is one of the submarines joining in a big NATO-excercise since beginning of June. In these weeks more than 45 ships and 75 planes as well as about 7,000 soldiers take part.

As we all are friends and you don't shoot at your friends, the submarine turns off sometime and we move to Deck 7 and Dinner Buffet.

Once more there is abundance in abundance and while the ship passes the first Danish islands, I consider that this might be the last time for tucking in. Like on the ferries to Scotland where the last continental meals were to get. Who would know whether in near future nothing but fish or moose or dried fish is waiting for me...

The sea is calm and we have a quiet night.

Also on deck there is a quiet evening mood. Tomorrow morning we will be in Oslo.

We have a very pleasant cabin, even if you always have to get used to the temperatures in a ship cabin. Not the best air condition can help there.

Finally we enter the fjord of Oslo. The deck is well crowded, no one wants to miss this moment.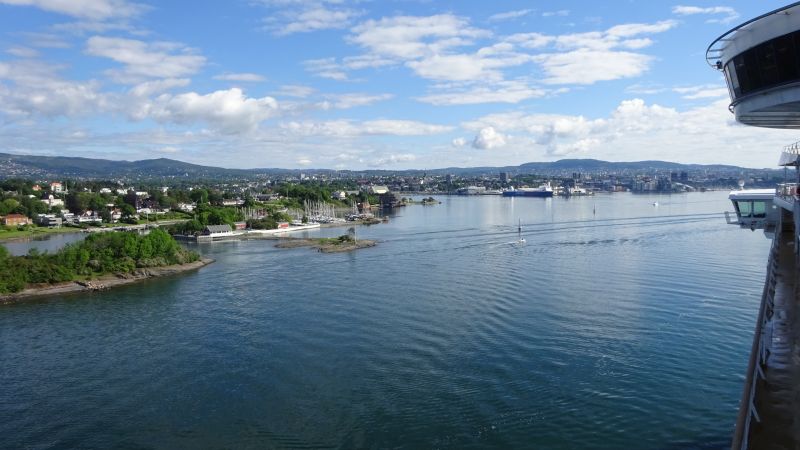 At 10.00 a.m. prompt we are mooring. Like all the others we are in the car of course and when finally the hatches are opened, we can leave the ship. Following a marked route we drive down the Filipstadkaja. We have our documents ready but no one wants to see them. So we proceed down the Filipstadvejen and to the E18.
After a few minutes drive we reach the E16 at Sandvika, our gate to the Sognefjord.
Start as start can! We are on the correct route.

We reach the first of many tunnels. The first highwayman on our journey. Weeks later and looking at my bank statement, I see about 20 debitings of a certain DZ Bank.

While in Germany everyone talks about digitization and every politician sticks in his half-finished oar, we find that in Norway that they all are a mighty step further. As years ago we listed with Euro Parking, we are automatically registered. Even on ferry passages we need no coins but are cashed up in a charming digital fashion.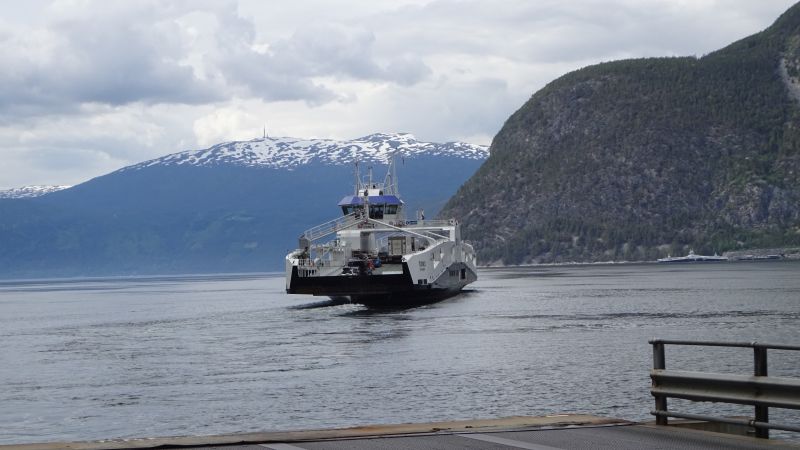 Our navi took us via the 52 across the Hemsedalfjell, suddenly we are among mountains with snow and lakes covered withe ice. Rather cold here with a strong wind.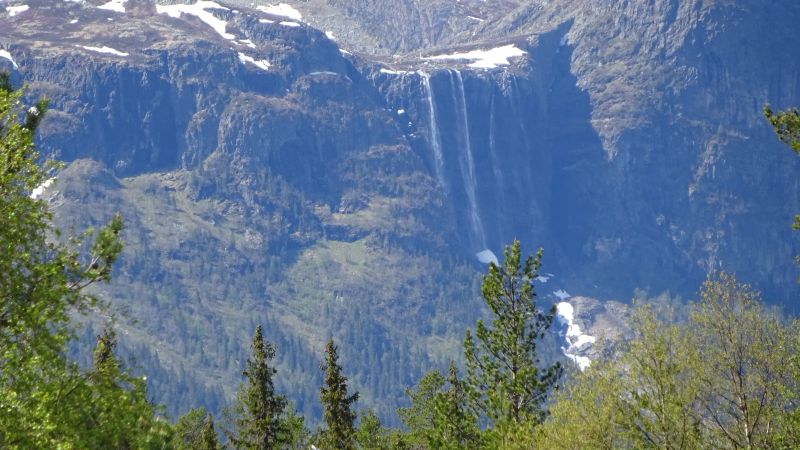 On we go and reach a plateau reminding me of the region around Haukeliseter Fjellstue. A few cottages can be made out at the like and remind me all the more.

If a moment ago we passed a green landscape, everything looks grey and cold here. But somehow it is beautiful and we only proceed after we are chilled to the bones.

One last tunnel and we made it...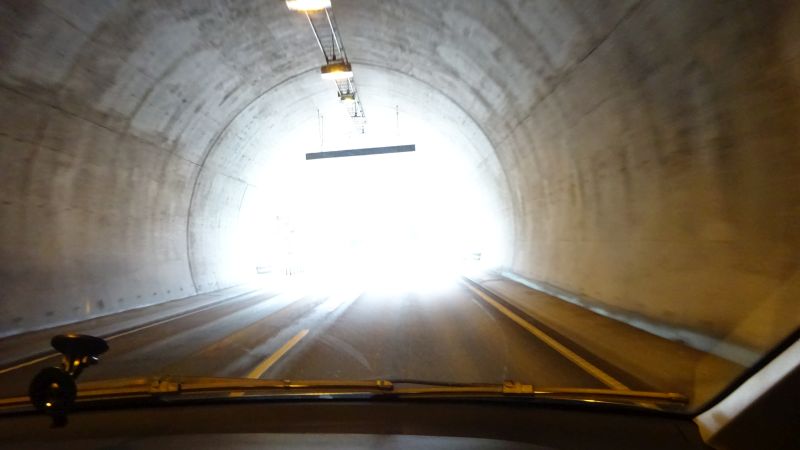 Finally we are where we wanted to be: among mountains and waterfalls. We reach Naddvik, our destination.

At first we happy about the big TV until we realize that we don't understand one word of Norwegian. However, my laptop can be connected to the screen and the VPN-solution makes us see everything we also can understand.