The first Time
Endless widths, one feels being carried back for centuries. That's how we imagined Scotland to be. We were looking for independence and adventures. Destination: Loch Ness. However, everything started many years ago at the interstate service area Stillhorn, where our hitchhiking tours usually began..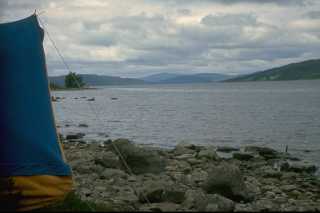 It was the last day before the summer vacations. We had sent the school reports to our parents by mail (which certainly was the better idea!) and a classmate, Holger R., drove us with his VW beetle to the roadside restaurant Stillhorn. As we expected: Lots of other hitchhikers slobbed about due to the beginning of summer vacations. They all wanted to be given a ride to the south. While I tried to get a lift by thumbs, Michael K. took the chance to say goodbye by telephone to his various girl friends. On his way back from the telephone box he ran into a gentleman in his forties, who just emerged from the service area, and immediately asked him for a lift. Much to my friend's surprise the man agreed and approx. 15 minutes later we went off in a grey BMW to the direction of Brussels, much to the envy of the other trampers, who actually had been standing at this petrol station for hours. We had the uncredible luck of getting a direct lift to Brussels in a very speedy car.
We reached Brussels in no time and then a middle-aged man, who very obviously was a gay, took us along, all the time trying to invite us to accompany him to his apartment. While we did by no means fancy his offer, he saw two other young male trampers by the roadside, which wanted to go in the opposite direction. After a short stop and some words changed with them, he drove on with us about a mile in the direction of Ostend, told us to leave his car and drove back, trying his luck with the other ones. By now we were getting tired and urgently needed some sleep. However, first we had to reach the ferry from Calais to Dover. The passage was everything but comfortable, but with a good sleeping bag one can sleep on an overcrowded ship on the floor. England welcomed us with exceptionally bright sunshine. All in all we had a super summer that year. As we were told later on, there is a saying the every 7 years there is a sunny summer in Scotland. I am convinced that there is some truth in this rumour...
From Dover we took the train. As matter of fact, we were glad not to have to hitchhike through London. After about one hour we arrived at London early on Saturday morning. An aunt and uncle of mine had invited us. Since it was much too early in the day to go to my relatives, we hung around in the street, swiped freshly delivered milk and roll, settled on a wall next to a typical neat English garden and started breakfast with a good appetite. After a few minutes the owner of the garden appeared. Kindly, but firmly he shooed us away. Sometime later we arrived at my relatives, who welcomed us very cordially. We took a shower, and breakfasted with the family and their children. Afterwards we drove with 2 cars - one of it was a thick Rover with a 3.5 litres machine - to a Safari park north of London. Like 8 year-old urchins we climbed in gigantic oaks, visited a small pleasure park (merry-go-round) and had each our share of fun. During the following days we roamed the streets of London, we played tennis (the first tennis match of our life), discovered the Cider and got sunburned, for the weather was incredibly well.
I almost overslept the continuation of our journey and that had a reason. There is, namely in Great Britain, one thing which really tastes incredibly good: Cider. It is a kind of German Äppelwoi, that is apple juice with soda water and some liquor. A wonderfully refreshing drink, but take care! We had supplied ourselves the day before with one gallon (approx. 4 1/2 litres) of Cider and wanted to bring back the empty bottle before leaving London. Actually it was my successful self who drunk up the remaining 2 litres just before our departure. The continuation of our journey that day I can hardly remember. My relatives took us to the M1 by car and there I lay down peacefully in the grass and fall asleep. Michi stopped a car meanwhile, woke me up and we went on in northern direction - THE NORTH! Without problems we went on to Carlisle.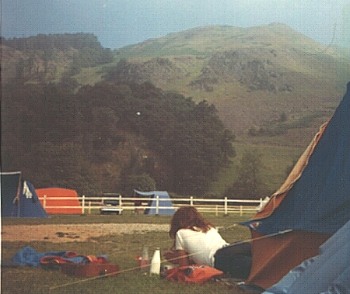 We got out our spirit stove and beans from the can. Who does not like Heinz-Beans with tomato, has never been really hungry, in any case they fill up the stomach. One sight will be unforgettable for us: well-dressed gentlemen with briefcase - hitchhiking. Obviously completely normal in England! While we were cleaning the dishes, we saw a blue van. That is in fact nothing particular, but a trained hitchhiker sees immediately whether a car has enough room for a pick-up and whether the driver is one of those who likes company. So we met David. David was happy to take us and we stowed away our rucksacks in the back of the car. We were lucky, for David wanted to drive on via Glasgow and then to Sterling, i.e. Scotland! David talked much on the next two hundred miles. In fact he had much to tell, for he was an agent for lingerie. After somewhat more than 100 kilometres we reached Glasgow, where I bought a large bottle of ghastly red lemonade. It tasted like sugared water and David was the only one who acquired a taste for it. The landscape had changed now - the first mountains appeared. David laughed scornfully: Mountains? That are molehills! When we arrived at Stirling, David took us to a very beautifully campsite which belonged to his friend.
Although it was quite late already we got a place at his friend's, who even arranged it somehow that we found a bag with fresh rolls and two bottles of milk in front of our tent the next morning. And this after David during the trip had provided us already lavishly with drinks and snacks! Our stupid prejudice against misery Scots was soundly shaken! We started much too late that day and arrived in the evening at Aviemore, where we bought a delicious bag of fish and chips, with vinegar of course. Afterwards we went to the riverside. We got out our sleeping bags and spent the night there. Since the river in the night submits the heat stored over the day, it was pleasantly warm. Naturally there were some midges, but if you have a pal who attracts the midges, it works fine (doesn't it, Daddy?). Next morning I had no bites at all while my friend Michi got all of them.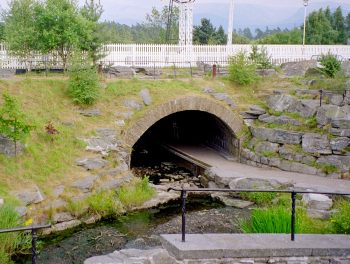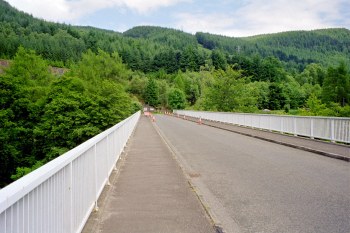 When studying the map, a small place seemed to call our names. It lay hidden in the Midlands and could only be reached by a long, narrow street. On the other side there was a moory region. This place seemed to attract us magically and so we postponed Loch Ness to another year and went back to the Bridge across River Gary near Pitlochry. Actually this bridge is hanging at least 50 meters high beyond a river. A fantastic view, which in my opinion is even greater than the famous Queen's View. That was a place to where we had got a lift by a couple with children. During the short drive to Queen's View those kids looked at us as if we were aliens. We finally arrived, everything was quite nice, but otherwise we did not think it of interest, except when one makes the steep descent to the River Tummel for a bath. Of course we could not resist and climbed to into the icy waters.
We tried to catch some trouts by hand, but after we were both blue like the water itself, we altered our menu for that day and climbed ashore again. 40 kilometres to go to Kinloch Rannoch and our hitch-hiking luck left us. Even a driver with a flat tire, whom we assisted with the installation of another one, did not give us a lift - how really galling. For that reason we started to play a dirty trick on all those motorists who did not take us along. We found that the signs on the road were moveable and started to turn them just into the other direction. A sign, which normally showed the direction of Kinloch Rannoch, now lead the traffic to a small village which lay just a few miles in the opposite direction.
After we exchanged the positions of the signs we were highly amused about the stupid drivers, who came back in a dark mood some minutes after returning from the small village to which we had sent them. Finally we got tired of the game and resumed our walk to Kinloch Rannoch - at least we crept into that direction for the sun was burning really hot.
Unforgettable will be these endless, skilfully stacked up stonewalls we passed, our heavy rucksacks, the heat and a charming couple we finally met. They were kind enough to get their car and drive us the last kilometres. We were very happy about it, for on the one hand it was really hot on this day, on the other hand each of us had to carry a weight of approx. 30 kg. I have learned on this day that on the backside of the rucksack no hard objects (like cans) should be stowed… When we finally arrived, we heartily thanked the friendly couple and went to fresh up the supplies. Then we left Kinloch Rannoch, a small, pretty place with 2 small shops and 2 pubs.
On our further way we met a man, who camped near the roadside. Beside him stood a brand-new Moto Guzi motorbike. He was perhaps 60 years old and immediately invited us to tea, served in old cans, in which a few minutes ago he probably had kept some earthworms for fishing. Michi suggested to better drink the tea than to get into trouble with that man... Therefore we spent some time drinking tea with him. We were deeply impressed: in that way we would fashion our retirement age, too. On we went on a small street to the south side of Loch Rannoch. From now on we stopped thumbing for cars, since firstly there were no cars and secondly now it was time to find a good place for our tent. 'Wild camping' is no problem at all in Scotland. Once only in later years a forest ranger visited us. He restricted himself to ask us to leave everything behind as we found it, but that is self-understood!
Finally we reached our destination shortly behind Carrie and pitched up our tent under a beautiful, old pine tree, barely 3 meters from the shore. We could take the daily-required water from Loch Rannoch, but to purchase some fresh food, it was each time a tour of almost 30 kilometres to the next town and back. Small wonder that visits to the pubs were frequent and we often came back to our tent very late. Today I still ask myself how we managed to bring all supplies back to the tent in one piece, considering our condition. As already mentioned, cars rarely passed here. However, one day, as we were again on the way home, a car stopped beside us. A window was opened, a smell of whisky met our noses and one of the four inmates barked: "Are you English?" When we denied this, we could board and were driven right to our tent.
All those days were like a dream, fulfilled with the feeling of unlimited freedom, which occurs quite seldom in life. The romantic evenings we spent at the campfire, baked beans and grilled sausages, the noise of the jumping salmon or trouts in the early morning, all these adventures impressed ourselves heavily for the rest of our life. Not far away from Talladh-A-Beithe. Despite the truly long way home we have spent nevertheless many evenings in one of the both pubs of Kinloch Rannoch. There we got used to the ultimate kind of horror, such as the announcement 'last order, please'.

The weather remained dreamlike therefore we decided to swim through the Loch Rannoch (approx. 2 miles). Because we wanted to cross the Loch once only, we went to Kinloch Rannoch (I believe, the last part of the road we were taken along by a car). Then we would swim from the north side to the west. The plan consisted therein, to swim from the opposite side directly to our tent. At the corresponding place arriving we noticed a parking Austin lorry, which belonged apparently to a large family. As it turned out later, it was the family of the Bishop of Perth and some friends of the children. Both of his daughters were very attractive and, considering their ages, fitting to us. How usually we came immediately into conversation and told also about our plan, to pass the Loch by swimming.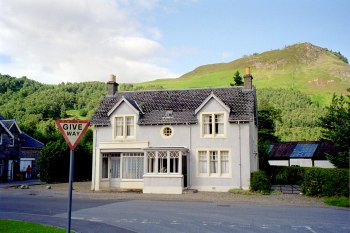 The Bishop himself wanted to accompany us with his boat. (Everyone called him by his pre-name, so we did, too.) Although we had refused heavily this request at once ('Really not necessary, we are very good swimmers'), he consisted on his project. First of all we had planned to undress ourselves up to the underpants, to bundle and to tie up, so that they would not hinder us on swimming. Conditionally through the presence of those lovely femaleness and because we were no convinced of our optical attractiveness of our underpants, we jumped fully dressed into the water. Michi wore among others his beloved, extra-large, grey pullover, which after short time led to the genuine problem, that the clothes were as heavy as an anchor. The first 200 meters of our trial must have worked exceedingly impressively. We crawled like sprinters and were using breaststrokes practises.
After that indeed we got more slow from minute to minute and I noticed that my leg was starting to get lamed after about 10 minutes or so. To be fair, that was welcomed by both of us so we gave up our attempt and climbed into the boat. The Bishop brought us back to our tent with the boat, inviting us to visit him and his family at his resident at Kinloch Rannoch. He and his family were living there in a house belonging of the church. This house was to be found in the centre of Kinloch Rannoch, shortly behind Mckeracher and McNaughton. Just because of the nice girls we already in the evening visited the Bishops family, immediately welcomed like members of the family.
Of course we should stay for the night after meal - fish straight out of the Loch Rannoch. The next day we were driven to our tent to get the sleeping bags, clothes and necessities and then we finally moved into the Bishops house. However, there were no communications problems but lots of fun between young people as we were. We played games, talked to each other, told each other jokes, learned about each other and had a fine time we never should forget. Since I did not know that Michael Hare Duke was the Bishop of Perth I had a long discussion with him about god. Formerly I did not believe in god so we discussed until late night. What a patient man! Meanwhile my point of view regarding god has changed completely.... Generally, we had a crazy time, perhaps the most beautiful in our life.
Unfortunately time was passing much too soon and our fine Scotland trip reached its end. Meanwhile the weather had changed and it rained cats and dogs, which was a bad precondition for hitchhiking at all. Who likes wet trampers plus their wet luggage in his car? Thus we needed for the absurd distance to Perth a full day, which indeed also lay at our late start. Still I remember a small park ground, on which a telephone box was. Suddenly a car held and a man got out to phone. In the car his wife and a child were sitting. After the man had finished his telephone call, I addressed him and told him the sad story, that my friend and I would wait already since many, many hours, almost already since days and would have to go completely urgently in a families affair to London. The man himself was not sure of giving us a lift, but the other ones appeared to believe the sad story and finally we got a lift. I felt deeply troubled when Michi came with his luggage thanking the man and mentioned, that we stood already over an hour there...(done well, Michi!). Therefore we went on finally to Perth. There we arrived, always still wet and always a strong rain was falling. We went into a Fish and chips restaurant, which was going to be closed pretty soon, since it was already late. The further course of the night appeared to become awful for us. However suddenly someone turned to us, approximately as old as we, sitting amongst a group of friends of him at the table next to him and raised the question of all questions, namely: 'Any idea where to sleep tonight?' His name was Hugh and after we confessed being temporarily homeless, he offered us, in the cottage of the people of the other table, Will and Dempsey, to spend the night (they did call their dwelling ´Hacienda´ and that name really fitted!). Even our backpacks were taken off us on the way to our new promises.
Hardly arriving there, our shoes were torn off immediately from the feet and stuffed to the faster drying with newspaper. We were offered immediately a hot bath in their comfortable bathroom and we were ourselves rather sure, that we were going to be robbed either or raped at least, presumably however both of it! After we had a bath and got dry clothes, there was time for an excellent dinner and the slowly adjusting comfortable warmth in our bodies became excellent by the consumption by one or two rolls with tobacco still. Everything was fine! Again we talked, we heard good music and everything was easy. It was a perfect evening! Next morning, after extensive sleeping, we first of all went to the grocery, which was owned by the mother of one of our new friends.

After that we went back to the Hacienda having breakfast extensively. Afterward one of our new friends lend the car of his mother and we were driven approx. 50 miles into direction of London. After a heartiest goodbye we were again at the road. It did not last long and after a couple of hours London had us again.
Next Year...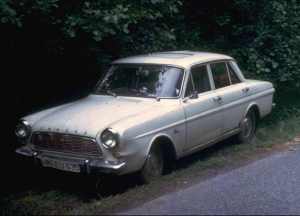 However this first journey was the prelude. Further trips should follow still and already a few weeks, after the boring days at the high school with all its nastiness, we already planned for the next trip to Kinloch Rannoch. After we had made a short side-trip with some girls to Majorca, it was time to go back to Scotland. This time a car and 3 girlfriends accompanied the excursion. The car was an old Taunus 12M P4 which Michi got somewhere. It abounded in defects, however the father of my girlfriend that time owned a gasoline station and managed it in weeks to work finally. We called the car 'Scottie'. Then we met with Beate, Chrischi and Charlotte, packed up in endless precision works all important and unimportant matters and off we went in direction Calais. After lots of 'tea breaks' we finally arrived, looking for a play to stay (since we missed the ferry), got out our sleeping bags and spent the night. In the next morning it went on with the Hovercraft-Ferry to Ramsgate. I still remember how hard it was for everyone to keep the eyes open at this early morning hour.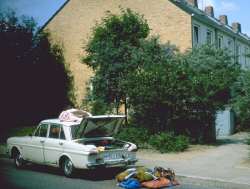 After a short time of travel had we the pleasure, to visit London by car during rush hour. It was a disaster, however we reached anyway the northern part and one again we visited my relatives. After we had strengthened ourselves there, we went on over the M1 in direction north. As we crossed the Scottish border, it was already dark and a look at the backseat of our car procured Michi K. and me the assurance, that our ladies enjoyed the journey in a sleeping mode. We had taken cheer up both amply coffee and something to that, so that neither drivers would fall asleep nor his navigator. Nevertheless I remember exactly, that we surveyed sometime several traffic obstacles and they bowled through the Scottish landscape. Still today I admire Michi's capability, to bring us despite overtiredness up to our destination.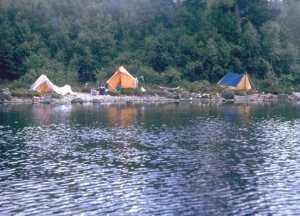 An apparent oversight will not get out of my head. It happened on the last 30 kilometres before Kinloch Rannoch. As Navigator I had constantly had a look at the map and announced my friend the distance. Normally there was never any problem, however this time I misinterpreted the map completely. We landed in the middle of the night in a small village and over a detour went on it then in direction of our goal. It must have been a chance of the fate. If one moves on namely the distance after Kinloch Rannoch straight ahead, so one passes a real 'hairpin bench', which goes rather steeply to below. If one considers the overloaded car (even an infloatable boat we had on the roof of it) and furthermore, that we were fully overtired meanwhile, so am I sure, that the detour has saved us. Personally even a good driver like Michi probablywould have missed the bench in the darkness in such situation.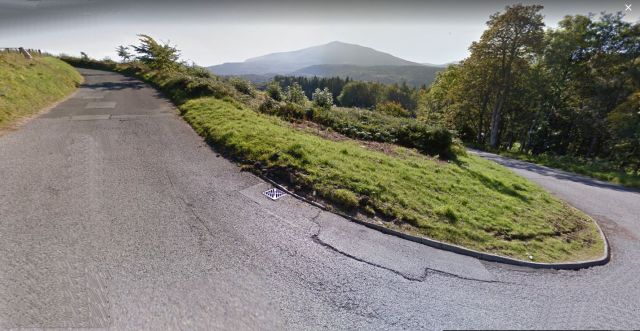 We finally arrived, looking for the next possible place and set up our tents. Immediately at the next day we disassembled and looked for a better place. Who now however would have thought, we could lean back ourselves now comfortably, was wrong. Again and again both of us had to boil water at the fire for ordinary tea. Unfortunately the girls very often drank tea. If one drives to Scotland, one should pay attention already, whom to take along! Again this time the Loch Rannoch fascinated Michi and me to explore the Loch by boat. It was a perfect weather when we jumped into the infloatable boat and set up direction Rannoch moor, enjoying the calm, which surrounded us. Slowly the boat slipped over the lake and we paddled always further up to a small island, Eilean nam Faoileag. An old ruin which looked from extensive adventurous attracted us magically. We kept closed for it and landed finally on a little rocky island and appraised the ruin. Old walls, decayed wood and vast numbers of mitches were not what we were looking for. Suddenly we noticed that the weather changed and we climbed again into the boat.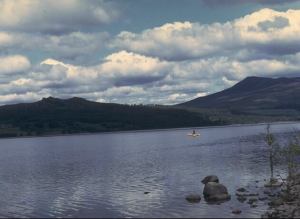 After short time had we a genuine problem: a furious wind had emerged and the waves became higher. Wind and rain came additionally from the front and the journey became always more difficult. From minute to minute the waves hit higher and we already considered, if we should try to row ashore and walk home. I'm not sure whether we were unable to so or if we were too proud, arriving with the infloatable boat in hands at the tents. In any case we appeared hardly to come on further and concluded, that each one of us started to row with full power, until he almost collapsed. Then we changed seats and so it went on meter after meter towards the tents. After a couple of hours the environment of the landscape appeared familiar to us again. I remember however still exactly, that we mobilized once again more power, imagining, that our girl friends were waiting anxiously for us and certainly were looking after us. We pictured out already their joy, as we saw the tents in the far distance. However, much to our surprise nobody was to be seen! Had they gone to Kinloch Rannoch, to have a search operation started? What a big disappointment when we found all of them sleeping in the tents! As already mentioned before, not anybody is worth to be taken on such a journey.
Later on, I never have never met again even one of the girls, the same happed with my good old buddy Michael K. Since these days were unforgettable to be, I tried to find him - or at least his Email-address. It was a hard job indeed, lots of mails I send to different people asking whether they ever have been in Kinloch Rannoch. Finally, there was a mail in my inbox from Michi. With my current Mrs. I have done in the meantime wonderful journeys to Scotland. When our kids grew up, we have often been there again, but that is another story...
So Long, Scotland!