Visiting Scotland by Car
After our first Scotland tour by railroad had been a full success, Martina and I decided to do our temporarily last ride to the 'promised land' by car.
Our journey was to begin at the western coast and via the north back along the eastern coast. With heavy hearts we abstained to take a look at the wonderful island of Skye - there wasn't time enough. By the way, Donovan, a singer whose songs animated me to learn to play the guitar many years ago, lives on this island. Meanwhile a bridge leads from the mainland to Skye so that Skye lost the charm of a real island. We planned to alternately sleep in the tent or turn it at 'Bed and Breakfast'. Our red Opel Cadet which answered to the nickname "Auti" found his first stage destination at Esbjerg. There we stocked up our supplies, in particular with that delicious yogurt Martina favours so very much. Towards afternoon the car ferry took off to the direction of Newcastle. The cabins were small, but comfortable. We made a quiet crossing, passing several brightly illuminated oil-drilling platforms. A fascinating sight for all who still were awake on board.
At the early afternoon we reached Newcastle. At the pier bagpipers played and the Scotland fever awoke again. If I am otherwise seldom permitted to drive myself, from here my wife insisted on it. Newcastle is not large, but if one follows the traffic signs, it can become a long ride. After returning to the same spot three times we decided to follow our intuition and promptly came on the correct route to the northwest. From now on we were enjoying the "roundabouts" every time we met them, those popular circles like in Denmark, only counterclockwise. Our first stop was immediately behind the Scottish border which is nothing but a simple stone rampart. The relationships between Scotland and England which are rooted deeply in the history are documented here by the wording 'Independence' which can be seen at many bridges.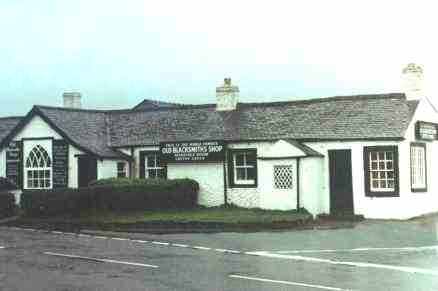 It was not far to Gretna Green and we decided to make an excursion to the best known registry office for weddings of the world. Already centuries ago it was the goal of young lovers who, for whatever reason, did not receive their parental blessing. Here they could get married, following Scottish law, at the smithy. It was a small, low and most unobstrusive building. Suddenly a woman who introduced herself as the responsible state official approached us. She had a problem, perhaps we could help her out. She was on the lookout for "wedding witnesses". On this very day George Philip Hewitt and Lynne Pauline Ash wanted to get married, but they had arrived without witnesses. With pleasure we took over this part and became witnesses to a Gretna Green wedding. For many years we had been in correspondence with family Hewitt, until they obviously moved from Merseyside. Since then we had not been able to get their actual postal address.
If somebody can help, please send me a mail!
We soon left Gretna Green and stopped in a dreamy little town by the name of Corbridge with picturesque houses, where we decided for Bed and Breakfast. For breakfast we were spoilt for choice: porridge or baked beans; sausages and eggs? I decided on the porridge since I know the British sausages well enough. My wife wanted to be on the safe side, choosing fried eggs with ham and sausage. To be honest: the sausages on the island are detestable. On our way along the western coast we discovered a hidden campground near Greenoch. It was located at a hill, some sheep were to be seen in the distance. The tent was pitched up quickly and we looked for and found a cosy pub. From this small restaurant we could observe in the far off bay American submarines, which had their base there. As so often we soon made contact in the pub. At snooker also this year I made
no progress and my attempts to explain the rules of German billard to my Scottish opponent were in vain. Everyone played as best as he could and finally we agreed on a just remis. We came back to our tent pretty late. The night was very short, because after few hours we were roused by strange noises, it sounded like somebody was pulling out the tent pegs. The sheep! Curiously they inspected our tent and we could not convince them to stop that noisy game. Therefore we started off already in the dawn to Loch Lomond. The saying goes that here the currents are so strong that many drowned people are not found. Some people say they disappeared in the submarine grottoes. We therefore did not go swimming and undertook extensive excursions in the hilly landscape.
The further route along Loch Long was a lonely ride to Kintyre. At the end of a long peninsula we came to Machrihanish. Here I found the most beautifully sited pub of the world. We had an overwhelming view to the sea in the twilight. We could hardly wait to continue along the coast. Mull of Kintyre! Who does not know the song of Paul McCartney? Actually, the place is not easily to be found, but when we did we enjoyed the view to the sea. We had expected many tourists, but we were the only ones this day. Probably the other ones had lost their way even worse than we did. On we rode on the beautiful coastal road to Inverary. Concerning Scottish campsites: they are as a rule sited picturesquely and are very clean. This cannot always be said of English campsites. The one at Oban - our next destination - was one which rated outstandingly. You can get lost here, it is quite large. Unfortunately it was overcrowded that day. Therefore we left it after one night and continued our trip to the northern top. The route to Fort William, Mullaig, Bridge Skiel, and further to Poolewe was a real vision. It became increasingly steeper and on a misty day we drove right into the clouds. It's unforgettable to be in the middle of the clouds and all around you sheep are grazing. Unfortunately, a drizzle set in and a good Scottish drizzle can last for weeks.
Our next stop was in Scourie, then we went on to Durness and to Bettyhill. We believed to have landed in another world: a long, vast beach! The campsite was close to it and we spent the evening at a campfire at the beach. A little melancholy, we said farewall to the maybe most beautiful corner of Scotland. However, before we left, we visited Smoo Cave. Via Thurso we went to the northernmost point of our journey. From John O'Groats the Orkney islands are very good to be seen, however, a strong wind is blowing here. Those who love the loneliness, will come back. Now we went on in southern direction to Wick, Helmsdale, and Dornoch. Before saying hello to Nessie, we took a look at Inverness. We left behind us all those shopping-centers with their luxury articles and finally reached a remote town area. Poverty, collapsed houses in which unemployed people lived under unworthy conditions. An oppressing feeling it was, but this was just the other side of Scotland. The aversion of the Scots against the English is not only rooted in the history, but also from the real presence. Scotland has great oil reserves at the coast, but it cannot get any advantages from that. When the oil was discovered, London claimed it for themselves. With the reference that Scotland is part of the United Kingdom and the seat of the same is in London, only English workers were employed. The unemployment rate in Scotland is correspondingly high.
When we left Inverness, hours later the screeching of the seagulls still rang in our ears. At the dockland we had seen a large flock of gigantic doves which reminded us of Alfred Hitchcocks thriller "The birds". After having visited the Nessie-Exhibition near Drumnadrochit, we were still not convinced of the existence of this beast. Urquhart Castle gave us, however, a hint. We stood in front of these half collapsed walls, in which before times monks had lived. Through wafts of mist we looked to Loch Ness. Here it was secluded and sinister, our attention was drawn to every ripple and every bigger wave on the Loch immediately. At this place the monster must have been sighted for the first time I am quite sure. The mist over Loch Ness gave life to fantasies or played pranks to them. In the evening we sat together at dinner with a Scotish couple. We had taken Bed and
Breakfast directly in a house at the Loch Ness and asked the two of them for their experiences with the monster. With a knowing smile the scotch whiskey and his effects were pointed out at onto the fantasy. We amplified therefore our attention to the scotch whiskey and put our travel in direction Glenfiddich, around that to make so-called 'Whisky-Trail' to a visit. On the tour along the whiskey-way we found out now everything about the production of this scotch drink. At every destillery there was a free test drink. Who, however, believes to be able to get drunk here onto other costs, will be disappointed, because the drinks are tiny.
On we went to Lossiemouth, Buckie, and Elgin. We had chosen this place since on this day the famous 'Highland Games' took place. The bagpipe music still rang in our ears when after a short ride we found a marvellously situated campsite at Loch Morlich near Aviemore. We got out our rubber dinghy and explored the lake. Now the end of our journey was approaching. But before we visited the large, gray city of Edinburgh and queued with the stream of tourists again, a last highlight came. We paid Loch Rannoch our obligatory visit. The evenings in the pub there are just unforgettable. Also Angus remains unforgotten, who attempted to cadge a drink from everyone. Or George, the driver of the bus between Kinloch Rannoch and Rannoch Moor, who also delivered the mail. And the evenings at the campfire with Mike and Chris are remembered - or Peter in whose hotel we had free use of the swimmingpool. If I am asked, however, what of all things I would do again immediately? I would go by train to Rannoch Moor. It is not only the most beautiful route of Europe, there also the most beautiful hiking way that I know begins: along Loch Rannoch up to the small town of Kinloch. That is, provided you wear sturdy shoes, for you will have to cover a distance of 30 kilometers.