Loch Eribol to Durness
The road winds around Loch Eribol and seems to be endless.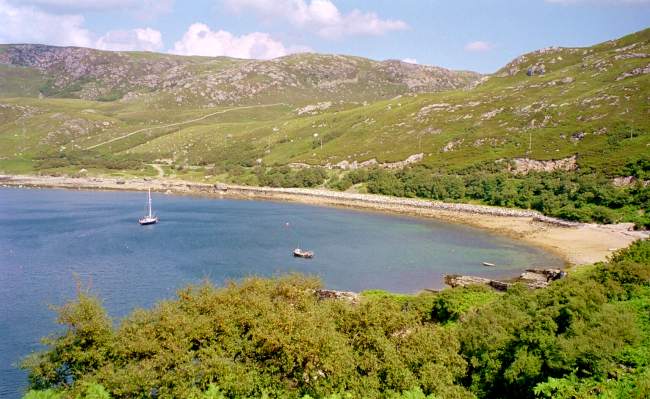 Sometimes we feel Mediterranean...


...and sometimes a bit squeezed.


Passing an old WW II submarine place.

There are lots of fish farms and, so we are told, lots of dropouts.

Endless road...
A lonely phone box. Now it won't be long.


Passing Rispond, Traigh Allt Chailgeag ahead.
Sangobeg...
...several dream beaches - lined up like a pearl necklace.
Every year I'm surprised that that rock is still lying up there.

Smoo Cave - tourist place.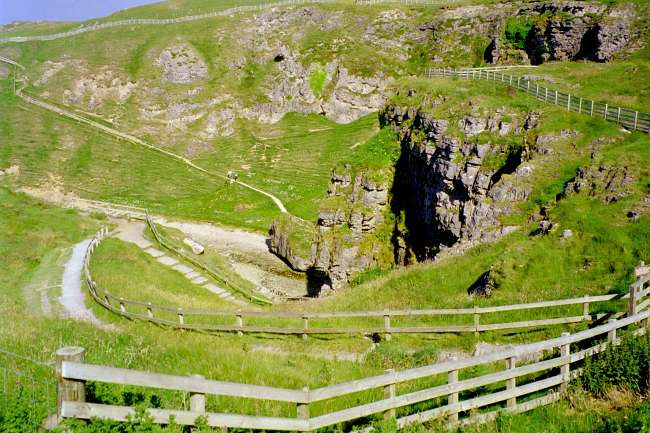 Part of the cave can be visited for free. The rest can only be made by boat.

Now we get to Sango Bay, close to Durness.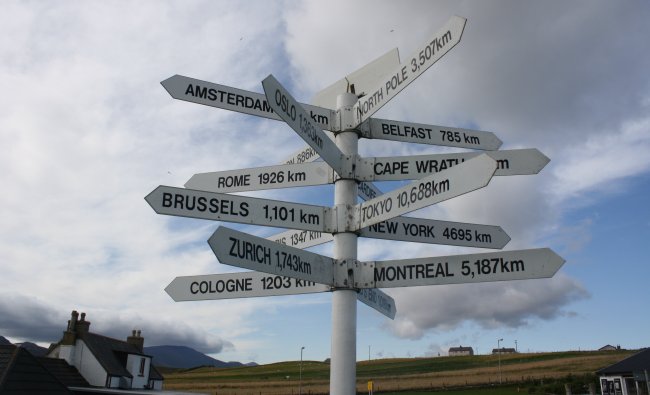 The hub of the world...

A Tourist Info is close to the camping site.

Fossils... and souvernirs. We always get a little something here...

...and we always inquire about puffin habitats.
Faraid Head or: Where are the puffins?
Right behind Balnakeil we leave the car on a parking lot.

Destination: Dream beaches and - puffins!

Beside the parking lot you will find the old graveyard of Balnakeil...
...just at the wide Balnakeil Bay.
Sounds like a short walk...

...but it's an unusually hot day.

Somewhere over there starts the road to Cape Wrath.
The following cannot be rivalled by Sylt or Amrum.
Soon the 'paved' path ends.

And it still is a hot day...

...and nowhere the smallest ice cream stall.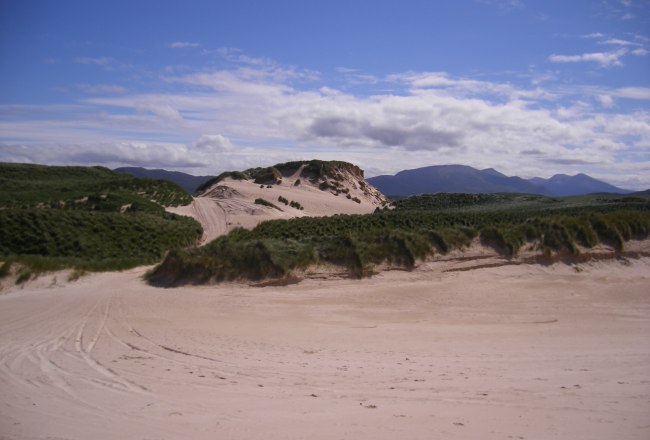 Nothing but sand and dunes...


... or sheep bones.

Then we return to the sea.
Here at the north tip of the peninsular should be any number of puffins.

Well, there are - in unapproachable distance!

As so often, the army takes the best places.

Perhaps the puffins endanger the national security - who knows...

We walk along the cliffs, looking for another spot.

Whiten Head in the distance.
Soon we reach the other spot, an insider tip.

With some more braveness we now could get at their feathers...

...but we haven't any and watch them from the distance.

They are only here for hatching - from about beginning of April to end of August.


Afterwards they go back to the wide sea - until next time.

Christina at least made a close shot sktech of a puffin for us...

From Durness to Kinlochbervie, Scourie, and Handa Island
Getting some supplies from the only local shop - just opposite the filling station with Scotland's highest petrol prices - and we set out to again. One last glance at Whiten Head and some wasteland follows. In
Keoldale at the Kyle of Durness starts the ferry to the most northern point of Great Britain.


River Dionard which after many miles will become the Kyle of Durness.
We are passing Kinlochbervie....
...and Scourie with its beautiful beach...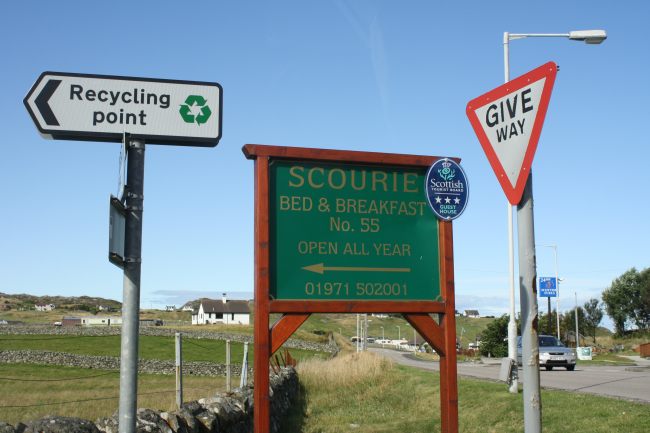 ... created to take a rest.

From here many new destinations offer themselver: Sandwood Bay, Handa Island and many more.