Our kids don't like to remember Faraid Head. In those days our "excursion" to the puffins became a hot sand march. No ice cream - nothing...

This time we take another route, a bit more taxing but the kids are not with us. From Durness there is a secret path along the camp site to Sangobay View Point.
Great view, fantastic beach. Breakers lash up to the shore here.

Behind Aodan Moore as the crow flies over dunes 20 metres high. You'll hardly meet anyone here.

After all the sand we once more get a glimpse of the sea but we still have to master the dunes.

Somewhat flatter now, to our left the Balnakeil Bay can be seen, gorgeous view across the glittering water. Now we often meet people.

Ahead of us lies Faraid Head. There is one of those military bases. All this is a "Danger Area" but not due to the military bases but due to the steep coasts, going down about 50 metres directly into the sea.

This is the spot where years ago we could make out puffins in quite a distance.
It's the right season but because of a storm the birds are keeping to the sea.

From here the Cape Wrath lighthouse can be seen. There should be no end looking out to the sea.

On our way back we already look forward to the beach along Balnakeil Bay. Time to cool our feet in the water.

Together with Sandwood Bay at the northwestern coast and Luskentyre Beach on Harris this is the most beautiful beach of Scotland.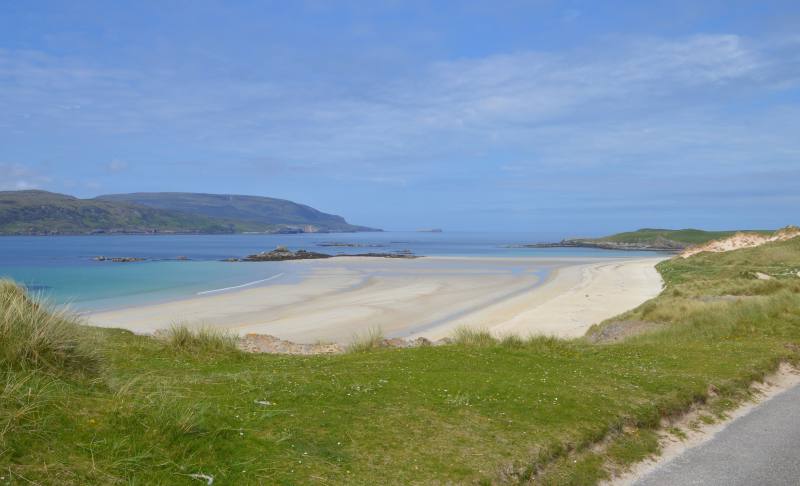 You even find some grottoes here.

Seeing and talking to some English tourists, I realise why they are daft enough to agree with the Brexit. I frequently see how they drive their car to the beach, take out a camp chair and make a picknick. He's sitting outside, she's knitting inside...

The mongrel they brought craps along or barks at sheep. Most remarkable an Englishman from Manchester who complained about Skye being full of tourists. Right, full of Englishers. Moreover he stresses that he is a European but does not wish to be in the EU. Anything dumber possible?

After such a lot of English decadence we get to a Scottish highlight: Cocoa Mountain!
In the small place Balnakeil Craft Village there is beside a number of craftsmen shops the chocolate shop Cocoa Mountain. An absolute must have for chocolate fans and truffle pigs.
Here you find any number of self-made chocs and truffles, even personally signed! A box of truffles and a cup of coffee and the world is in order.

Want to take a look? Cocoa Mountain