Moidart - between Mull and Skye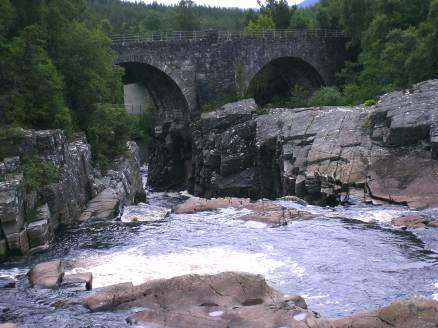 Weather is changing while we are on our way to the West.
This seems to be a perfect place to rest.
Via A82 we are passing Loch Ness. Our destination is Moidart, in the west of Fort William.
For a short moment the drizzle stops. Urhuquart Castle now is in front of us.
Corran-Ferry, we have to pay Pds 5,20 for the transport to the other side.
Darks clouds appear when we reach Ardgour.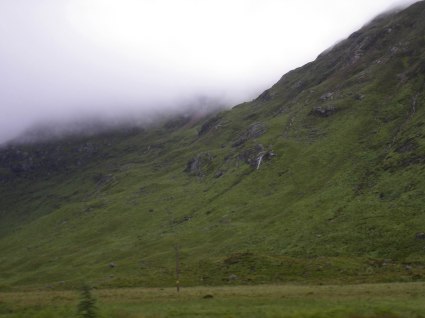 Here we meet again this wonderful melancholy, which is so typical for Scotland.
The roads are easy to go, however this will become different after Strontian.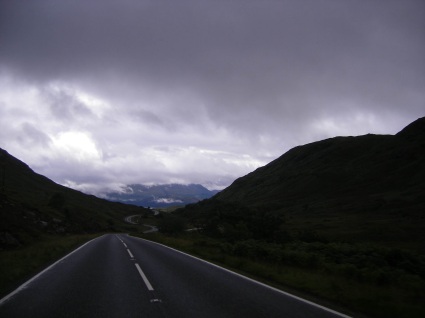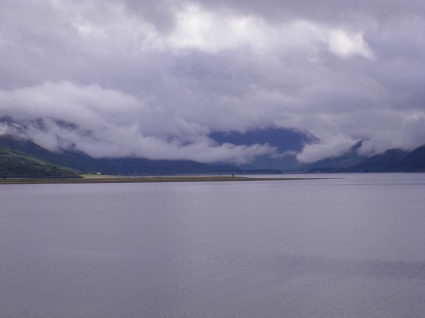 The sky seems to be hanging quite low over Loch Linnhe.
Simply impressing, although it is not our first visit of this area.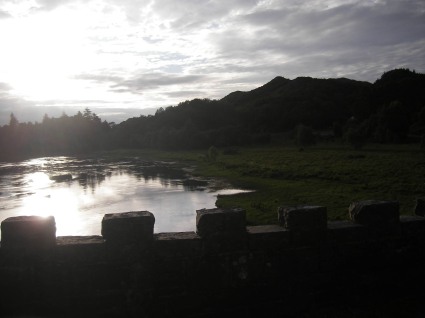 We reach the Bridge of Loch Shiel.
From Acharacle we can see Rowan Hill Cottage, where we will stay for a fortnight only.
In the background Ben Resipol is to be seen. This is the highest mountain within this area.
Ardtoe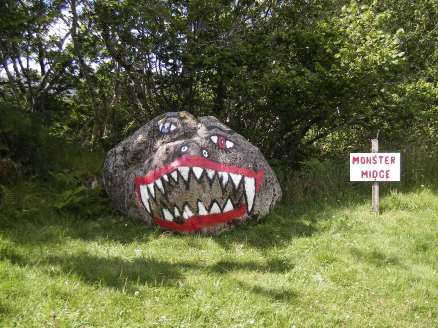 Nobody likes Midges, however, I have been looking up this one since a couple of years. It was expected to be at Acharacle, actually this Midgie ist located close to Ardtoe.
A nice bay, indeed.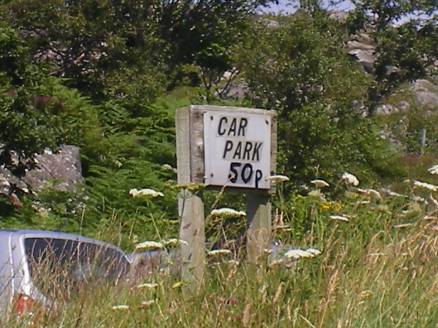 50 Pence for parking are not too much.
The Bay of Ardtoe.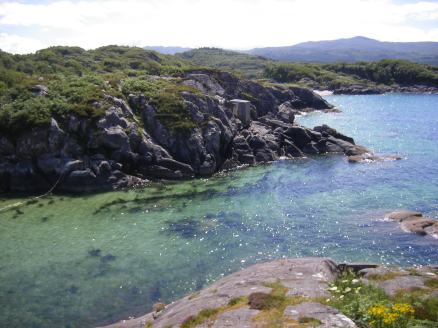 Funny sign at the Marine Laboratory...
A few minutes walk there is another sandy bay.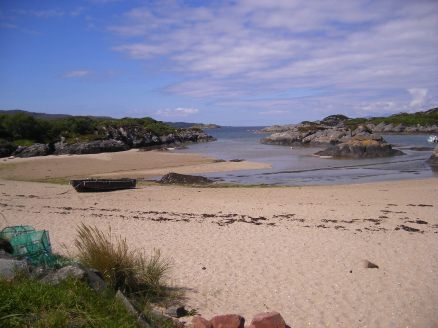 In the background: The Singing Sands of Gortenfern.
Ardnamurchan to the left, Rum and Eigg to the right hand.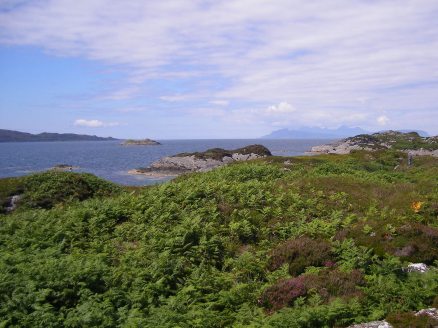 A super place for phoning home...
Acharacle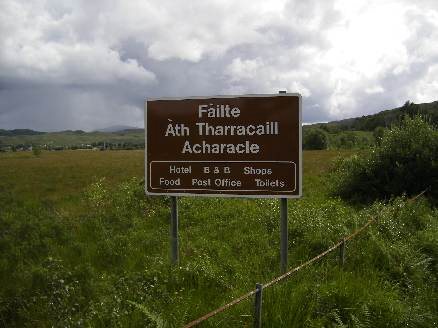 Why Acharacle, since this is a wee town everybody seems to know each other?
Well, because there a few advantages being here...
Its not because the old bridge crossing Loch Shiel, where actually a driver needs several efforts to cross the narrow bridge. Only one car a time can pass it...
People say, Finnegan McDoodle often hangs around here.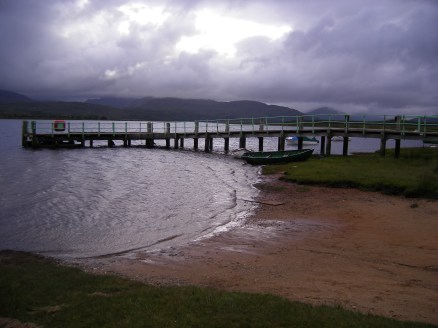 the romantic Piers is nice, but the reason for staying here is simply somthing else...
This town is perfectly situated. To the West there is Ardnarmurchan, Artoe, the famous Singing Sands and Kentra Bay,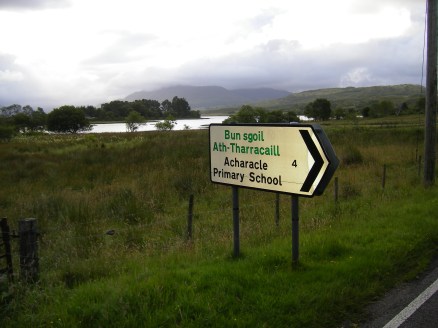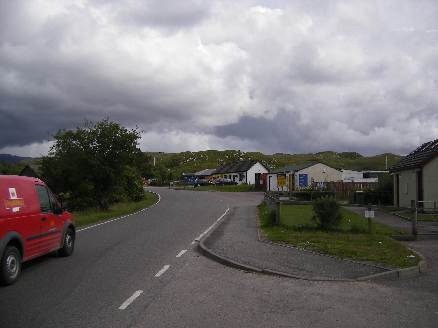 To the North you find Arisaig, Morar und Mullaig with ease.
Heading for the east its not too far to visit Glenfinnan Viaduct, which got famous by various Harry Potter movies.
In the flat postoffice behind the phonebox there is an Internetcafe with a Hotspot as well,
finally you can attent beautiful sunrises.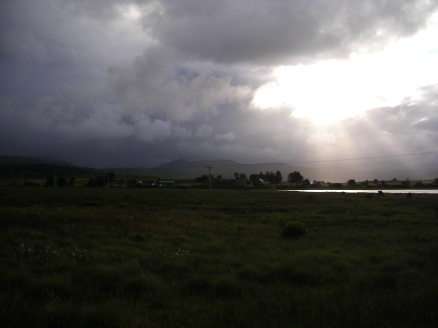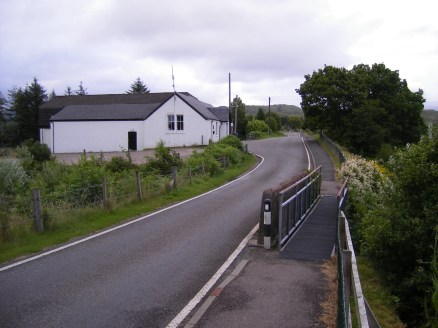 This is the townhall of Acharacle.
By the way: 17 German immigrants do live here, some of them since 30 years.
Singing Sands
Short before Kentra just turn to the left to a wee parking place.
Last time we have been here there was no sign warning of 'Unexploded Munitions'.
Starting Kentra Bay its going to be a walk for about 5-6 Kilometers to the 'Singing Sands'.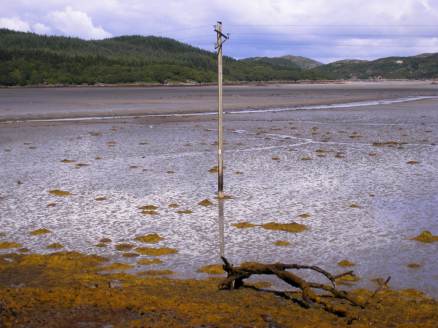 The old stonebridge has been replaced by a new, unsteadily wood footbridge.
Partly the sinister forrest looks like a real magic forrest.
The roots of these fallen trees are about 3 meters square.
After this nice walk we finally reach the 'Singing Sands' of Gortenfern.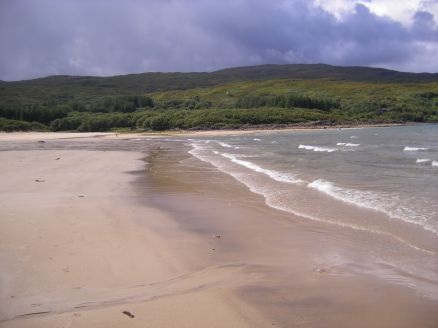 The beach looks really inviting.
However, the 'Singing Sands' seem to be very tongue-tired today, no sound is to be heard, even a strong wind is blowing.
A heavy shower is coming down. We hide ourselves between in a rock wren.
Soon as the showers quit we start a genuine exploration.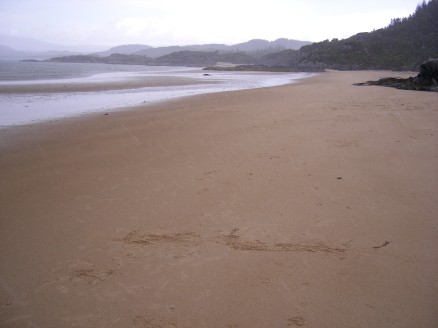 The beach is covered with jelly fish, some of these 'Lion's Mane Jellyfish' with a diameter of 30 centimeters.
Just as the rains has gone and sun comes out, we face the appearance ot many tourists accompanied by a troop of barking dogs.
This beach is not recommended for children.
Ardnamurchan, Eigg und Rum are in a remote distance.
An old floating-mine, a caliber of One Meter...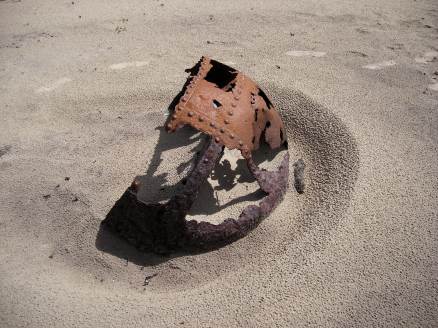 The rocks close to the beach are covered with shells.
On our way back home we have learned, that a pleasant walk to a destination often is more interesting that the destination itself.
Morvern
The peninsula of Morvern is located in the north-east of Mull.
Since Informationen of this peninsula were rarely to be found, we had to find out by ourselves what to see.
There is a reason that this countryside is so rarely inhabited.
Once a Judge bought all plots of this land and made the people go. These turnouts took often take place in a cruel way.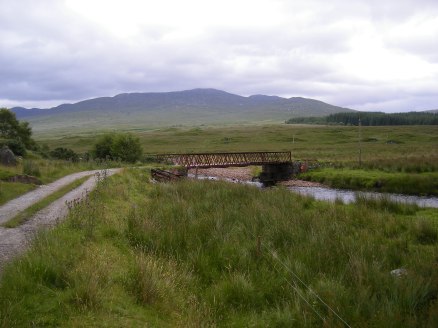 Only Single-Tracks can be found at Morvern, however, there is only rare traffic.
A few datas of Morvern:
1/20th Farming,
1/3 Wood,
remaing Bens and Badlands.
The mayor town lays at the southern tip of the peninsula.
Lochaline, some unkind gathering of houses.
Here the only snack-bar of Morvern is to be found, moreover one shopping-place, a hotel and a restaurant.
The ferry heading to Mull seems to be the ounly contact to outern world. The ship is leaving every 55 minutes.
A return ticket to Fishnish with a car cost abt. 19 Pds, passengers have to pay for a single trip 2,50 Pds.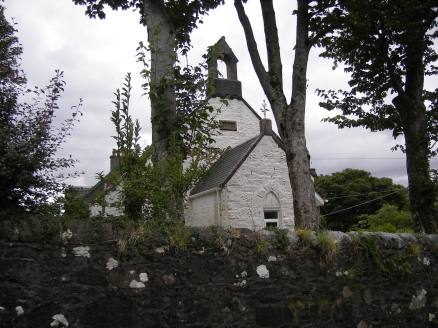 Of course there is a small church at Lochaline, which is nowadays only used privately.
Kinlochaline Castle is to be seen in the distance. In Artornish and in Killundine there are castles, too.
Like many names of the towns in Morvern, Ardtornish has its roots 800 years ago by the Vikings. It just means 'Mull von Thor's Foreland'.
Right in the middle of lonely Morvern we notice this funny hedge.
The young woman with the child in her arms is coming from the Netherlands. She is married with a Scots.
Few miles westerly: Loch Uisge.
The streets are very narrow in this part of the peninsula. A traffic-sign recommends not to pass this way by caravan.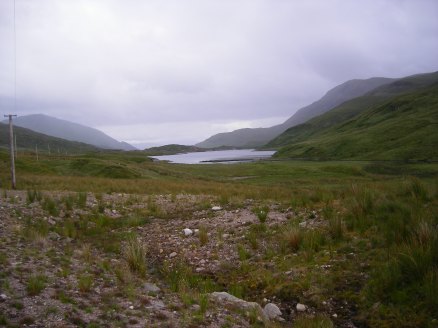 Fuar Bheinn and Beinn na Cille in the background. Just an ideal place for those who like loneness and pure nature.
On our way back into real life Loch Sunart appears. Strontian is to be seen, too.
The trip through loneliness has come to its end.