Page 4 of 5
Singing Sands
Short before Kentra just turn to the left to a wee parking place.
Last time we have been here there was no sign warning of 'Unexploded Munitions'.
Starting Kentra Bay its going to be a walk for about 5-6 Kilometers to the 'Singing Sands'.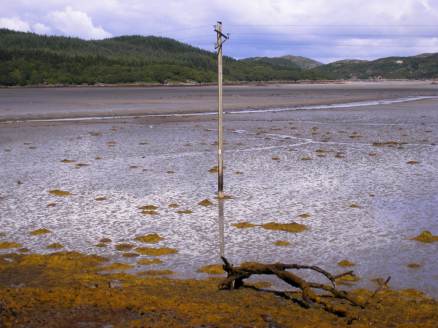 The old stonebridge has been replaced by a new, unsteadily wood footbridge.
Partly the sinister forrest looks like a real magic forrest.
The roots of these fallen trees are about 3 meters square.
After this nice walk we finally reach the 'Singing Sands' of Gortenfern.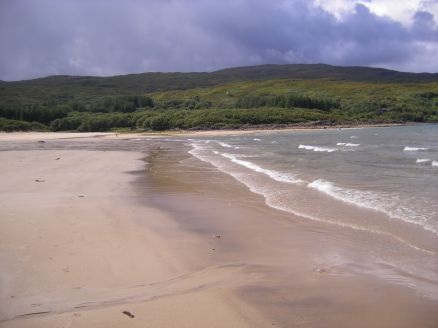 The beach looks really inviting.
However, the 'Singing Sands' seem to be very tongue-tired today, no sound is to be heard, even a strong wind is blowing.
A heavy shower is coming down. We hide ourselves between in a rock wren.
Soon as the showers quit we start a genuine exploration.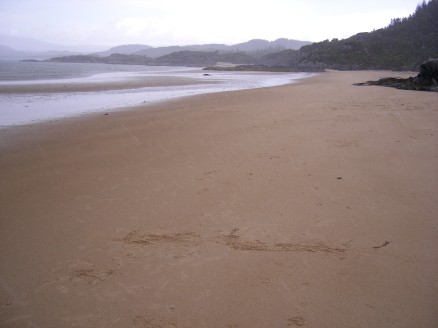 The beach is covered with jelly fish, some of these 'Lion's Mane Jellyfish' with a diameter of 30 centimeters.
Just as the rains has gone and sun comes out, we face the appearance ot many tourists accompanied by a troop of barking dogs.
This beach is not recommended for children.
Ardnamurchan, Eigg und Rum are in a remote distance.
An old floating-mine, a caliber of One Meter...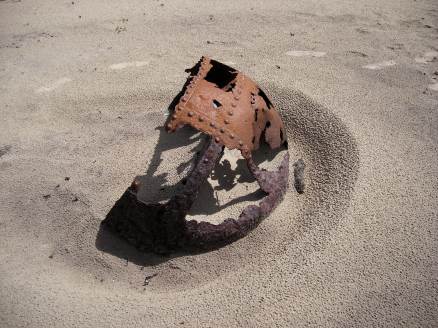 The rocks close to the beach are covered with shells.
On our way back home we have learned, that a pleasant walk to a destination often is more interesting that the destination itself.