Page 6 of 7
Faraid Head
or:
Where are the Puffins?


Behind Balnakeil we leave our car on a parking place.


We want... dream beaches and... puffins!
Next to the parking area there is the cemetery of  Balnakeil...
...at Balnakeil Bay, a really amazing bay.
Well, this actually looks like a short, nice walk...
However, the weather is incredibly hot today...
Somewhere in the distance must be the road to Cape Wrath.
Not even the German isles of Sylt or Amrum have dunes and beaches like this...
Soon the 'road' ends.
As mentioned before... it is pretty hot today...
... far away from ice-cream and coke.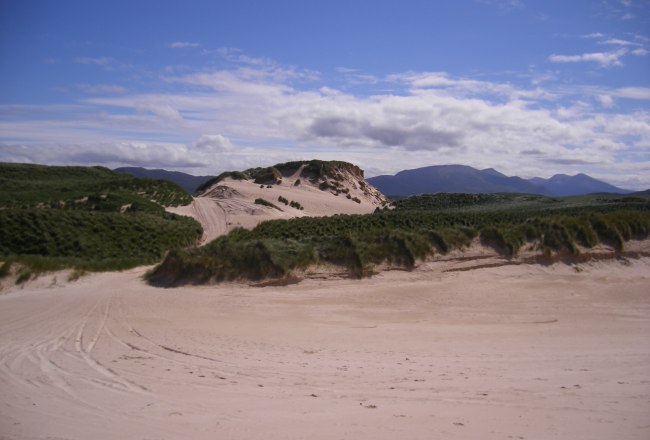 Just sand and dunes...

or the skeleton of a sheep...
At least we are next to the sea from time to time.
We were told there are Puffins at the northern point.
Indeed here they are, but out of reach...
As usual, military forces occupy peaceful parts of nature...
...maybe the Puffins are a danger to national security?

We walk back along the cliffs to find a better spot.
Whiten Head in the distance...

After a while we reach another place, some "insider tip

".
We are not brave enough to walk down there...

... so we watch from the distance.
From April until end of August they are here... breeding.

Then they disappear somewhere over the mighty Atlantic.

However, this Puffin was sketched by Christina...