Page 4 of 4
Also the next island falls into two parts:
Lewis and Harris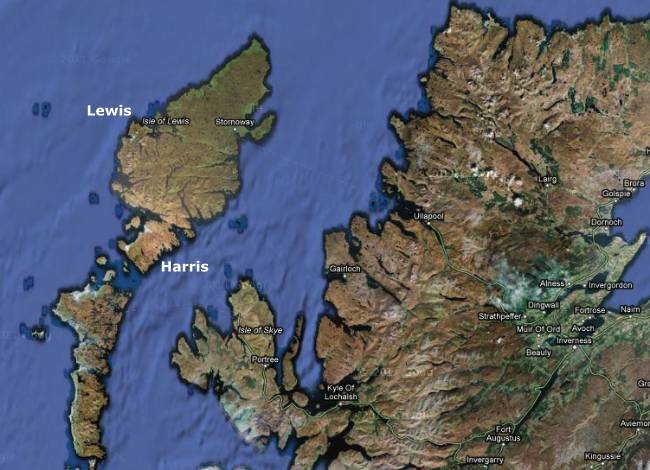 After a pleasant journey Harris comes into view. Approaching the port of Leverburgh

Contrary to Uist, Harris is not that 'flat'. There still are dream beaches.

Now and then it's a real roller coaster...

and the great beaches give way to barren land...

and rugged mountains.

A wee bit more exiting than quiet Uist.

Passing beaches and lochs, bens and glens...

to our next stop, in the north west of Lewis.

The dream beach right at our doorstep.

Quite a distance to the next restaurant. However, weeks ago already we booked a table at the Gallan Restaurant.
Nice meals - for a price.

The setting at our doorstep is changing almost by the hour...

Sometimes the landscape feels melancholic, sometimes even almost threatening.

By no means miss the 'Standing Stones of Calanais'...

This is said to have been erected more than 4,000 years ago.

Also the ancient village of 'Na Gearrannan' (Garenin Black House Village) is worth a visit.

9 old cottages have been rebuilt here. They are acutally inhabited and we are permitted to enter...

Take care of your head! Living is confined and ceilings are low.

A loom with good reason. On this island the tweed was 'born'.


To our surprise we discover an old German 'Singer' sewing maching. Not quite that ancient...

Heaps of peat in front of the house, used for heating.

On we go along rugged landscapes...



passing waterfalls...

Some time we reach the biggest town of the Hebrides: Stornoway

Not much on, to be honest, except the ferry terminal. So we take a look at quite a witty tweed shop.

Here we get the hint to look out for whales on our journey back.
Not to keep you on tenterhooks: No whales! Moreover the deck getting the sun was closed and painted.
What a daft idea!

Ullapool at last and the end of the most boring tour of this journey.
Next time we'll go via Skye...