Page 2 of 9
Kylerhea - The last Rotating Ferry in the World
On NDR3 TV we years ago saw a documentation about the last rotating car ferry in the world. This ferry crosses the Kyle Rhea - therefore the name - and connects Skye with the mainland, i.e. Glenelg.

Of course this was a "must have" on our journey and the route to Khylerhea took us through a divine region as you hardly ever will find again.

Sometime before the Skye-Bridge we had to turn right and could not stop marvelling.

Sure, the road became bumpy and difficult but it was just the landscape we were looking for!

Time seems to have stopped here, nothing but loneliness and a scenery where one would love to spend the rest of one's life.

Only a few sheep and roe could be seen on the way, beyond that...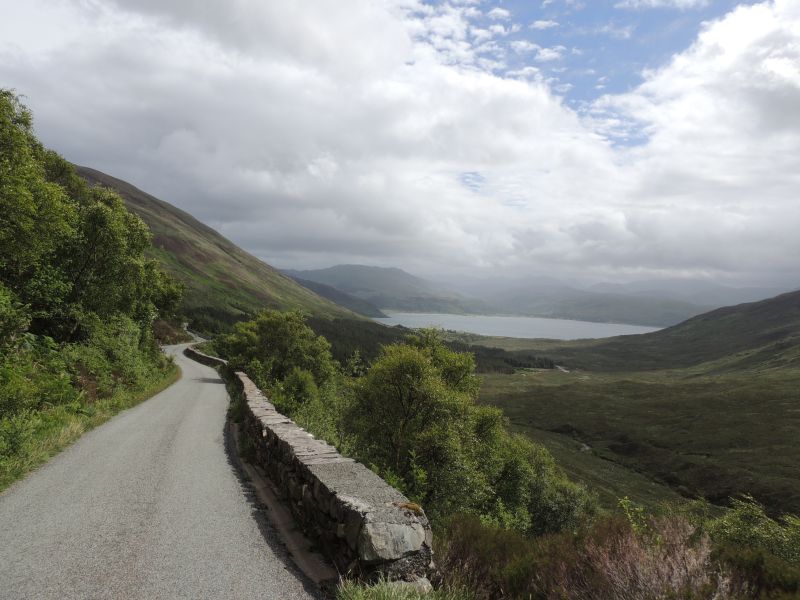 Here really the journey was the reward. Then we reached the actual destination, the last rotation ferry on this planet, but the car ferry still is at the opposite bank. We have time to look about us...

We either caught a good time or there are comfortably few passengers. 

Obviously we are the only ones waiting here for the ferry which still is at the opposite bank at Glenelg.

We can see how the ramps of the ferry are lifted up before it starts.

Slowly and leisurely the ferry comes chugging across the water. But actually it only takes a few minutes.

Now the ship has landed. A young woman jumps onto the jetty and ties the ferry up.

Now, that's thrilling. The passengers have to get off after all. Lets see how it works.

The captain gets off and the two of them together turn the platform plus cars plus passengers. 

Then the two ramps are lowered again and the passengers leave the vessel.

"Wanna get along?" the captain of the 'Glenachulish' calls out to us. What a question!

Well, that's what the last rotation car ferry of the world looks like. Not really complicated, is it? There are no further passengers so that we have the honour to be the only ones for the next crossing.

We just drive across the ramp onto the ferry. The rest is the task of the captain and his helper. We can get off the car and watch how the ramps are lifted. Here we go! 

Well, not right now. Of course both ramps have to be up so that nothing rolls into the water. 

We are leaving Kylrhea behind us. It's windy and bad weather. But that doesn't matter.

Our crossing to Glenelg is accompanied by a curious seal.

We reach Glenelg with its small lighthouse. Pity, the crossing was much too short.

Now the ramps are lowered again and we roll ashore.

That was that. Lunch time for the captain and his crew.