Page 6 of 8
Visiting Castles, buying Pagpipes
Today a visit of Blair Castle is planed. We pass through the small, sleepy small town Kinloch Rannoch to shortly before Dunalastair.
To Balmore it goes via the B847 to the Tay Forest Park.
Shortly before Trinafour we stop and have a look on the 'Sleeping Giant', a mountain range, which resembles a giant lying on the back. It is said, as long as the giant sleeping watches there, the entire area around the Loch Rannoch is protected.
Straight along the impressive Glen Errochty we reach Struen and Calvine to the white Blair Castle at Blair Atholl.
As a Bag-Piper plays, the sightseeing tour through the castle starts.


An amazing Number of guns welcome us at the entrance. A young guy from Sweden leads us. He is living here just for some weeks doing this job.
It is funny: Germans are leaded by a swedish guy through a Scottish Castle, hearing in straight german everything more or less interests over the curious life of aristocrates.


Unfortunately pictures are forbidden in the castle, so that I only can take a few pictures, without being caught by the guards.

I
A sign sais, Diana is buried here and we start the search.


We are quite disappointed when we reach a small statue of Diana, the goddess of the hunt - a real trap for tourists.

We always must think of bagpipes and finally we conclude, though not a complete bagpipe but a least to buy a beginners chanter, a practise chanter.


At Killiecrankie at the A9 we make a short break and learn some over the famous 'Pass of Killicrankié, a masterpiece of architecture. Finally we arrive at Pitlochry.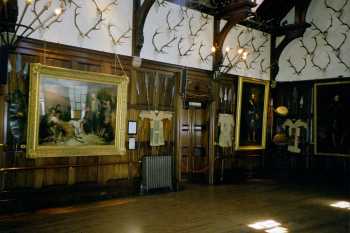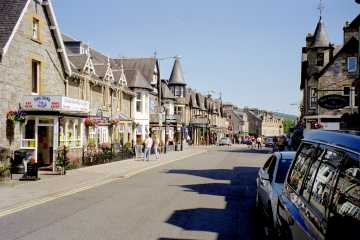 There is for the strengthening 'Fish 'n chips Chips' in the small Fish & Ships shop Ardchoille for 3,85 Pds.

Considering such prices on the British island we are quite astonished to find a beginners chanter for 5,99 Pds only. We immediately take two of it, one can have never enough.
By the way learning the pagpipe requires 7 years exercise, a flute hopefully somewhat less. Martina could play the 'Dancing Queen of Aberdeen' already after few hours quite well.
We take a walk to the station of Pitlochry and visit the playground beside a small amusement park for children. Magically a slot machine attracts us, it is the kind which ruined us already years ago in London: insert a 10 Pence pieces and watch it falling down behind a glasscreen.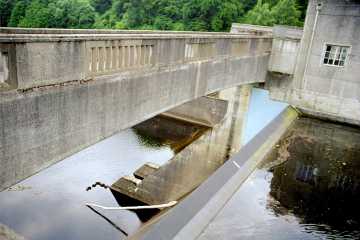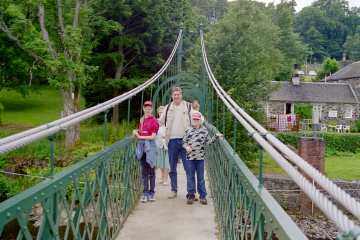 Lots of coins are lying there, being pushed forward forwards a slot. It really looks like they are falling down any minute, but they dont do so. We are convinced, at the next throw all the coins will be ours. After a couple of minutes we still have 2 pound left and spend the last money on a motorcar-race. Just the youngest of us wins all races. Then we are out of money and visit the 'Fish Ladder'. Here the Loch Fiskally accumulates and via 'stairs' the fish can jump onto the ulterior River Tummel. At the festival Theatre we reach a witty, green suspension bridge over the River Tummel. It fluctuates and despite a prohibition sign we swing there and here. Then we have seen enought for one day and we drive back via the A9.