Page 1 of 8
Travelling by Ship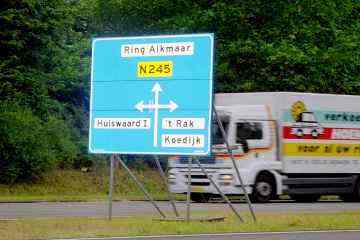 05.30 o' clock early morning, in view of the journey all tiredness is forgotten. Everything is fixed and assembled, about 8.20 o' clock the journey to Amsterdam/Ijmuiden starts. Within Germany the excursion is running well, however after the Dutch border everything changes. Though we were warned by an emailfriend we took the direction via Groningen to the north on the dam over the Ijsselsea. Detours and obstruction seem to be usual here. Alkmaar is a badly marked disaster.

Nevertheless we reach the Felison terminal at Ijmuiden in time. The embarking appears to be endless, however finally we enter our 4-person standardcabin on the 'Prince of Skandinavia'. It is enough place for 2 adults and 2 children for a comfortable overnight stay available. Shower and toilets are clean and expedient. Then we watch the departure of the ship. Backside ahead she leaves the terminal and after a half turn she finally goes off in direction Newcastle.
The supper - a dinnerbuffet - is abundant and good. After that we are filled up in a way, that we are no more interested in any activities or conversations on board, but staying lazy in the cabin or at least leave the cabin for inspecting the ship. The air in the small cabin is quite good. A small ventilation system cares for the consumed air. The sea is calm during the night, the pills against seasickness are not required and we all get enough sleep.
The other morning we get up freshly and enter the breakfastbuffet in the 'Seven Seas Restaurant'. The breakfast fits every need and we go on deck to look for Newcastle.
Already soon we see again the dock, at which we were greeted at our first travel by bagpipers. This time unfortunately there are none, too bad. The loudspeaker of the ship calls in 3 languages, to proceed to the cars. We land at radiating sunshine at the Royal Quays.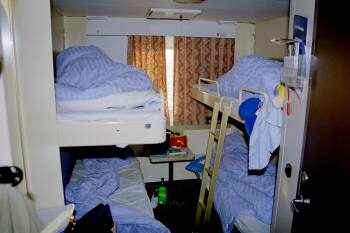 Here comes the part I was afraid of the most: going by car through Newcastle onto the A696 in direction Jedburg. The left-hand traffic is not the real problem, rather it is the usual problems, to get along oneself in a foreign city in compose traffic. Compliment at the motorists, they are very considerate. We are following the traffic-signs to the airport and as we reach the small town Ponteland, we worked out the worst. We are in a fantastic mood and the children ask again and again, if we are already in Scotland. The landscape gets interesting and we forget the boring and laborious distance through Holland. The landscape gets more exiting, it goes up and down.