Our children don't like to remember Faraid Head. Our outing to find puffins had developed into a march across hot sand. No ice cream, nothing worthwhile. 

This time we take another route, somewhat more taxing but the children are not with us. From Durness there is a secret path past the campground to the Sangobay View Point.
Great view, terrific beach. Breakers are spraying up the rocks here...

Behind Aodan Moor we are walking across country and dunes 20 metres high. Hardly any people around here.

After all the sand we finally reach the sea again but walk on through the dunes...

It becomes "flatter", to our left the Balnakeil Bay comes into view, we are looking spellbound across glittering water. Now we do meet many trippers.

Ahead of us is Faraid Head. One of those military bases is there. All this is Danger Area but not due to the military base but because of the steep coasts falling down 50 metres directly into the sea.

Years ago we have seen puffins here. 
It's the right season but because of a hurricane approaching the birds rather keep to the ocean.

From here the lighthouse of Cape Wrath can be easily seen and you may look out to the sea for hours and never get enough of it.

On our way back we are alreadly looking forward to the walk along the beach, down Bakeil Bay. Time to cool the feet in the water.

Together with Sandwood Bay at the northwestern coast and Luskentyre Beach on Harris this is quite the most beautiful beach of Scotland.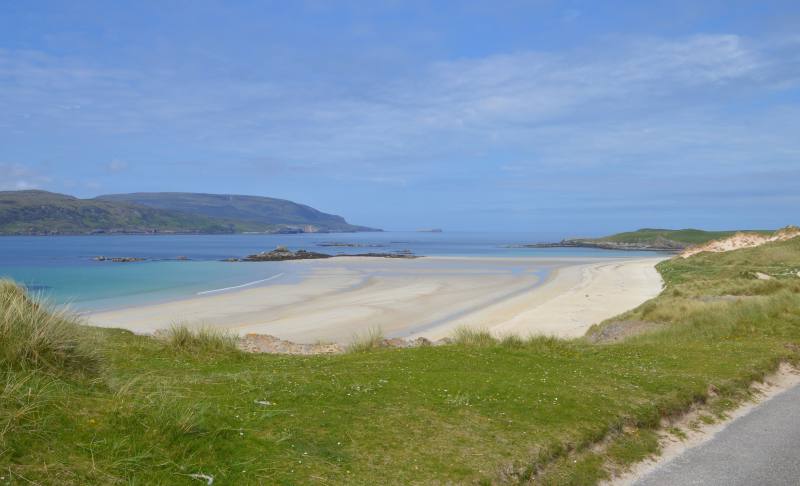 You will even find a few grottoes here.
Meeting and talking to some of the English tourists, I no longer wonder why they are silly enough to favourite the Brexit. I often see them driving the car to the roadside, getting out a folding chair and taking their picknick. He is sitting outside, she is sitting in the car, knitting. This is called excursion...

The dog they brought in the meantime poohs about and barks at the sheep. This Englishman from Manchester deplores that Skye is full of tourists. Indeed, full of English folks. Moreover he stresses that he is European but does not want to belong to the EU. Somehow as stupid as can be.

After such a lot of English decadence a Scotish highlight is to follow: Cocoa Mountain!
In the small place of 'Balnakeil Craft Village' there is beside a number of craft shops the chocolate shop Cocoa Mountain. An absolute must have for chocolate freaks and truffle fans.

You find here any number of self-made chocolates and truffles, hand signed even! Half a dozen chocolates and a cup of coffee - what a brave new world...

 Want to take a look? Cocoa Mountain