Page 4 of 4
Ardnamurchan IV
- unknown Peninsula-
We leave the riddle about the smokehouse of Fascadale behind us and drive on to the lighthouse near Portuairk. The weather is at its best when after another up and down drive we reach a small road with a 1 m high stone boundary.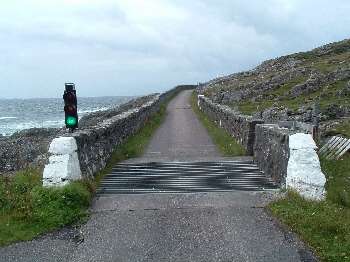 The island's single street light shows green and we drive up a serpentine to the lighthouse. On our arrival I really do wonder who told me that up here it is so lonely that 2 cares per week are a lot of traffic. We count 20 cars and lots of tourists in bermuda shorts.
However, we get a view on Coll Island of the inner and far out Barra and South Uist of the outer Hebrides. Scones with butter and jam in a charming tearoom finishes the excursion. Back at the cottage we are welcomed by pouring rain.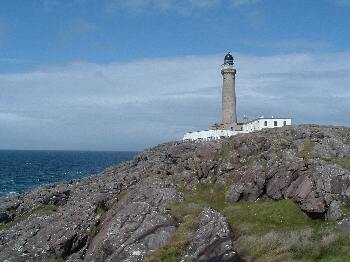 Perhaps the most beautiful landscape of Ardnamurchan is at the western headland and so we go to Sanna bay, "Sanna" just meaning "sandy".
A few miles bring us to our goal. There is a parking lot and we see a barn having Guantanamo Bay written on it.
Following a gorgeous dune landscape we cross a small river and find ourselves at a gigantic beach.
This is much better than Bettyhill and reminds me of Amrum island. We collect shells and fly our kites. And so helter-skelter back to the cottage.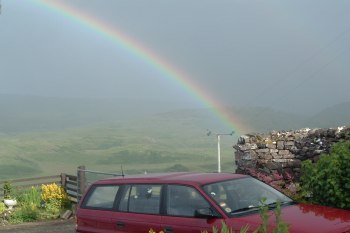 Misty clouds over the hills and no sun to be seen. One last time we walk the beach at our door. It is called "Port of Eilean Mhoir". In the evening Mary Adam rings up, we exchange descriptions of cars and plate numbers. Maybe we meet tomorrow on our way back.
The last things are packed, we are leaving at 9.25 h. Between the 13th and 14th cattle grid after Salen we make a halt. Suddenly another car stops, Mary and her father are getting out. Both are very charming people. We have a long chat, take pictures of each other – hope to see you again!
On we got to the Corran-Ferrie, and bright sunshine accompanies our passage.
Follows romantic Glencoe, to be enjoyed somewhat longer because of a roadworks' stop. On the way I longingly see the signpost to Kinloch Rannoch, but we have been there several times so it has to wait until the next visit.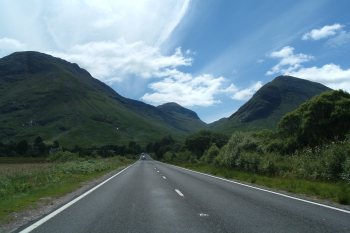 At about 15.00 h we reach Pitlochry and the idyllic Dunmurray Lodge. We have booked the Murray-side – a room with TV and double bed, a separate room with the kids' single beds.
We go downtown to look for a sword and sporran. A small sporran we do find, but after a rich meal and the visit to a leisure park no money for a sword is left.