Page 3 of 4
Ardnamurchan III
- unknown Peninsula-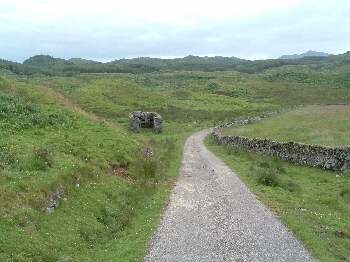 At noon we leave for Ockle to see the waterfall – and pass a lonely house. Not a soul is to be met, except the sheep, of course – this is pure lonelyness. We would have liked to go on to Gortenfern to the "Singing Sands", but the road does not look very inviting, and we do not have proper shoes for this sodden path.
We run out of petrol. Exactly 20 litres for exactly 20 pounds at an ethnic pumping station at Kilchoan.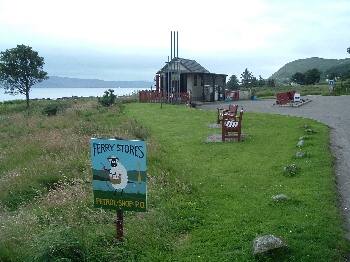 On we go via Acharacle and pay a visit to James and his Moidart Smokehouse at Dalnabreck whom I contacted by e-mail a few days ago. We find him some way off the town, and he cuts fresh salmon for us. He tells about some Germans, Ulrich and Marie, and about Bodo from Friesland who are living on Ardnamurchan. And he tells us about a smokehouse at Fascadale whose owner vanished some time ago.
From there we go to Castle Tioram and we are lucky. It's low tide and we can walk to the castle.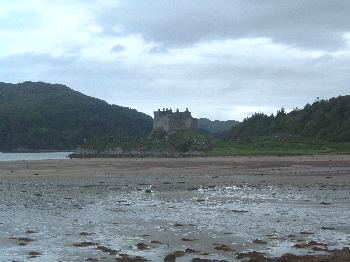 Now only the "Singing Sand" of Gortenfern has to be visited and we want to go there from this side.
After enjoying fish and chips we drive along the Bay of Kentra as far as possible.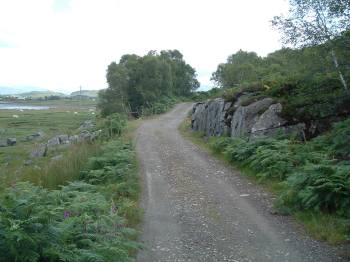 Unfortunately there is only a foot path, and the kids are not willig to walk a mere 6 miles to and fro. So we go back home.
It is a fantastic landscape, we see a few waterfalls.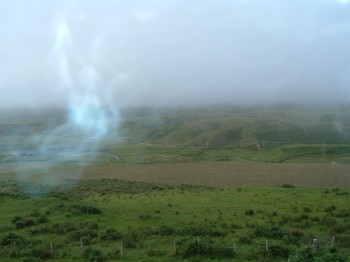 Somehow it is at the same time marvellous and threatening: every evening the mist comes creeping up.
It starts at about 20.00 h, and a song from Paul McCartney goes through my head: "…oh, mist rolling in from the sea…" Now I know what he meant.
The foot-lazy kids stay at the cottage with the walkie-talkie while Martina and I go to Kilmory to send off some postcards. A short visit to the beach, but we are glad we did not take the kids, for there is quite a lot of seaweeds lying around.
On our way back we take a look at the small, circular graveyard. And would you believe it: in 2001 Dieter Hammel (the one with the German books) has been buried here at the age of 69.
As matter of fact it isn't a bad idea to choose this peninsula for a living place after retirement. A lot of elderly people are living here. The younger ones have gone away because there is hardly any work to get at Ardnamurchan.
The weather looks fine and I want to see Fascadale. As the kids are still sleepy, Martina and I are going on our own. Close to Kilchoan a herd of deer is crossing the road, followed by sheep.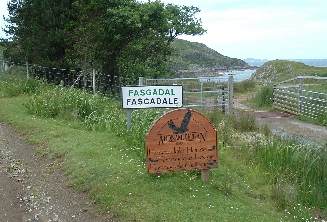 Fascadale is a large, stony bay. High tide and not much beach to be seen. 3 cottages and an old smokehouse make up the village – oh, and a parking lot, of course.
This is the smokehouse James Gillies told us about. What might have happened here? A few weeks ago I took a look at the homepage of this smokehouse and was informed that the self-caught fish is only sent on order.