Page 2 of 4
Ardnamurchan II
- unknown Peninsula-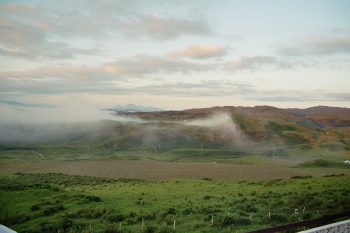 In the afternoon as a change fog comes up. Within an hour the sun has to give room to the mist. It's impressive, and finally we cannot see ahead more than 30 m.
When the rest of the family is asleep I start a walk in the dark misty landscape. No monsters to be met with the exeption of a hedgehog.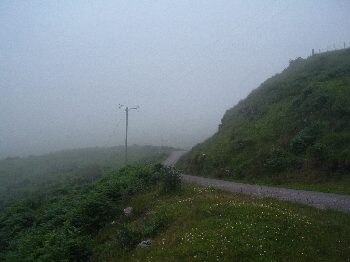 Christopher has been hit by a tick. We drive to Kilchoan and find a nurse at the tourist office. We could not extract the tick and so she takes over. She uses a special ointment and asks us to come back an hour later. So we do, and off comes the rest of the tick.
The night fog is gone, warm sunshine welcomes us in the morning. So that's the time to go to the ferry port and take the "Loch Lynne" ferry to Tobermory, leaving ab 11.45 h. Some sheep almost put a spoke in our wheel, blocking the street for endless minutes.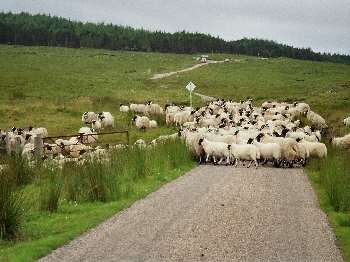 After the sheep left we can go on and see a herd of stags near to Kilchoan. A few days later a local man tells me that the stags are to be seen at that place quite regularly. He also mentions two wildcats who are said to be on the peninsula.
On our arrival in Tobermory, it pours. The houses here have always been very colourful which was probably one of the reasons the childrens programme 'Balamory' used it.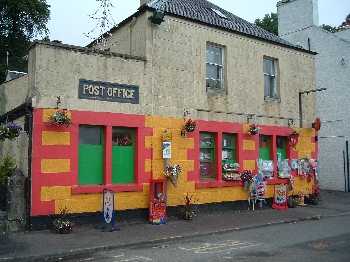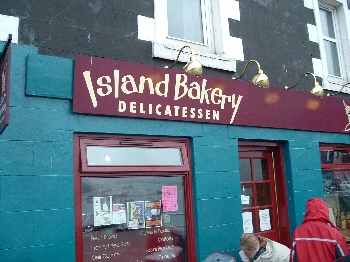 We can see the most colourful post office in the world and wonder at the word "Delicatessen", obviously a German leanword. In some far off pub we take our lunch.
Though we can get Internet connection here, the pub is quite empty. We call up our mails, make some shoppings and travel back home at 15.30 h.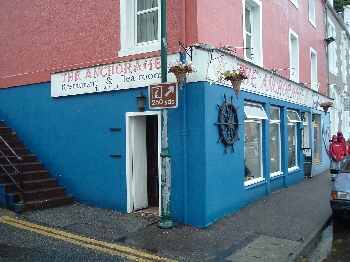 When leaving by ferry, a curious vehicle passes us, a kind of motorized raft.