Bad Beach
Just before we leave the Isle of Mull for the Northcoast we visit a small, hidden beach.

We leave the car at a parking lot because the path to the beach is not suitable for cars.
However, this becomes the last excursion on this journey.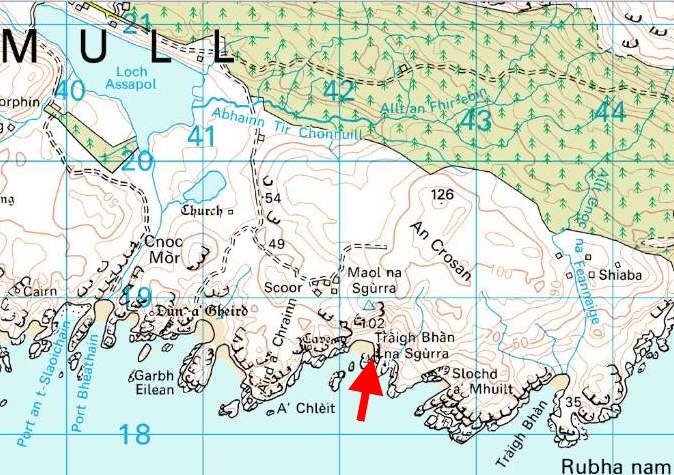 Somewhere after Loch Assapol we leave the car walk down a rocky road to Scoor Beach.
Lonelyness, mobiles do not work here, no net.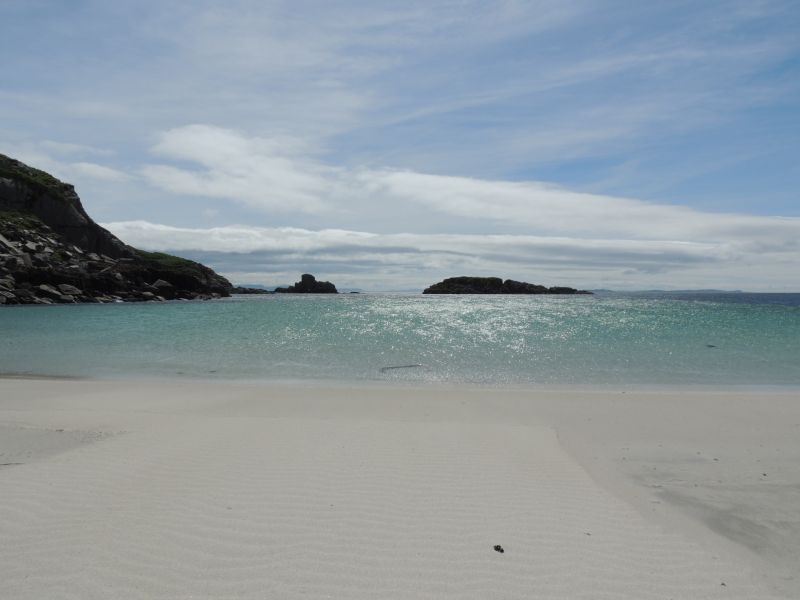 A dream beach, clean sand, clean water - no one in sight.
Then our journey suddenly ends. Martina slips over a stone and her leg is broken (tibial plateau fracture).
The way back to the road appears to be endless. I get the car and hobble down to the beach.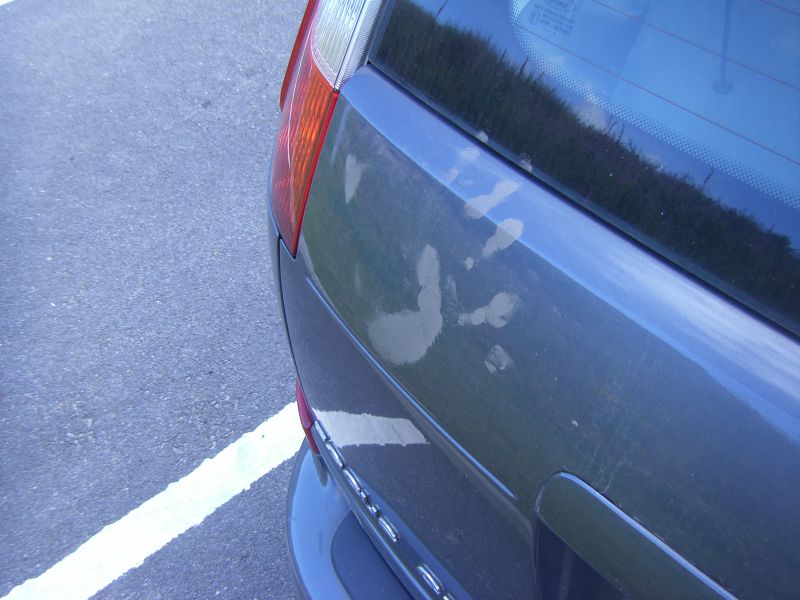 An elderly Scotsman from Glasgow helps us. Here his hand prints can still be seen from pushing the car several times forward on the steep way back. In between he cleared away stones and opened the fences. Finally we start for the hospital in Craignure.
Thank you, helpful guy from Glasgow!
Piers, the doctor, and the nurse provide us with tea and coffee. The kind welcome is followed by a harsh verdict: either by helicopter to Paisley/Glasgow or put the leg in a cast and back to Hamburg for operation. We decide to return to Hamburg at once.
Thanks for the help and the cheering words, Piers!
Now 2 ferries had to be rebooked. A problem came up with the Mull-Oban-Ferry. Then I remembered the police station (above) in Bunessan. The policewoman there could help us. We got a transfer for the same day and a hotel room at Oban.
Thanks a lot Claire C. und sorry, and sorry that on your day off I made you jump from your afternoon nap!
We are treated preferred, get a place beside the elevator and a wheelchair.
Our thanks to the team of Caledonian MacBrayne!
At Oban Bay Hotel we are welcomed by Sharon, she had been informed by the police officer. We wish to thank her entire staff who looked after us so well.
Thank you, Sharon!
A very special thanks to DFDS for their quick assistance in rebooking the Newcastle-Amsterdam-ferry. Parking space on the car deck beside the elevator, a steward brought a wheelchair and we were booked into an accessible cabin.
Thank you, DFDS-Team in Hamburg!
SSo within three days we were back home. I certainly will not forget Margaret in Talmine and Maureen in Pitlochry. They both forsook the payment for cottage resp. B&B when they learned about the accident and that we were not able to come. See you for sure!
Unique Scotland – you hardly will find that in Germany or anywhere else.
Next year we are going to continue this journey.