* Latest News * Aktuelles *
Scotland by Plane
Upto this day for travelling to Scotland we had always taken the train or the car and the ferry. This time the car stayed at home and we tried the plane. Let me tell you: Once bitten, twice shy! 
Checking in was already something very special. 
"Unfortunately the flight is overbooked, you have to go via Frankfurt", an offical of XLM (name slightly changed) explained to us with a sardonic smirk. Hum, begging pardon, but what for did we book seats? We declined the offered 75 Euro, the offered free visit to a hairdresser plus any kind of perks on the next flight. Landing somewhere nowhere did not appear very tempting to us. Their fashion of overbooking flights is actually not our business. 

A short time later with the body check there was the first confrontation with authorities in arms. My beloved Zippo-lighter was ranking as danger for the safety on board and the peace of the world. None of the three uniformed gentlemen on my request desired to buy the lighter on good terms. So together with my fuel-lighter I had to leave the airport building to "burn it empty" as the officer humorously suggested. Nice trick! Until the fuel had burnt out, the plane would have been in the air and the problem of overbooking brilliantly solved. So outside the building I took out wick and cotton and stuffed everything into my trouser pocket.

Nevertheless the departure went quite wrong. With a delay of 45 minutes the plane took off. The next drama was waiting for us in Amsterdam.


While still being in the stack over Amsterdam and yearningly looking down to the ferry port of Ijmuiden (below), the captain informed over loudspeaker that there will not be any difficulty at all reaching the connecting flight to Edinburgh. Swell, so we jacknifed out of the plane - to waste valuable time at the next check. 
Down there is  Ijmuiden - here the ferries to Newcastle are starting. 
"Wat is dit?" the Dutch safety expert gasped when searching my purse. I remained where I was, facing some problems with my slipping trousers the belt of which - most suspicious - had long been taken from me to be thoroughly examined by a safety team. 
"Dit is an file", I explained in my very best Dutch. I was not certain but felt like all snipers of the border officials going into position at this moment. Very slowly I moved towards the terrified officer, having some trouble not to stumble over my working down trousers. Indeed I had been missing that dastard nail file for some time; it had hidden in one of the wallet compartments. A hastily called in team of experts did not succeed even with their best efforts to lure the coward file out of its hiding place. The situation appeared to be out of control. In the distance I heard the wailing of sirens - was this the Dutch Royal Army approaching? One general looked straight into my eyes for a long time - I stood my ground. He then said: "All right!" The file was permitted to pass. 

In spite of a record-breaking sprint there was nothing doing as to the connecting fligth. The plane had not taken off (delayed?) but the sign "Gate closed" smirked at us. The area was deserted like the German Bundestag during a debate on voters' frustration. Demotivated, we crept back to the XLM-booth.
"Oops, I'm sorry, but these things happen", a blue cladded lady consoled us. "You could try it once more in three hours. Seats? Why seats? If nothing is vacant, you try the next fligh in... six or eight hours!" 
Several safety officers hindered me in in dismanteling the XLM-counter. For consolation we received a few vouchers which we accepted listlessly. However, we could squander the vouchers at 'Murphy's Pub' (recommendable). Thus sustained, we took along the remaining vouchers - we had a plan! Back now to the XLM-counter. 
The safety teams around us cocked their weapons when we approached the counter. With the most innocent of all innocent faces and with friendly smiles we put the pile of vouchers onto the counter. 
"One upgrade on the Edinburgh flight, please. Thank you!"
Silence in the complete terminal! German hackers without mery attacked the one weak point in the otherwise safe system. The Royal Army around us was powerless; no orders were existing for a case like this! Followed a hectic phone marathon while we stood by, waiting with innocent faces.
After several recalls of the Royal Home Office and Government representatives some brigthly smiling she-major handed us tickets for the very best seats in the plane. Here we are, there's a peaceful solution for everything! 
Soon we enjoyed the flight to Edinburgh while the Royal Dutch Army retreated today.
At last: Take-off in Schiphol
Quite another view on Amsterdam
Landing in Edinburgh
Touchdown in Edinburgh went without problems. Back on Scottish ground at last. Now everything would be different. It was indeed, no body-groping, friendly welcome with bright sunshine and a few minutes later we were standing at the stop of bus line 19. We bought a return ticket as we had scheduled to go back in a few days. 
On we went with a double-decker zu Waverly Station, right in the city of Edinburgh. Half an hour later we reached there.
The sun was bright and we moved into our quarters. We soon made friends here, especially with a Scottish plumber who visited us several times. In all he came three times to solve a little problem with a tap which did not want to splash any water. We quite took him to our hearts but on a rainy day we unfortunately had to leave. In the distance we could make out Arthur's Seat.  From there we had had a great view on the town.

This time we were really impressed when we visited  Mary King's Close - and Arthur's Seat.
Down Princess Street (tram not yet finished)

Passing St. John's by double-decker...


Changing in Schiphol/Amsterdam? An olympic race with time. Perhaps they created the film title "Amsterdamned" here. Probably our looking a little bit knocked out after a 2 km spurt caused the border authorities to have mercy. A short inspection and we, bathed in sweat, were allowed to climb into the bus to the plane. 
Finally we approached cloud-covered Hamburg. Here are the last minutes of the flight. 
Through the Clouds:
Top
From North to West -
Along the Northern Coast westwards down A838
Setting out to the beginning of the road north, we follow the A383 to the left. It takes us via Tongue and across the Kyle of Tongue down to Sandwood Bay and finally to idyllic Scourie. -



The Road to the Atlantic - After Crossing the Bridge there is a Junction to Melvich, alongside the Kyle of Tongue.

The long bridge over the Kyle of Tongue.

This charming little house marks the beginning of the bridge...
Passing the cemetry - Castle Varrich under fog in the distance...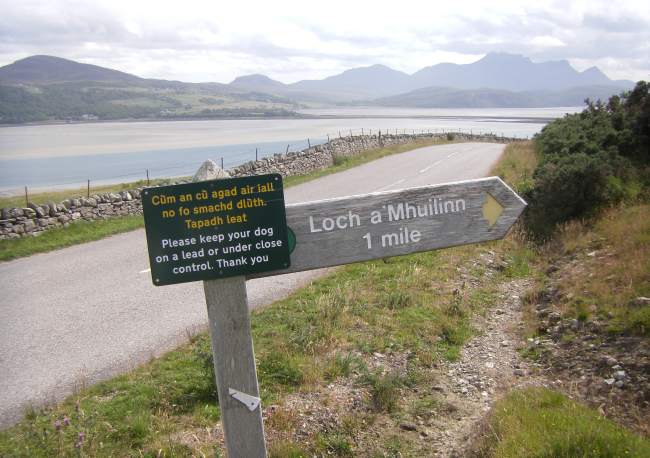 The path to Loch Madden is worth the trouble only in dry weather...
Reaching Skinnet - each change of the weather shows a new, terrific scenery.
Omnipotent: Ben Loyal, after Ben Hope the highest mountain of Sutherland.
Don't worry about the weather, just walk the beach...
Dunes, sand, clear water - and with a bit of luck even seals.
Freedom without limits....
...hidden bays...
... it's like a dream.
---
Talmine
A Jewel at the Atlantic Ocean
We reach Talmine, a jewel at Scotland's north coast.
We follow the narrow road to the left and reach the post office. At Tommy's you'll also get fruit, vegetables, even Sim-cards...
... and from the cottage above we have a wonderful view on Rabbit Island. Certainly the kind owner, Magaret McKay, assists us to get there some time - we'll come back.
School and municipal centre, and behind that steeply down to the beach.
There are two main roads: One along the beach and one "further up".
This old wreck has been lying at the beach for years.
The 'port' of Talmine in the background.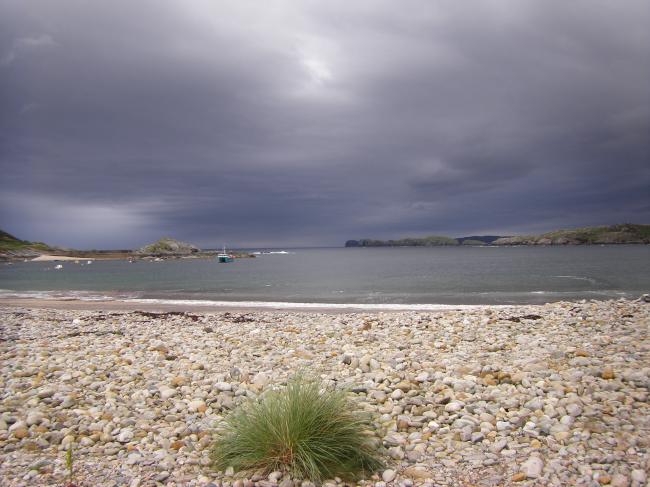 See the bunch in the foreground and take a glimpse at the Atlantc Ocean in the background...
The best view you get from the old school building.

..
... by the by, also events take place there - like a Gaelic Night.
This picture was taken in summer long after midnight.

..
... and this one after the rain of course...
Rabbit Island with its beach, in the background you can make out Eilean Nan Ron.
Walking the beach always is fun.
No sea cows - just common beach cows.
Now we are leaving Talmine for some time...
---
To Midfield via West-Strathan
Walking as the crow flies

A short distance behind Talmine the narrow side road begins...

Last year we started in rainy weather and had to walk back - see why?
First of all we scare some grouses and frogs; then we reach West-Strathan.
Only the little dog in the window welcomes us, beside that there is only quiet - and loneliness.
We leave the lonely place...

In the distance there is the Atlantic once more. We are approaching Achinver.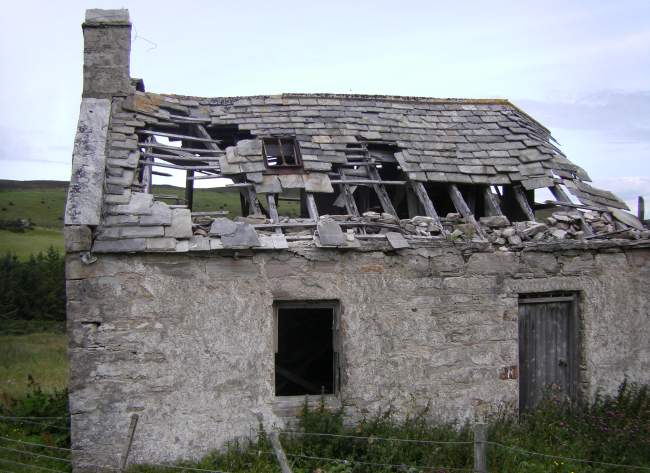 Those were the days...

And another dream beach... Achinver Beach.

In the foreground you can make out an old mine from World War II.

We have to pass private property but after asking politely...
... an elderly Scotsman permits us to walk over his ground.
This beach is ours, lonely and wild.
Now  we leave Midfield, setting out back to Talmine.

---
Portvasgo

Down the coast and left.

Passing the harbour, it's all down the coast - northwards...
...and Talmine is behind us.

The Atlantic Ocean on the right side and somewhere to the left should be Torrincudigan...
A lonely bench in the wilderness. With the name plate of the donor.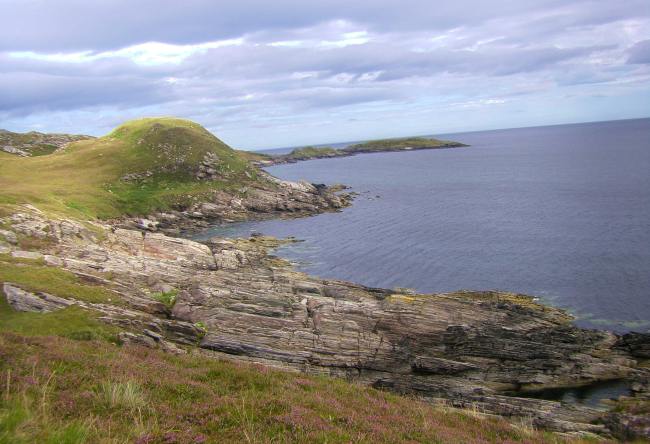 A quaint heath scenery, no people, not even sheep.
All the time we find these small, hidden beach bays...
Ice Age remnants...
... harsh and terrific...
...perished...
We reach some hidden port.
So this is Portvasgo...
Back we go - about 4 kms to our Talmine cottage.
---
Loch Eribol up to Durness
The road appears endless as we pass Loch Eribol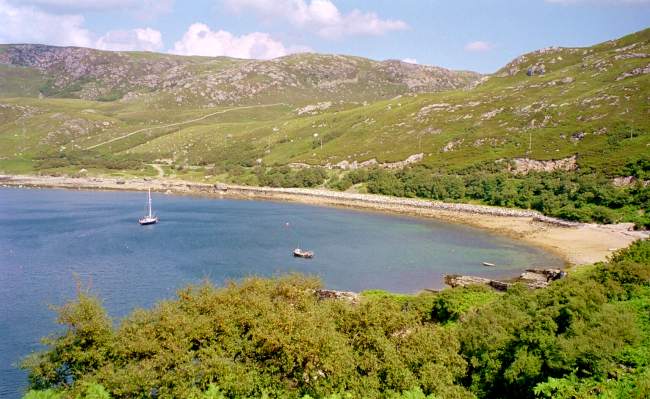 It's like some Caribbean place...

... narrow places to pass...

...some relicts from World War II - a submarine station.

Fishfarming is very popular here.
Indeed, this road seems to end

never

...
Remote phone-cells...
This is the Video:

Finally we reach....

Rispond - ahead of us: Traigh Allt Chailgeag.
Sangobeg...
So many dream beaches - like pearls on a string...
Every year I wonder if that stone is still standing...
Smoo Cave -  a popular place for tourists.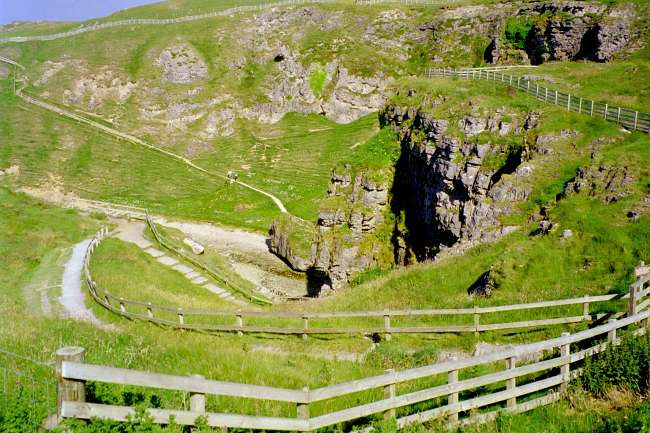 Part of the cavern can be visited for free. The paid part includes a boat trip.

Finally we pass Sango Bay, not far from Durness.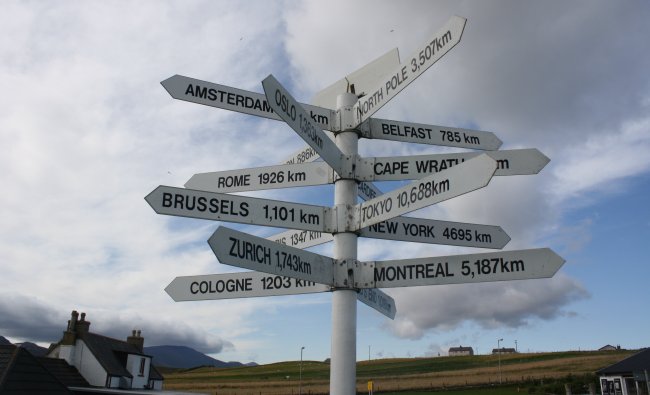 It's like being in the centre of the world...
Next to the camping-place there is a tourist-information...
Fossils and gimmicks. We always bring home something from here...

... and every time we try to find out more about Puffins...
---
Faraid Head
or:
Where are the Puffins?


Behind Balnakeil we leave our car on a parking place.


We want... dream beaches and... puffins!
Next to the parking area there is the cemetery of  Balnakeil...
...at Balnakeil Bay, a really amazing bay.
Well, this actually looks like a short, nice walk...
However, the weather is incredibly hot today...
Somewhere in the distance must be the road to Cape Wrath.
Not even the German isles of Sylt or Amrum have dunes and beaches like this...
Soon the 'road' ends.
As mentioned before... it is pretty hot today...
... far away from ice-cream and coke.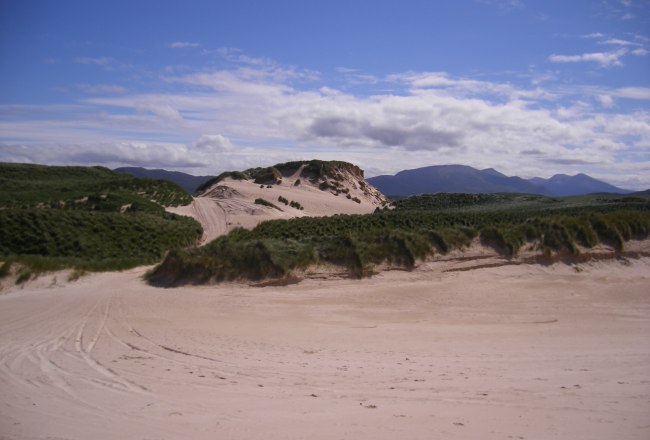 Just sand and dunes...

or the skeleton of a sheep...
At least we are next to the sea from time to time.
We were told there are Puffins at the northern point.
Indeed here they are, but out of reach...
As usual, military forces occupy peaceful parts of nature...
...maybe the Puffins are a danger to national security?

We walk back along the cliffs to find a better spot.
Whiten Head in the distance...

After a while we reach another place, some "insider tip

".
We are not brave enough to walk down there...

... so we watch from the distance.
From April until end of August they are here... breeding.

Then they disappear somewhere over the mighty Atlantic.

However, this Puffin was sketched by Christina...

---
From Durness to Kinlochbervie, Scourie and Handa Island
This small shop is the only place to buy a few things before we take off -  opposite to this shop there is a petrol-station with the most expensive fuel of Scotland.

Whiten Head again in the distance and we are on a lonely road again...
Keoldale at Kyle of Durness - here the ferry to the most northern point of Britain starts.


River Dionard, developing into the Kyle of Durness after a few more miles...
The video... between Durness and Kinlochbervie...
Near Kinlochbervie....

and Scourie with its amazing beach.

..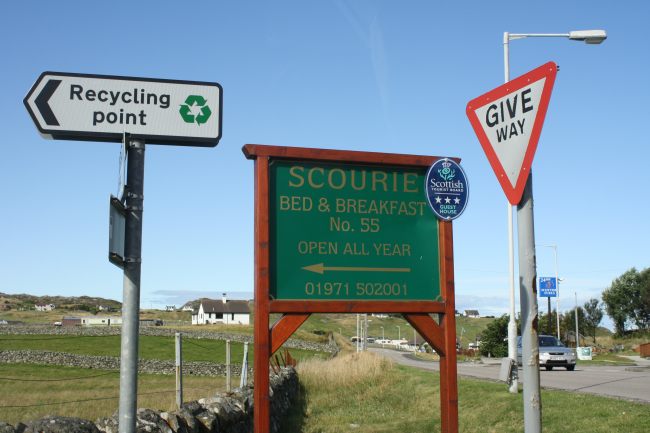 ... a perfect place for a rest.
--> Home
Handa Island is located in the north-western part of Scotland. There is a huge sanctuary of seabirds. However, you only get there with a motor boat from Tarbet.
It is a pleasant drive from Scourie...
 ...to the port of Tarbet... 
 ...where we buy a ticket for the boat passage to the island.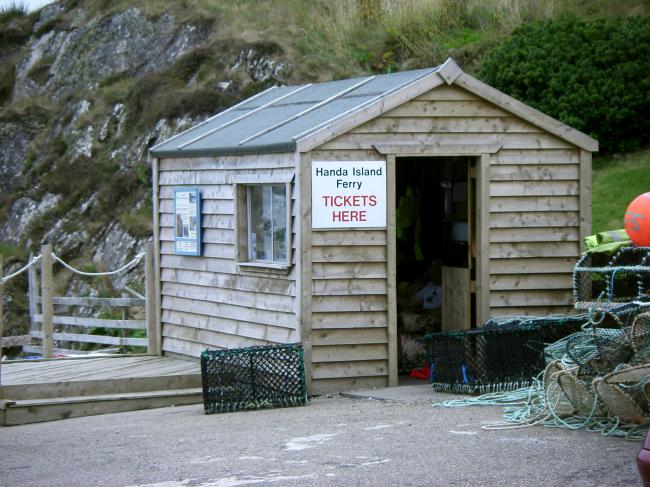 The passage takes only a few minutes.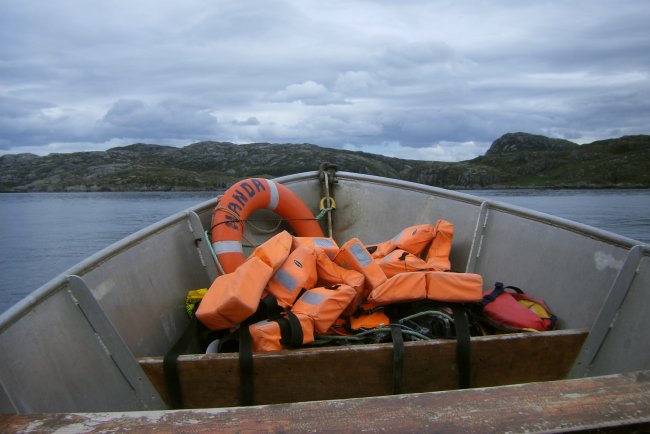 A quick visit to the bird bunk where a donation should be left...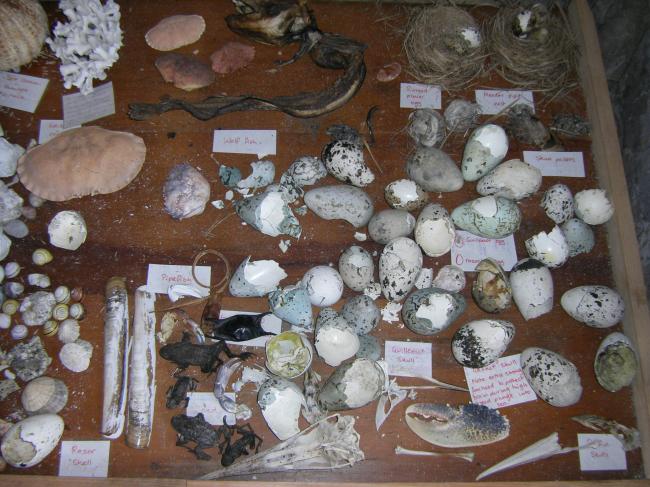 ...and over a plank roadway we reach the bird sanctuary where we once more hope for puffins.
On our way we are watched with suspicion.
We feel a little queasy - there are no safety fences anywhere.
Puffins, skuas, kittiwakes, fulmars, and oystercatchers are the residents here.
Lazyness and sunbathing is the order of the day...
?
and the Puffins? Unaccessible again.
Even the telephoto does not help much - not ours at least.
Beside some rabbits, lizards, and midgets nothing but birds can be seen.
Passing swarms of midgets, we return to the boat taking us back to Tarbet.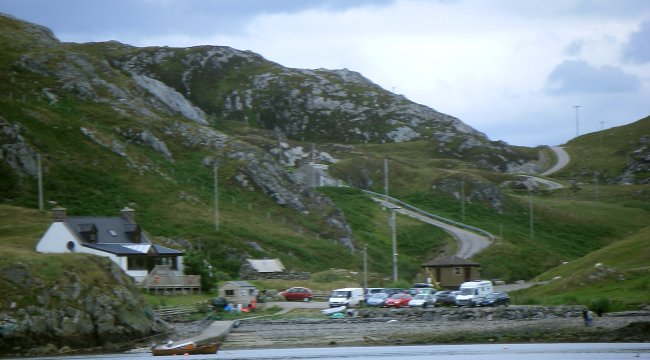 Sheep, Border Collies and a Shepherd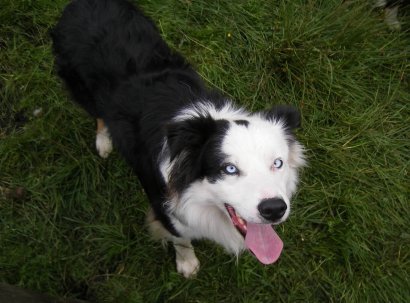 I am Chip, one of the main actors. We are four Border-Collies, there are Lucie, Jane und Dan. We manage everthing over here.
Allan is our Boss, he is taking care of all the sheep over here.
My name is Jane and I am really a little exhausted after so many weeks of sheep-trials. Even a Border Collie needs a break...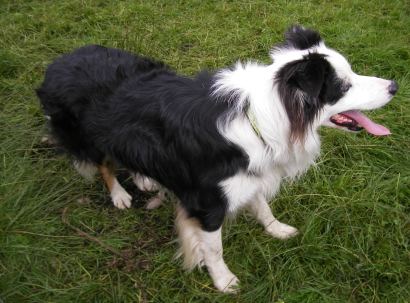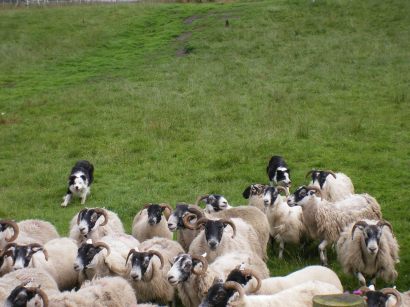 We start chasing these fellows into the corral. Allan instructs us how to do it. He is shouting and whistling. Its not an easy job since every now and then one of these stupid sheep tries to excape.
No chance to escape for this one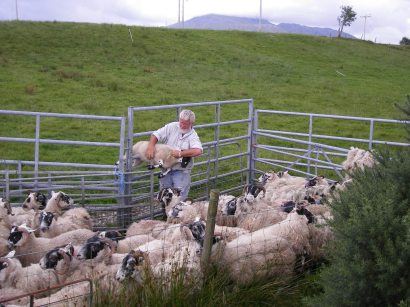 All candidates are gathered now.
Each of them has to be vaccinated and marked afterwards. The young ones will be treated first, then the elder sheep are served since they have to get shorn, too.
Vaccination is a good thing to keep away infections by worms.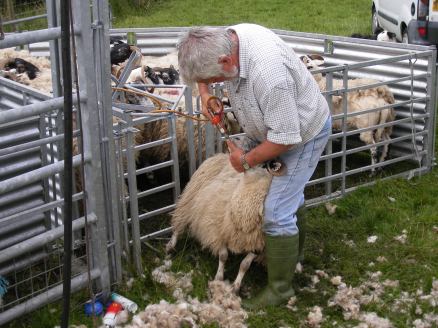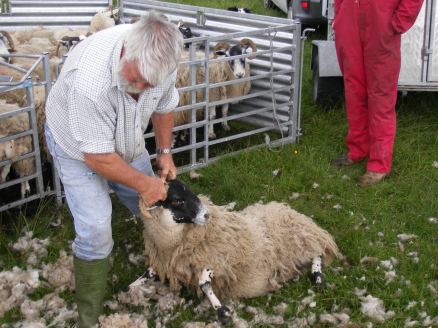 Now they have to be shorn.
The shearing of the sheep is not done because of the value of their skins, neither because its getting too warm for the animals,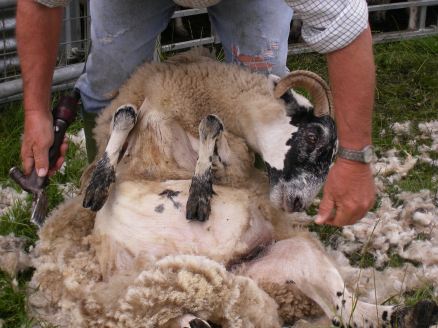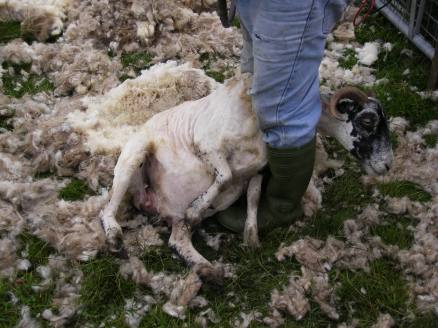 It's just because no insects shall be able to set grubs into the skin.
Hardly to be recognized. Even the lambs won't recognize their own mother now.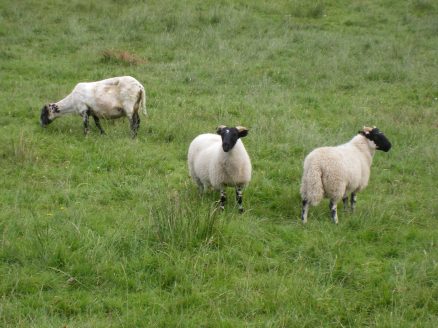 While the shorn mother is having a snack, her lambs are still looking for her.
Generally it takes 15-20 minutes until the lambs recognize their own mother after this kind of hairdressing.
Who's next? Nobody is really keen about that.
From time to time Allan has to oil the razor blade since the skins of the sheep are quite dirty and sandy.
This one is a year old. He is going to try to win an award next week.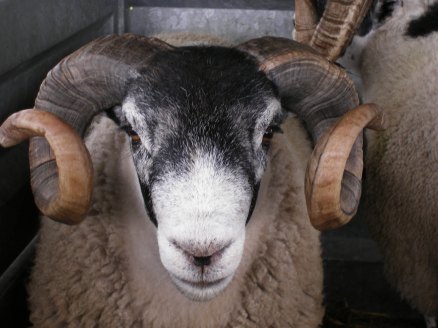 Now its our turn. Allan gives us a few hints.
First of all: The sheep needs to know who's the 'Boss'. Pull it strongly by the horns and close to your body.
It's not easy to seize one of them.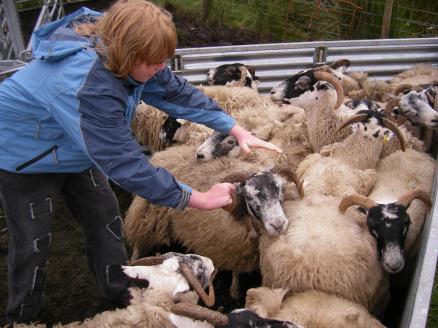 'Dancing with the Sheep'.
These animals are strong, but they can't stand it too long. Soon it will give up.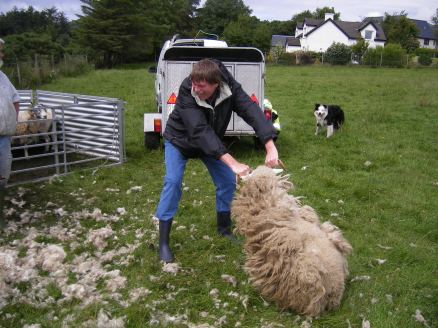 Do not stay in the way when a big sheep tries to escape.
When I did so, I had pains in my knee for several weeks...
The age can be determined by their teeth.
This one is 5 years old already.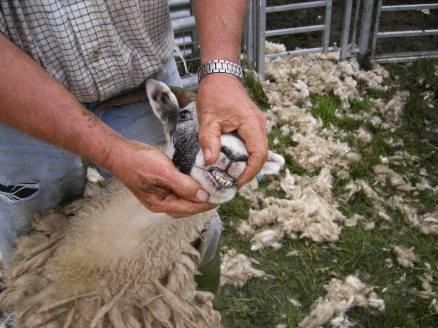 The battle is over. 6 hours later all sheep have been vaccinated, marked and shorn.
A skin is our wage.
Leider wird diese Joomla Software immer zickiger. Nach jedem Update - was ja nun häufig vorkommt - wird der Statistik-Counter rausgehauen. Oder die Videeo Funktionalität. Neulich auch beides.

Deshab sind die Videos jetzt hier, auf meinem Reiseblog zu finden:
Subcategories