* Latest News * Aktuelles *
Eilean Fhianain
Calum Cille, holy St. Columba, plays a leading role in scottish history,
Eilean Fhianain is located in the middle of Loch Shiel. Once St. Columba visited this celtic funeral island.
The first attemp to reach this Island was done by walking.
Passing Dalelia, we turn to the Pier. Unfortunately nobody is to be seen, no chance to get a boat here.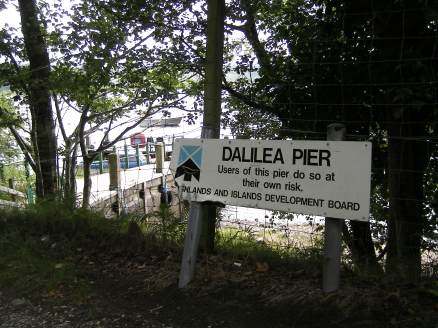 Nevertheless we are walking through almost impassable arrays.
Lots of ruins we pass.
Finally at least we can see her: Eilean Fhianain, also called St. Finnan's Island or Green Isle.
Wind and water seem to be too strong for swimming that days.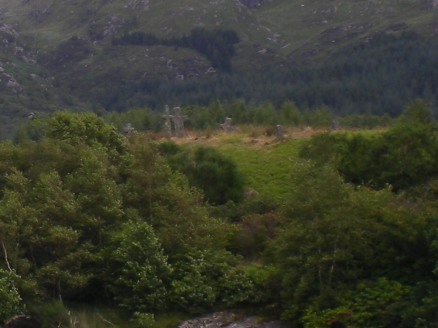 Celtic Crosses, but there is no boat to go there.
Deeply disappointed we turn around, however, we do not now at this moment that we will are more lucky within the coming days..
Mr. Peake, a neightbour who is working in touristic of www.ardnamurchan.com rings me up in the evening, offering to give us a lift to the Island.
A few days ago I talked to him about Eilean Fhianain, indicating my strong wish to go there.
Of course we are interested! The next day we meet him at the Pier in Acharacle with his boat.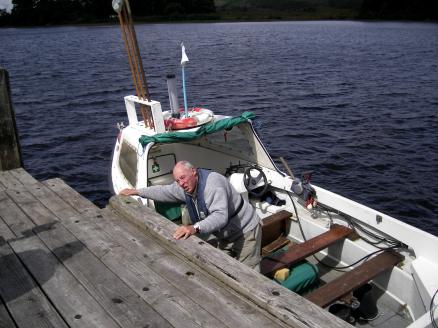 It takes more than an hour to reach the island.
Loch Shiel is quite difficult to go since there are lots of shallows.
These are the crosses which could be seen from the pier a few days ago.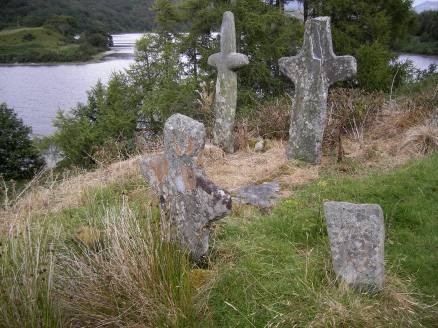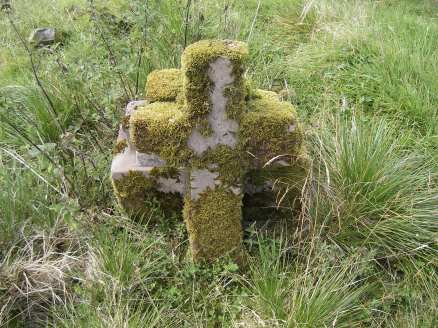 This one is hardly to be discovered as being a cross.
Damaged by wind and weather.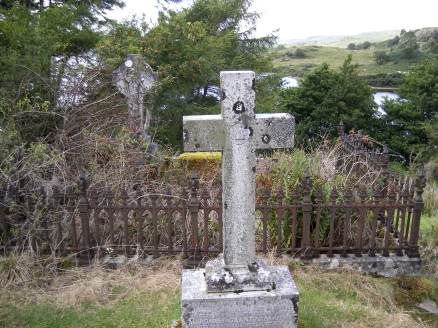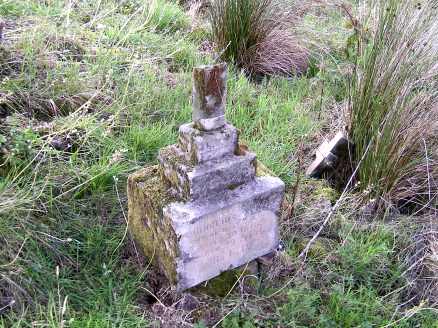 The top of the broken cross lays to the right side in the gras.
This is the biggest celtic cross of the island.
The local church is responsible for this funeral-island.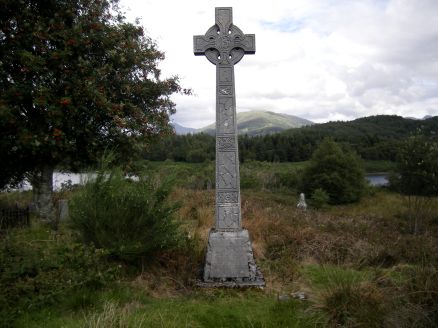 Every now and then its hard to find out what this really is....
At the 'top' of the island: St. Finan's Chapel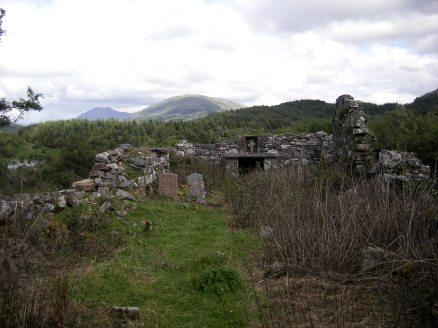 The Altar of the Chapel. The bell is fixed with a chain.
Raising pridely into the Scottish sky...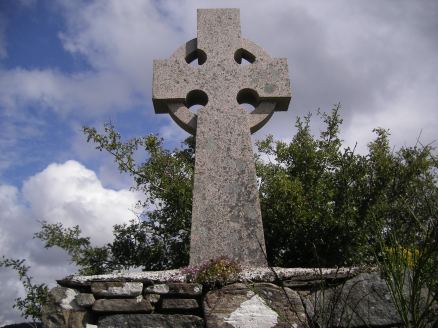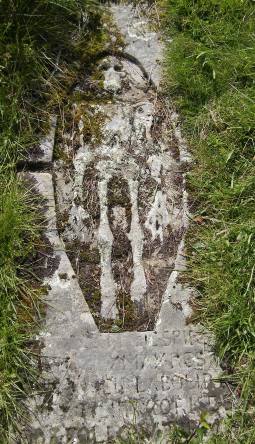 A flagstone, hardly to discover.,,
...the words cannot be read anymore.
This chapel in fact is much older than the cross inside.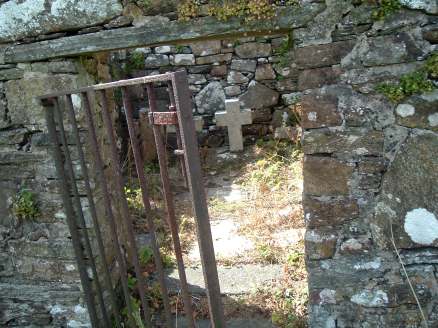 These old grave limitings have been restored recently.
However, the inscripition is unreadable...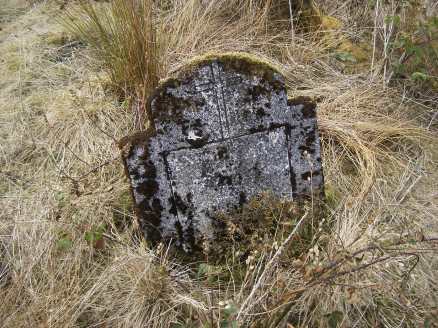 This, I believe, is the most fascinating island of the world.
Hardly to be discovered as an old tomb..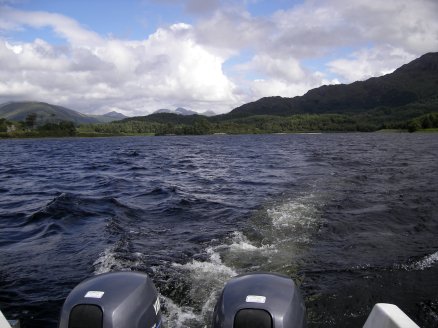 After an hour or so Mr. Peake returns with the boat. However, I don't like to leave this fantastic Island so soon!
We watch the island disappearing after a bend a few minutes later.
Loch Assynt to Ullapool
Reluctantly we leave the beautiful northern coast but Ullapool is waiting for us.
This sign promises an interesting trip.
Along lonely lochs and derelict bridges....

Passing Scourie and near Unapool a very long bridge.
The street winds on through impressive sceneries.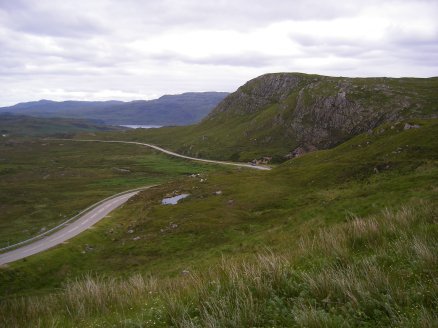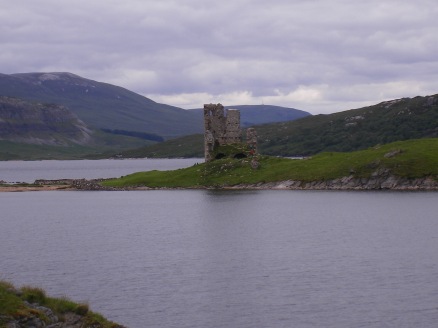 Reaching Loch Assynt and Ardvreck Castle.
The castle manor has seen better days, it dates from the 16th century after all.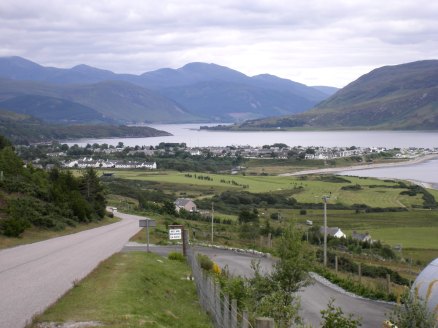 Ullapool and Loch Broom ahead!
Ladies' first duty: Shopping!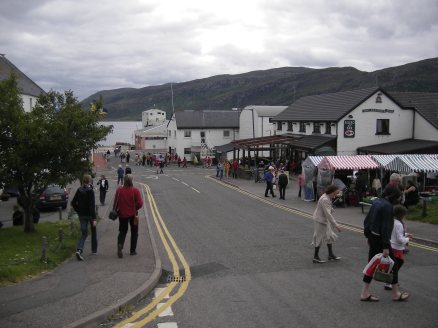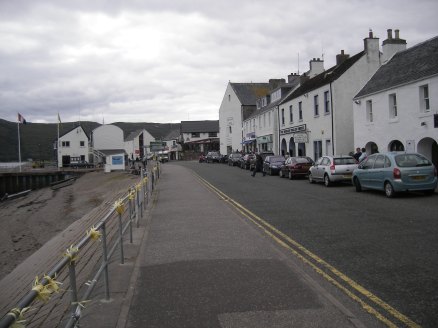 Ullapool at Loch Broom can boast of some really interesting shops at the harbour.
Here the ferries are leaving for Stornoway on the isle of Lewis.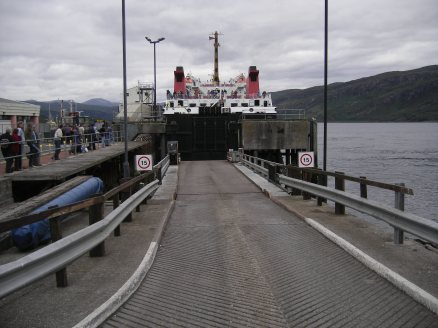 Tonight the 7th volume of the Harry Potter books is released.
In the Ullapool bookshop we get hold of one much yearned for edition.
At B&B Creagan House In B&B Creagan House, Pulteney Street we get a rich breakfast after a relaxing night.
They even serve black pudding here.
Moidart - between Mull and Skye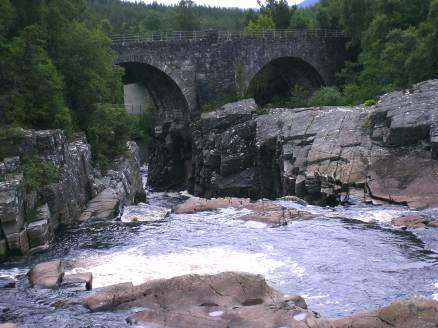 Weather is changing while we are on our way to the West.
This seems to be a perfect place to rest.
Via A82 we are passing Loch Ness. Our destination is Moidart, in the west of Fort William.
For a short moment the drizzle stops. Urhuquart Castle now is in front of us.
Corran-Ferry, we have to pay Pds 5,20 for the transport to the other side.
Darks clouds appear when we reach Ardgour.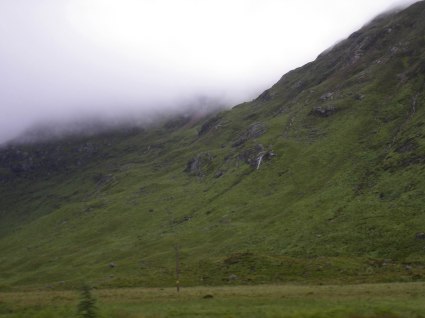 Here we meet again this wonderful melancholy, which is so typical for Scotland.
The roads are easy to go, however this will become different after Strontian.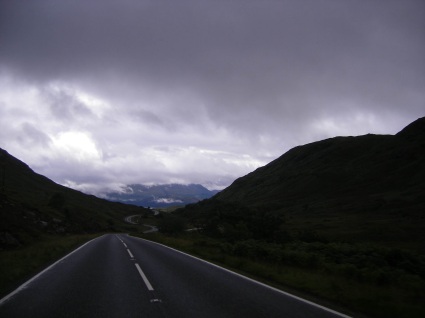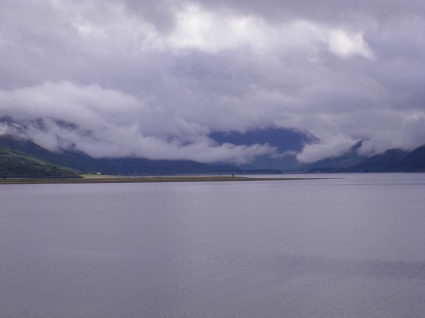 The sky seems to be hanging quite low over Loch Linnhe.
Simply impressing, although it is not our first visit of this area.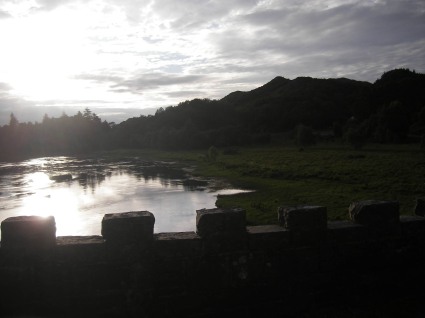 We reach the Bridge of Loch Shiel.
From Acharacle we can see Rowan Hill Cottage, where we will stay for a fortnight only.
In the background Ben Resipol is to be seen. This is the highest mountain within this area.
---
Ardtoe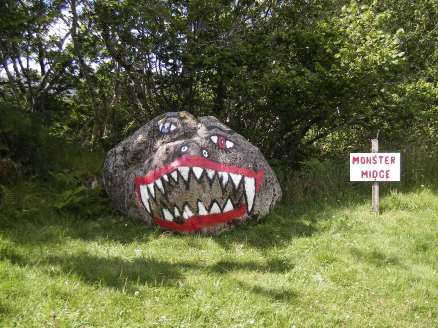 Nobody likes Midges, however, I have been looking up this one since a couple of years. It was expected to be at Acharacle, actually this Midgie ist located close to Ardtoe.
A nice bay, indeed.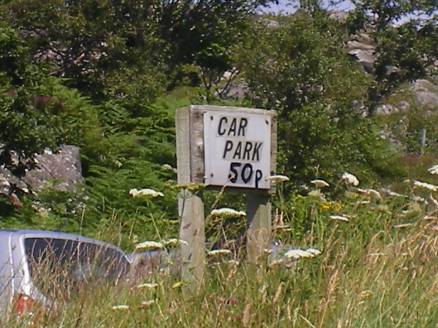 50 Pence for parking are not too much.
The Bay of Ardtoe.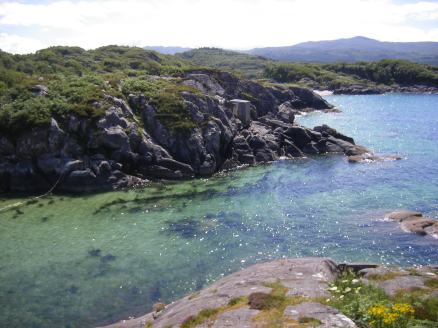 Funny sign at the Marine Laboratory...
A few minutes walk there is another sandy bay.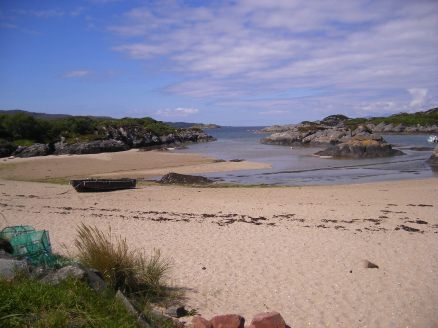 In the background: The Singing Sands of Gortenfern.
Ardnamurchan to the left, Rum and Eigg to the right hand.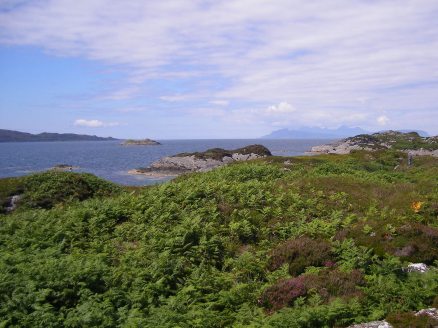 A super place for phoning home...
---
Acharacle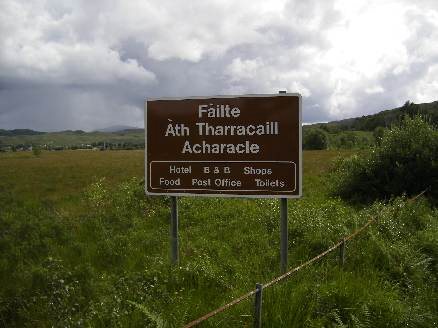 Why Acharacle, since this is a wee town everybody seems to know each other?
Well, because there a few advantages being here...
Its not because the old bridge crossing Loch Shiel, where actually a driver needs several efforts to cross the narrow bridge. Only one car a time can pass it...
People say, Finnegan McDoodle often hangs around here.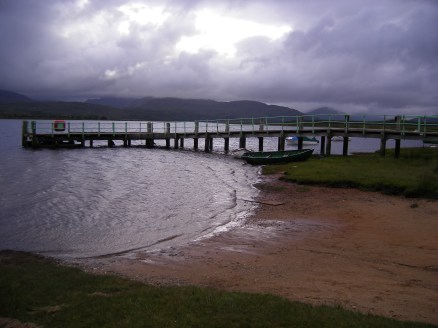 the romantic Piers is nice, but the reason for staying here is simply somthing else...
This town is perfectly situated. To the West there is Ardnarmurchan, Artoe, the famous Singing Sands and Kentra Bay,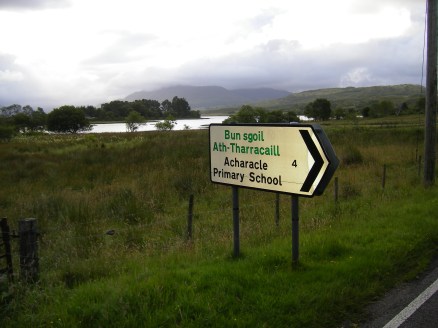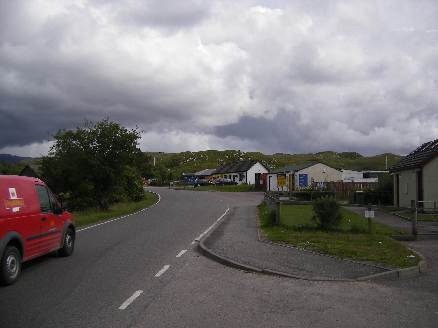 To the North you find Arisaig, Morar und Mullaig with ease.
Heading for the east its not too far to visit Glenfinnan Viaduct, which got famous by various Harry Potter movies.
In the flat postoffice behind the phonebox there is an Internetcafe with a Hotspot as well,
finally you can attent beautiful sunrises.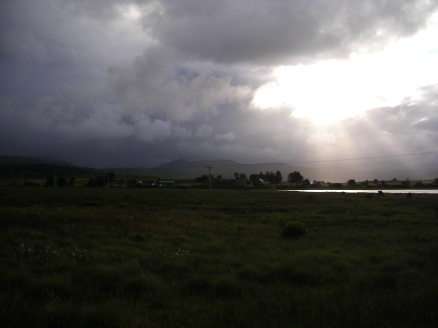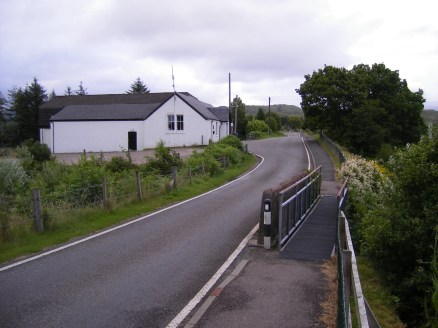 This is the townhall of Acharacle.
By the way: 17 German immigrants do live here, some of them since 30 years.
---
Singing Sands
Short before Kentra just turn to the left to a wee parking place.
Last time we have been here there was no sign warning of 'Unexploded Munitions'.
Starting Kentra Bay its going to be a walk for about 5-6 Kilometers to the 'Singing Sands'.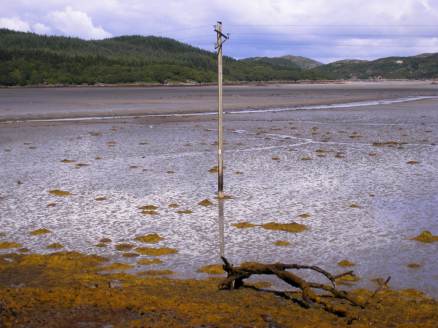 The old stonebridge has been replaced by a new, unsteadily wood footbridge.
Partly the sinister forrest looks like a real magic forrest.
The roots of these fallen trees are about 3 meters square.
After this nice walk we finally reach the 'Singing Sands' of Gortenfern.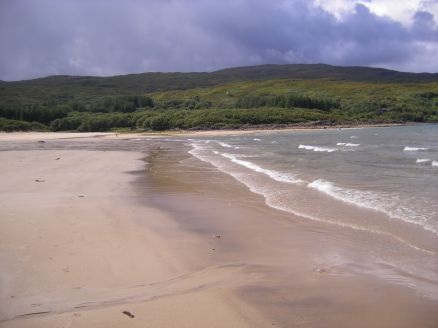 The beach looks really inviting.
However, the 'Singing Sands' seem to be very tongue-tired today, no sound is to be heard, even a strong wind is blowing.
A heavy shower is coming down. We hide ourselves between in a rock wren.
Soon as the showers quit we start a genuine exploration.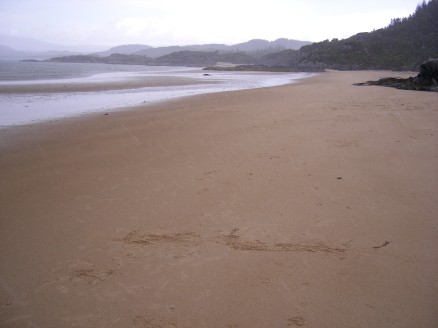 The beach is covered with jelly fish, some of these 'Lion's Mane Jellyfish' with a diameter of 30 centimeters.
Just as the rains has gone and sun comes out, we face the appearance ot many tourists accompanied by a troop of barking dogs.
This beach is not recommended for children.
Ardnamurchan, Eigg und Rum are in a remote distance.
An old floating-mine, a caliber of One Meter...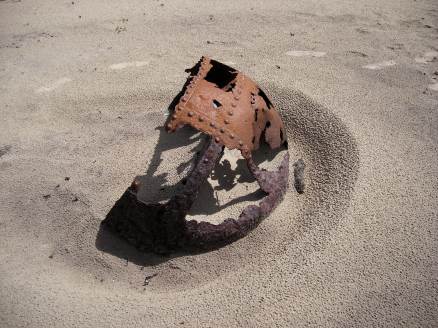 The rocks close to the beach are covered with shells.
On our way back home we have learned, that a pleasant walk to a destination often is more interesting that the destination itself.
---
Morvern
The peninsula of Morvern is located in the north-east of Mull.
Since Informationen of this peninsula were rarely to be found, we had to find out by ourselves what to see.
There is a reason that this countryside is so rarely inhabited.
Once a Judge bought all plots of this land and made the people go. These turnouts took often take place in a cruel way.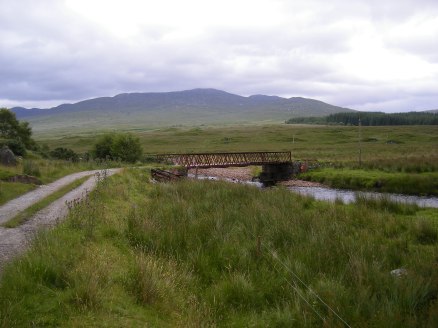 Only Single-Tracks can be found at Morvern, however, there is only rare traffic.
A few datas of Morvern:
1/20th Farming,
1/3 Wood,
remaing Bens and Badlands.
The mayor town lays at the southern tip of the peninsula.
Lochaline, some unkind gathering of houses.
Here the only snack-bar of Morvern is to be found, moreover one shopping-place, a hotel and a restaurant.
The ferry heading to Mull seems to be the ounly contact to outern world. The ship is leaving every 55 minutes.
A return ticket to Fishnish with a car cost abt. 19 Pds, passengers have to pay for a single trip 2,50 Pds.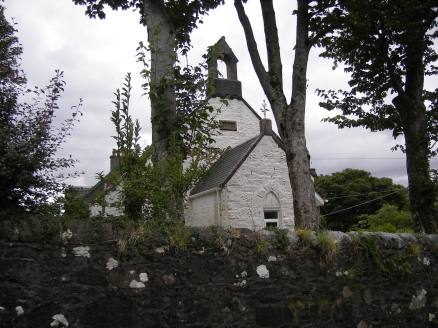 Of course there is a small church at Lochaline, which is nowadays only used privately.
Kinlochaline Castle is to be seen in the distance. In Artornish and in Killundine there are castles, too.
Like many names of the towns in Morvern, Ardtornish has its roots 800 years ago by the Vikings. It just means 'Mull von Thor's Foreland'.
Right in the middle of lonely Morvern we notice this funny hedge.
The young woman with the child in her arms is coming from the Netherlands. She is married with a Scots.
Few miles westerly: Loch Uisge.
The streets are very narrow in this part of the peninsula. A traffic-sign recommends not to pass this way by caravan.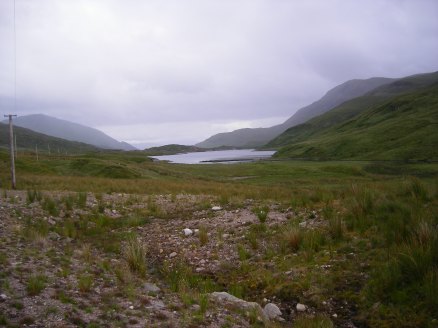 Fuar Bheinn and Beinn na Cille in the background. Just an ideal place for those who like loneness and pure nature.
On our way back into real life Loch Sunart appears. Strontian is to be seen, too.
The trip through loneliness has come to its end.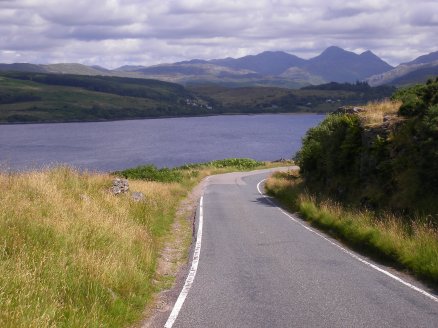 Ardnamurchan I
- The most westerly mainland Point of Scotland -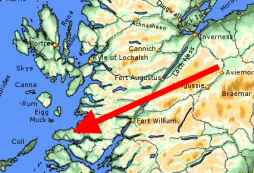 Ardna-what? When the plannings for a trip to Ardnamurchan were at the beginning, it was quite difficult to get information about this peninsula. Special thanks to Brenda from www.west-scotland-tourism.com. However, here is a map showing where Ardnamurchan is.
Ardnamurchan peninsula, the most westerly point on the British mainland. The winding A861 runs west from Strontian along the north shore of Loch Sunart to Salen, where the single-track B8007 branches west and runs all the way out to the tip of the peninsula. The A861 turns north to Acharacle. Kilchoan is the main settlement on Ardnamurchan. Yes, a traffic-light is there, too. It can be found close to the lighthouse. Sofar in brief, but it is much more....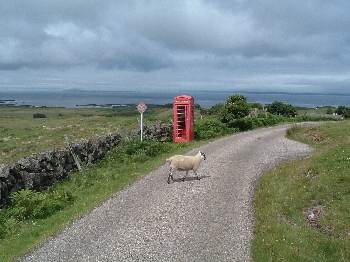 On our way from the North we pass Thurso and follow the A9 along the eastern coast of Scotland. At Helmdale we slow down due to road-works. It seems like the journey would never end. We have estimated five hours to reach Ardnamurchan, however we stop for a break near Loch Ness.
There are so many buses with Japanese tourists that there is no chance to make a stop at Drumnadrochit. However, we have already been there twice and there is no need for another visit....
Via Fort Augustus and Fort William we reach the Corran Ferries. We drive straight onto the ferry which costs PDS 5,20 for all of us including the car. We see the lighthouse near the Ardgour Hotel and a lonely ride begins. The rain is getting more heavy but that does not matter at all, because the landscape looks mystic this way.
After passing Salen we know that we cannot miss our destination since this long and winding road is all we can follow. The mountains disappear in the fog while we feel like driving helter skelter. At least the kids like this kind of journey while the driver has to watch carefully for approaching traffice.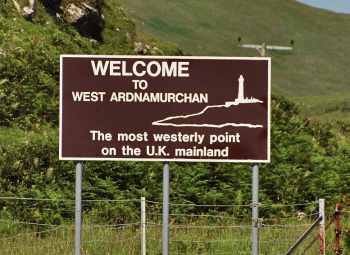 After Glenborrodale Loch Sunart appears to our left and the turbulent drive goes on. S-bends decorated with an eternal up and down, again and again the typical sound of driving over caddle-grids. Somewhere now the extint vulcan Ben Hiant should be seen, but wafts of mist do not allow any view.
Short way through the forrest and we first reach Branault, then Kilmory, and finally Air-An-Oir, which means "On the Edge". The owner, Miss Adam, was not able to wait for us, but the key is in an envelope. We are happy: the most beautiful and cosiest cottage we ever visited.
Everything is neat, nothing is missing. The landscape is simply grand, we have wonderful view to the Bay Port an Eilean Mhoir.
Miss Adam rings up to give a few hints. At the piano in the living room we discover a video: Harry Potter and the Prisoner of Azkaban. What a lovely way to finish the day.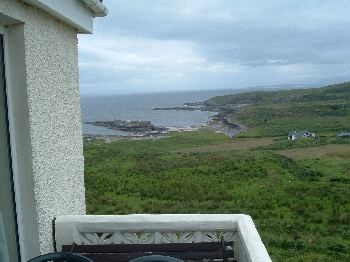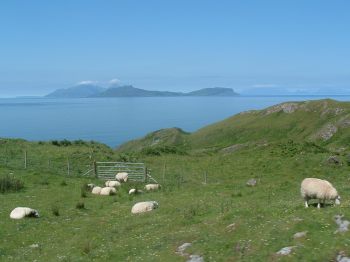 Breakfasts are to follow with beautiful views to the bay. Far away we can see the Isle of Muck, Rum, Eigg, and Skye, somewhere to the right would be Arisaig. Fascinating to see all the lights and lighthouses during the nights.
It is low tide and we are visiting an interesting small lava island. With wet feet we start our way home, passing grazing horses, and take a look at Swordle Bay Ho.
Two kind ladies are showing us the library: a whole wall full of books in German language! They belong to the previous owner, a certain Mr. Hammel.
---
Ardnamurchan II
- unknown Peninsula-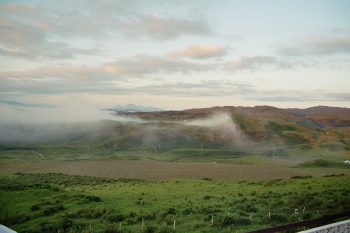 In the afternoon as a change fog comes up. Within an hour the sun has to give room to the mist. It's impressive, and finally we cannot see ahead more than 30 m.
When the rest of the family is asleep I start a walk in the dark misty landscape. No monsters to be met with the exeption of a hedgehog.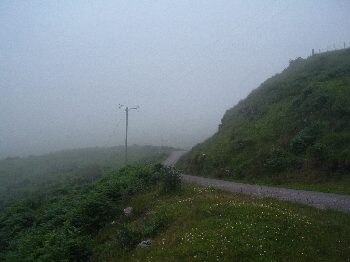 Christopher has been hit by a tick. We drive to Kilchoan and find a nurse at the tourist office. We could not extract the tick and so she takes over. She uses a special ointment and asks us to come back an hour later. So we do, and off comes the rest of the tick.
The night fog is gone, warm sunshine welcomes us in the morning. So that's the time to go to the ferry port and take the "Loch Lynne" ferry to Tobermory, leaving ab 11.45 h. Some sheep almost put a spoke in our wheel, blocking the street for endless minutes.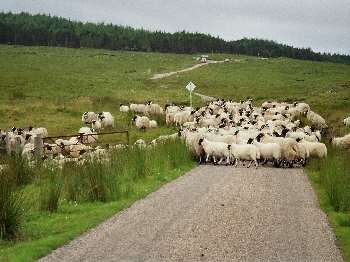 After the sheep left we can go on and see a herd of stags near to Kilchoan. A few days later a local man tells me that the stags are to be seen at that place quite regularly. He also mentions two wildcats who are said to be on the peninsula.
On our arrival in Tobermory, it pours. The houses here have always been very colourful which was probably one of the reasons the childrens programme 'Balamory' used it.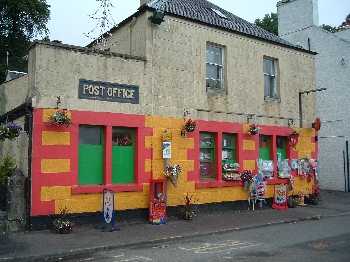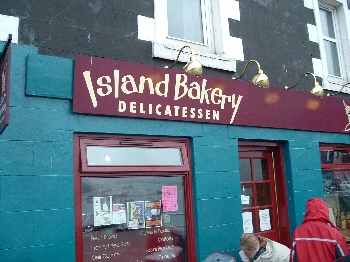 We can see the most colourful post office in the world and wonder at the word "Delicatessen", obviously a German leanword. In some far off pub we take our lunch.
Though we can get Internet connection here, the pub is quite empty. We call up our mails, make some shoppings and travel back home at 15.30 h.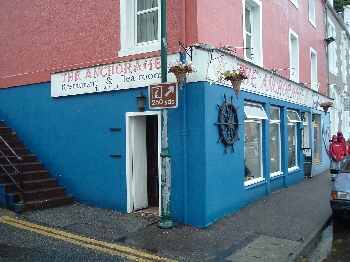 When leaving by ferry, a curious vehicle passes us, a kind of motorized raft.
---
Ardnamurchan III
- unknown Peninsula-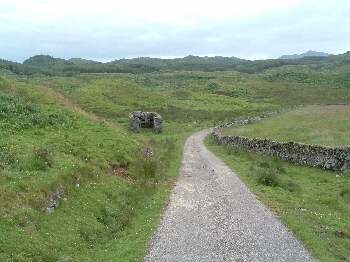 At noon we leave for Ockle to see the waterfall – and pass a lonely house. Not a soul is to be met, except the sheep, of course – this is pure lonelyness. We would have liked to go on to Gortenfern to the "Singing Sands", but the road does not look very inviting, and we do not have proper shoes for this sodden path.
We run out of petrol. Exactly 20 litres for exactly 20 pounds at an ethnic pumping station at Kilchoan.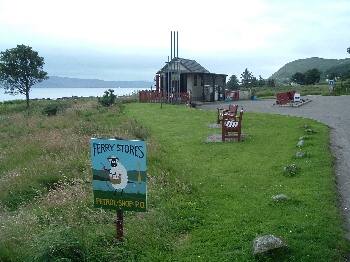 On we go via Acharacle and pay a visit to James and his Moidart Smokehouse at Dalnabreck whom I contacted by e-mail a few days ago. We find him some way off the town, and he cuts fresh salmon for us. He tells about some Germans, Ulrich and Marie, and about Bodo from Friesland who are living on Ardnamurchan. And he tells us about a smokehouse at Fascadale whose owner vanished some time ago.
From there we go to Castle Tioram and we are lucky. It's low tide and we can walk to the castle.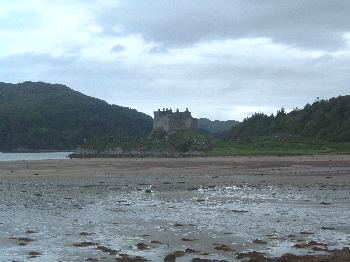 Now only the "Singing Sand" of Gortenfern has to be visited and we want to go there from this side.
After enjoying fish and chips we drive along the Bay of Kentra as far as possible.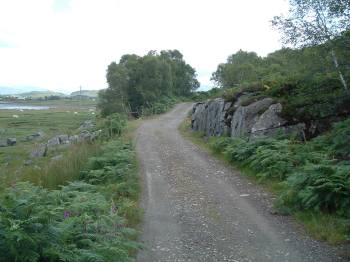 Unfortunately there is only a foot path, and the kids are not willig to walk a mere 6 miles to and fro. So we go back home.
It is a fantastic landscape, we see a few waterfalls.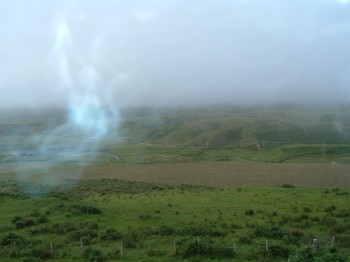 Somehow it is at the same time marvellous and threatening: every evening the mist comes creeping up.
It starts at about 20.00 h, and a song from Paul McCartney goes through my head: "…oh, mist rolling in from the sea…" Now I know what he meant.
The foot-lazy kids stay at the cottage with the walkie-talkie while Martina and I go to Kilmory to send off some postcards. A short visit to the beach, but we are glad we did not take the kids, for there is quite a lot of seaweeds lying around.
On our way back we take a look at the small, circular graveyard. And would you believe it: in 2001 Dieter Hammel (the one with the German books) has been buried here at the age of 69.
As matter of fact it isn't a bad idea to choose this peninsula for a living place after retirement. A lot of elderly people are living here. The younger ones have gone away because there is hardly any work to get at Ardnamurchan.
The weather looks fine and I want to see Fascadale. As the kids are still sleepy, Martina and I are going on our own. Close to Kilchoan a herd of deer is crossing the road, followed by sheep.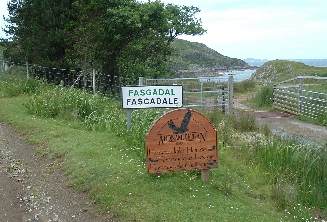 Fascadale is a large, stony bay. High tide and not much beach to be seen. 3 cottages and an old smokehouse make up the village – oh, and a parking lot, of course.
This is the smokehouse James Gillies told us about. What might have happened here? A few weeks ago I took a look at the homepage of this smokehouse and was informed that the self-caught fish is only sent on order.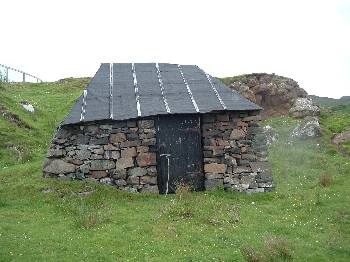 ---
Ardnamurchan IV
- unknown Peninsula-
We leave the riddle about the smokehouse of Fascadale behind us and drive on to the lighthouse near Portuairk. The weather is at its best when after another up and down drive we reach a small road with a 1 m high stone boundary.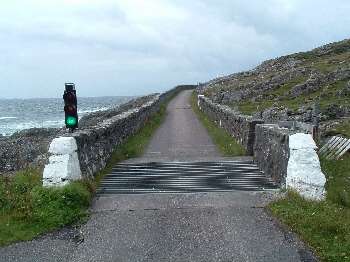 The island's single street light shows green and we drive up a serpentine to the lighthouse. On our arrival I really do wonder who told me that up here it is so lonely that 2 cares per week are a lot of traffic. We count 20 cars and lots of tourists in bermuda shorts.
However, we get a view on Coll Island of the inner and far out Barra and South Uist of the outer Hebrides. Scones with butter and jam in a charming tearoom finishes the excursion. Back at the cottage we are welcomed by pouring rain.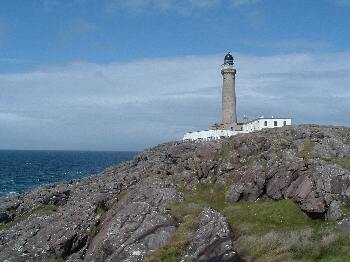 Perhaps the most beautiful landscape of Ardnamurchan is at the western headland and so we go to Sanna bay, "Sanna" just meaning "sandy".
A few miles bring us to our goal. There is a parking lot and we see a barn having Guantanamo Bay written on it.
Following a gorgeous dune landscape we cross a small river and find ourselves at a gigantic beach.
This is much better than Bettyhill and reminds me of Amrum island. We collect shells and fly our kites. And so helter-skelter back to the cottage.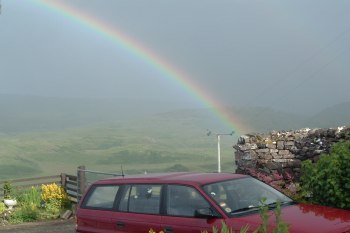 Misty clouds over the hills and no sun to be seen. One last time we walk the beach at our door. It is called "Port of Eilean Mhoir". In the evening Mary Adam rings up, we exchange descriptions of cars and plate numbers. Maybe we meet tomorrow on our way back.
The last things are packed, we are leaving at 9.25 h. Between the 13th and 14th cattle grid after Salen we make a halt. Suddenly another car stops, Mary and her father are getting out. Both are very charming people. We have a long chat, take pictures of each other – hope to see you again!
On we got to the Corran-Ferrie, and bright sunshine accompanies our passage.
Follows romantic Glencoe, to be enjoyed somewhat longer because of a roadworks' stop. On the way I longingly see the signpost to Kinloch Rannoch, but we have been there several times so it has to wait until the next visit.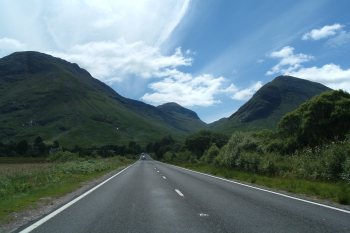 At about 15.00 h we reach Pitlochry and the idyllic Dunmurray Lodge. We have booked the Murray-side – a room with TV and double bed, a separate room with the kids' single beds.
We go downtown to look for a sword and sporran. A small sporran we do find, but after a rich meal and the visit to a leisure park no money for a sword is left.
Strath of Appin to Oban
Via the Strath of Appin we are on our way to Oban, since the list for shopping is in fact very long.
Approaching Ardgour for the Corran-Ferry rain starts falling.
Heavy showers at the Bridge of Ballachulish.
This is the town were 'James of the Glen' was executed in 1752. However, the lawsuit was very unfair.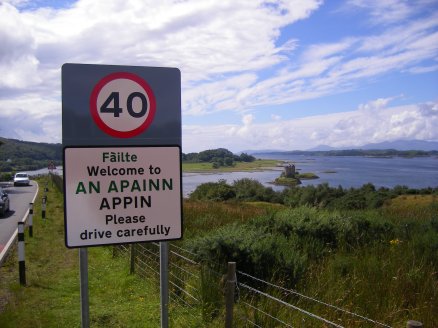 When we are approaching Castle Stalker suddenly the rain stops and the sun is shining.
Castle of Stalker located in the Loch Linnhe, built around 1320.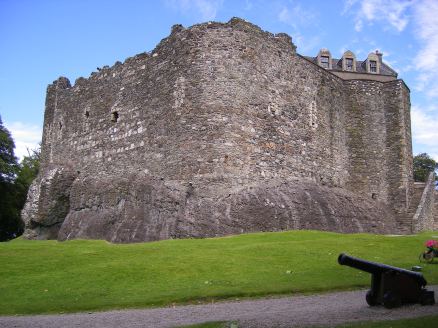 Castle Dunstaffnage, partly the walls are 10 feet thick.
This castle was built for Alexander II, when he started the attacts against the Northmen.
Now we reached Oban. Time for shopping.
By the way: the little purple shop to the right side is a chocolate factory .
McCaig's Tower in the backround, Oban Destillery on the right.
These small alley ways of Oban are somewhat attracting to me...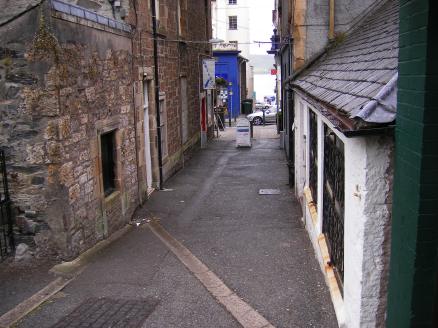 Here is the main shopping mile, George-Street.
Corran Esplanade is to be seen to the left.
This is Oban's main traffic junction, close to the Tourist Information.
Driving from here via Combie Street, you will find Tesco, Aldi and Lidl, located at Lynn Road.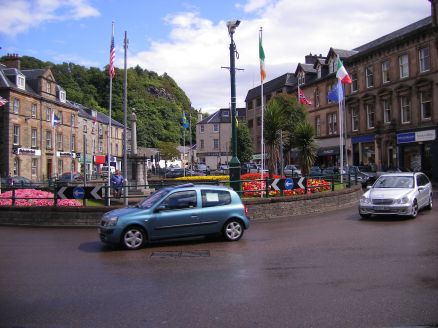 Fish 'n Chips for 4 persons amounting to a total cost of 20 Pds. The rest of the meal we pass on to the nosy, ravenous seagulls.
Subcategories