* Latest News * Aktuelles *
Translation is under process.... go ahead, Dabi!

Norwegen war wirklich großartig, doch es zieht uns wieder ins wilde Schottland. 

Ein paar Punkte sind da ja noch offen, so wie Cape Wrath, der nordwestlichste Punkt der Insel. Der Name bedeutet so viel wie "Umkehrpunkt". Da müssen wir hin.

Die Überfahrt von Amsterdam nach Newcastle war angenehm; so wie eigentlich immer, obwohl das von uns so geschätzte Dinner-Buffet doch arg nachgelassen hat. Früher gab es zu viel Auswahl, heute zu wenig.
Die erste Attraktion dieser Reise ist die neu eröffnete 'Queens Ferry Bridge' bei Edinburgh. Also fahren wir mal darüber....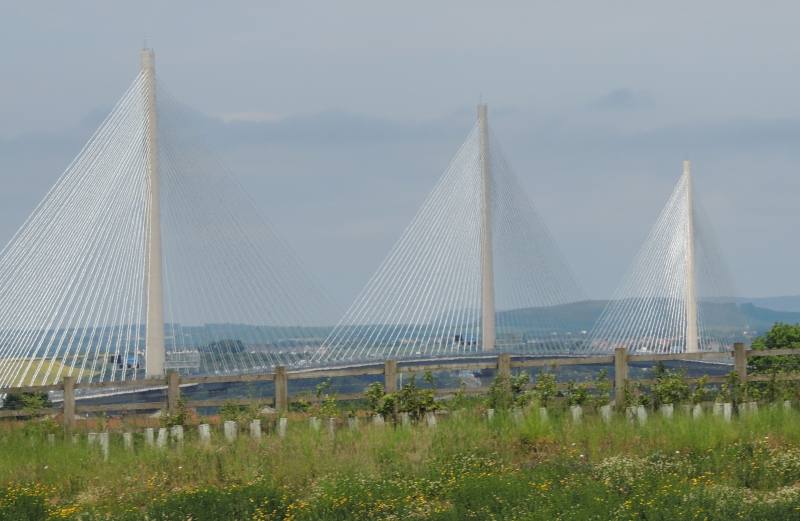 Nach einer Übernachtung in einer der schönsten Städte Schottlands, nämilich dem 'Tor zu den Highlands' Pitlochry, starten wir früh am Morgen zu den 'Shin Falls". Die Übernachtung im Morag Cottage war hervorragend, gute Betten und ein wunderbares Frühstück.


Nun liegt der geilste Teil Schottlands vor uns. Es geht vorbei an den Cairngorms nach Inverness. Hinter der Dornoch Forth Bridge müssen wir links abbiegen. Nun folgt der obligatorische Stopp kurz vor Bonar Bridge. Öffentliche Toiletten sind auf dieser Route spärlich gesät, deshalb dieser Halt.
Hinter der Brücke geht es wieder links weiter und kurz darauf folgt der nächste obligatorische Stopp bei Invershin. Es ist immer wieder ein mulmiges Gefühl, über das Rostgitter der Brücke auf die andere Seite zu laufen und dabei in die Tiefen des 'Carbisdale Castle' zu blicken. Immerhin hat man vor hier aus einen tollen Blick auf das Carbisdale Castle, das übrigens seit 2011 als Jugendherberge genutzt wird.

Kurz darauf haben wir die 'Falls Of Shin Community Project' erreicht.

Es ist nicht viel los hier an diesem Tag, auch keine springenden Forrellen oder sonstiges. Ein bisschen aufgeregt sind wir schon, denn wir wollen nicht zu spät in unserem ersten Cottage in Durness, damit wir in dem dortigen Supermarkt noch etwa Vorräte bunkern können.


Wir erreichen Lairg und zum allerersten Mal fahren wir nicht meine Lieblingsstrecke über Crask Inn und Altnaharrah an den Kyle of Tongue, sondern wir biegen wieder mal links ab Richtung Rhiconich. Somit vermeiden wir, um das schier endlose Loch Eribol herumfahren zu müssen.


Bei strahlendem Sonnenschein erreichen wir das Cottage Transvaal in Durness.
Der Wetterbericht sagt für den 2. Teil der Woche nichts gutes voraus, also machen wir uns am übernächsten Tag auf den Weg nach Keoldale. nach 20 Minuten erreichen wir den kleinen Anleger. Wir sind nicht die einzigen, die auf die andere Seite wollen, doch im Boot ist noch genug Platz.
Knapp 10 Minuten dauert die Überfahrt, dann wartet auf der andere Seite des Kyle of Durness bereits ein kleiner, alter Bus auf uns. Komfortabel geht anders, aber irgendwie geht es, alle Leute in dem Bus unterzukriegen.  Dann ruckelt der Bus los.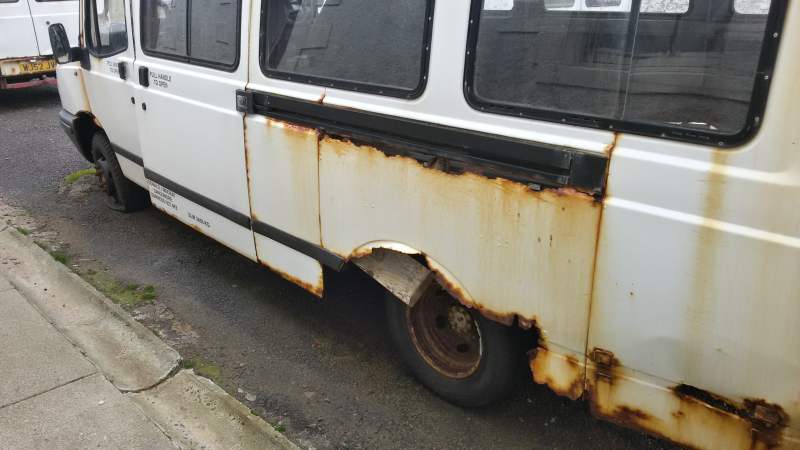 Es geht über Stock und Stein in einem mäßigen Tempo, denn, so erklärt uns der Fahrer, für den Zustand der Straßen sind er und die anderen seines Unternehmens verantwortlich. Das glauben wir gerne.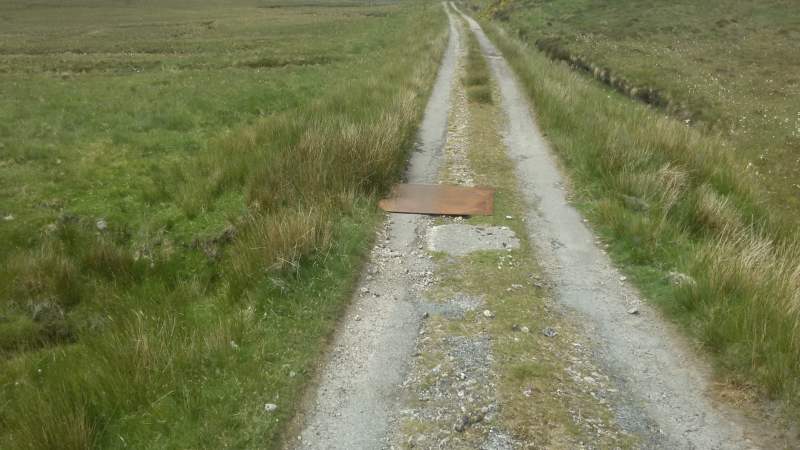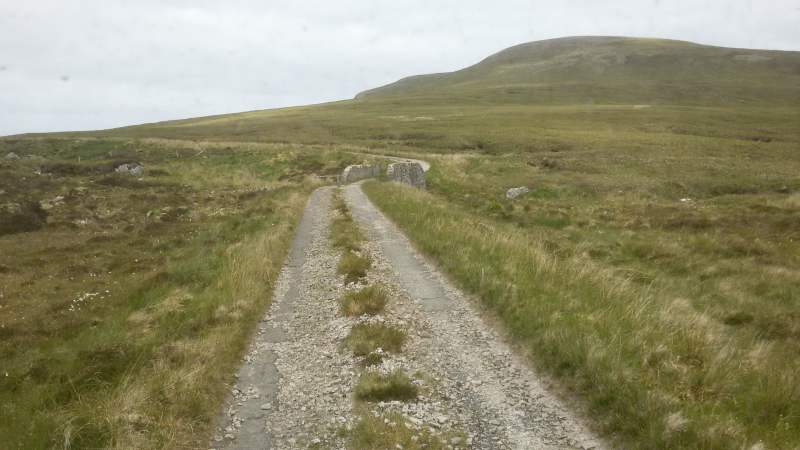 Wir befinden uns jetzt in einem Militärgebiet, deshalb gibt es keine 'öffentlichen' Wege und deshalb ist der Besuch des Leuchtturms von Cape Wrath auch nur auf diesem Weg möglich. OK, es gibt da auch noch den 'Cape Wrath Trail', ein ca. 320 km langer Weg durch die nordwestlichen schottischen Highlands von Fort William bis nach Cape Wrath, aber heute wollen wir uns ja schonen. Der Fahrer allerdings schont uns nicht.
Der Bus poltert regelrecht über Stein- und Schotterstrecken. Hin und wieder sieht man Reste von Munition und Einschusslöcher, denn Das Gebiet wird von der Royal Air Force als militärisches Übungsgebiet für Bombenabwürfe genutzt.
Der Hintern tut uns allen weh, als wir durch eine Einfahrt hindurch fahren. Der Bus hält und wir sind da.
Der Leuchtturm wurde 1828 von Robert Stevenson erbaut und wir schauen erst mal von den hohen Klippen, ob irgendwelche Piratenschiffe in Sicht sind...
...doch dieser Robert Stevenson - ein Ingenieur - hat nichts mit Robert Louis Stevenson, dem Schriftsteller, zu tun.
Auch Wikinger sind nicht in Sicht, sie sollen ja früher von hier aus in ihre Heimat zurückgekehrt sein, daher der Name "Umkehrpunkt".
Der Leuchtturm und sein Nebelhorn.
Die Aussicht ist gigantisch, es gibt ein kleines Cafe hier und 2 Stunden Aufenthalt. Dann ruft uns der Fahrer des Cape Wrath Mini Bus zur Rückfahrt.
Das Wetter wird schlechter, ein Sturm ist für die nächsten Tage angekündigt. Wir holpern den Weg zurück.
Wir sind froh, als er kurz stoppt und wir den Strand von Kearvaig in der Ferne betrachten dürfen.
Ansonsten gibt es hier nur das Heidekraut 'Heather' und viele kleine Tümpel.
Auf der gegenüber liegenden Seite ist der Faraid Head und der Strand von Balnakeil zu sehen.
Wir sehen Robben am Kyle of Durness...
...dann haben wir den Bootsanleger erreicht.
Wir setzten noch einmal mit dem Boot über, von Cape Wrath her zieht Regen auf...
Write comment (0 Comments)
What are the 'Brexit' consequences for Scotland holidays? 
At the very first nothing will change as long as the English Government has not submitted any application at Brussels. As Mr. Cameron is shilly-shallying and abdicates his responsibility by resignation, the English Government is playing for time.

So let's assume that one day Great Britain is no longer an EU-member and we want to go to Scotland. Let's further assume that Scotland is not successful in trying to get rid of London by referendum and stay with the EU.
For Scotland fans like us this will mean:
Disadvantages:
- travel costs (ferry, plane) will increase
- roaming fees are not adapted to EU-standard and will increase as well
- due to the equally more expensive trips abroad the English will stay on the island and invade Scotland
- customs clearance has always been slow in England and perhaps will be the more so
- in all prices will increase on the island because with the No to EU customs and other transition levies are possible again
Unchanged:
- ID card was always required as England never joined the Schengen-Treaty. It is hardly to be expected that visa are required
Advantages:
- as the currency together with the British economy will decline, the exchange rate will be favourable for us - thus at least partly making up the increased prices


 Racism and animosity towards foreigners dramatically increased after the Brexit, primarily in England. For this reason we will not visit Great Britain for the time being. 
Write comment (0 Comments)
I

ona – the holy island of the Scots
Iona is an island of the Inner Hebrides in Scotland. The biggest islands of the Inner Hebrides are Skye and Mull. Iona is one of the smaller ones. For centuries Iona represented the spiritual centre of Scotland, so we were most expectant what would await us there.
We chose the rather short tour from Fionnphort, which by the way is pronounced Finnpho'.
Years ago already we had followed the traces of Calum Cille, also called St. Columba, up to Loch Shiel. That has been on the burial island Eilean Fhionnain.
This time the journey was to be much easier so that we took the ferry from  Fhionnphort on Mull to Iona.
To avoid the hords of tourists, we travelled on a Sunday morning with the best of weathers.
We took the route along the coast, passing neat gardens and looking out to Mull...

past St. Columba's Chapel.
Less than one kilometre and we reach Iona Abbey.

---
Iona Abbey
Ahead of us the cloister of Iona.

A holy well with sacred water. The legend says that the end of the world will be there when these stones, the 'Clachan Brath', the 'Prayer Stones' are completed abraded.
From this place Christendom is said to have spread across the greatest part of Scotland.
Again and again the name of Calum Cille, St. Columba, occurs.
'St. Columba's Pillow', which in the beginning was lying at his grave...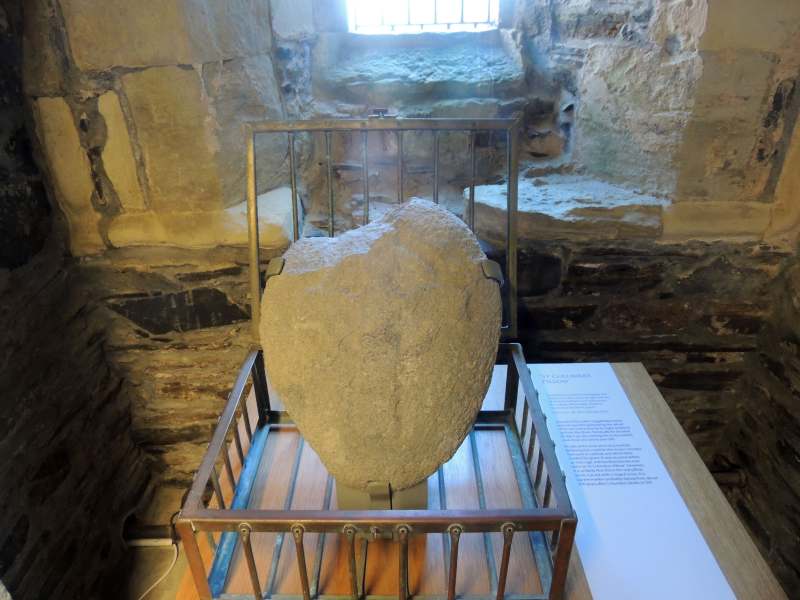 and later was taken into the abbey.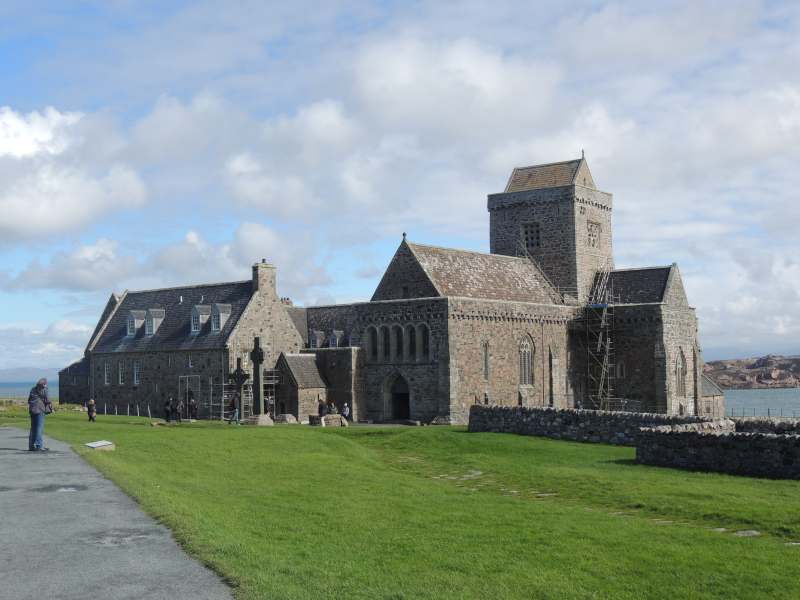 At the main entrance headsets with acoustic information can be got as audioguide. Martina takes them but I prefer to concentrate on the optic impressions.
They exist in abundance. A church with so many side rooms that one can almost go astray.
Everywhere burial places of Scotish kings like Malcolm II, Macbeth, Duncan I and many others.
Windows, pure beauties...

 Here Mull can be sighted in the background.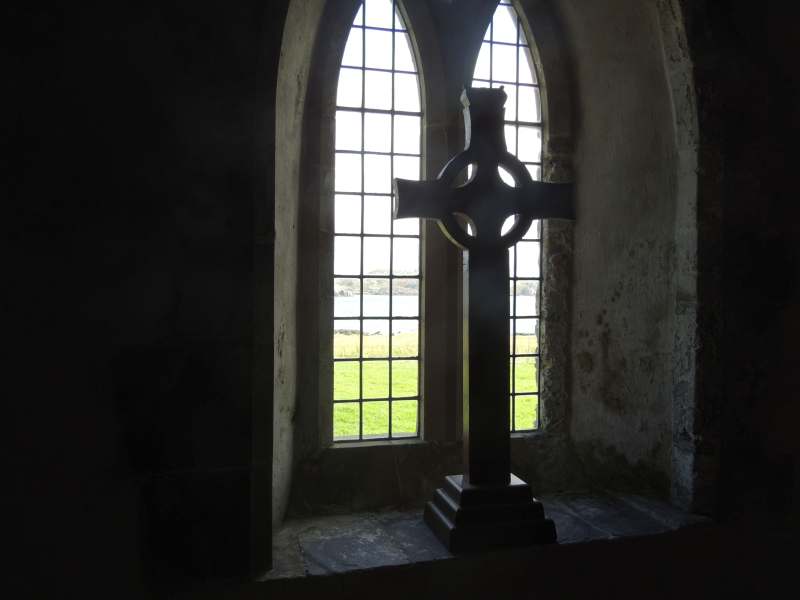 This window shows St. Columba, who died in 597.
In the 5th century Calum Cille began to build this cloister which became the centre of Scottish Christendom.
Of course also the Vikings have been here and wreaked their customary havoc. 
At the end of the 1st millenium the several times demolished cloister was abandoned.
From the base of the cloister the abbey was newly erected in the 12th century.
Afterwards the cloister passed through several Scottish clans and in the beginning of the 19th century the church was built once more.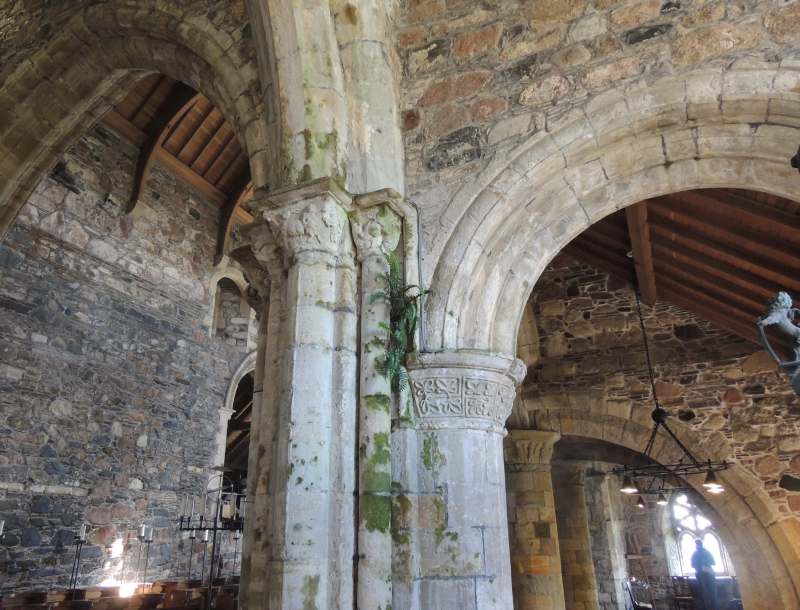 Now and then you can find green penetrating the old walls.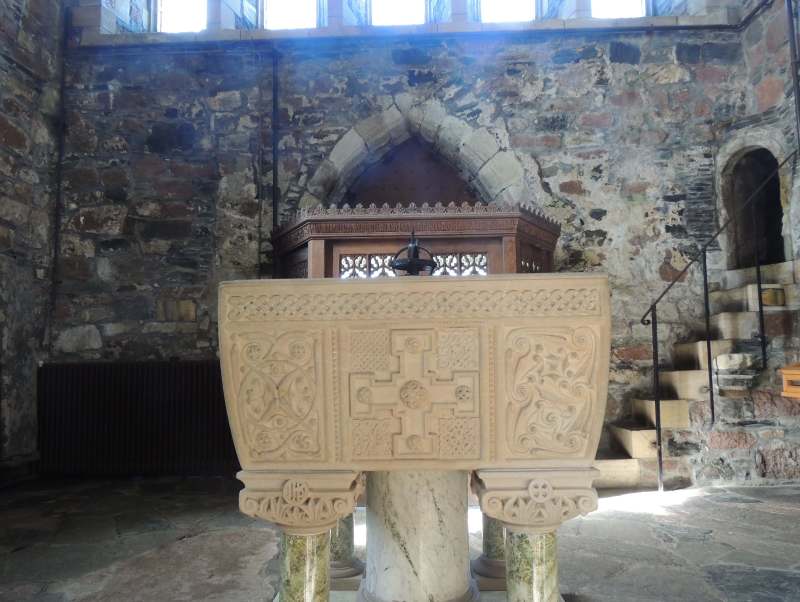 A baptismal font...

...of course they hold regular services here.

1938 the ecumenical Iona Community was founded.

Iona Abbey is under the administration of the Historic Scotland Society.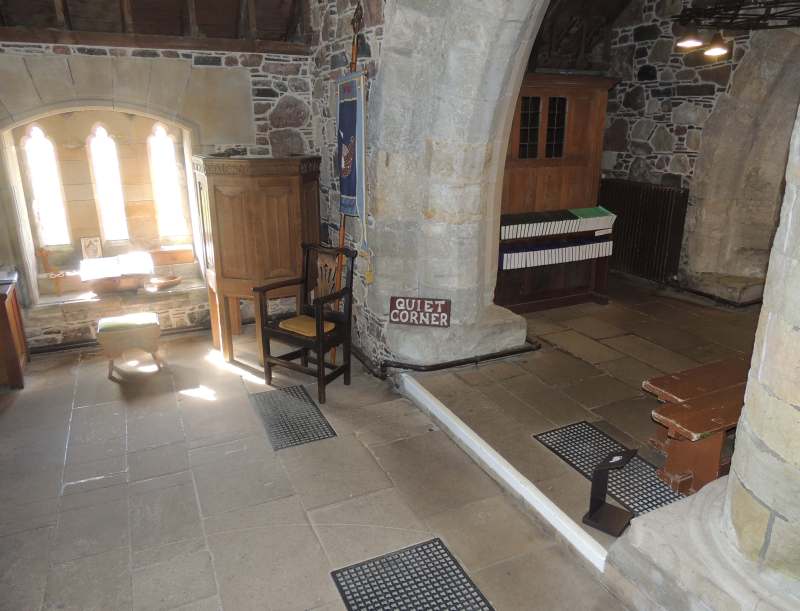 A pious, almost opressive silence...

Small chapel in a side room of the main church.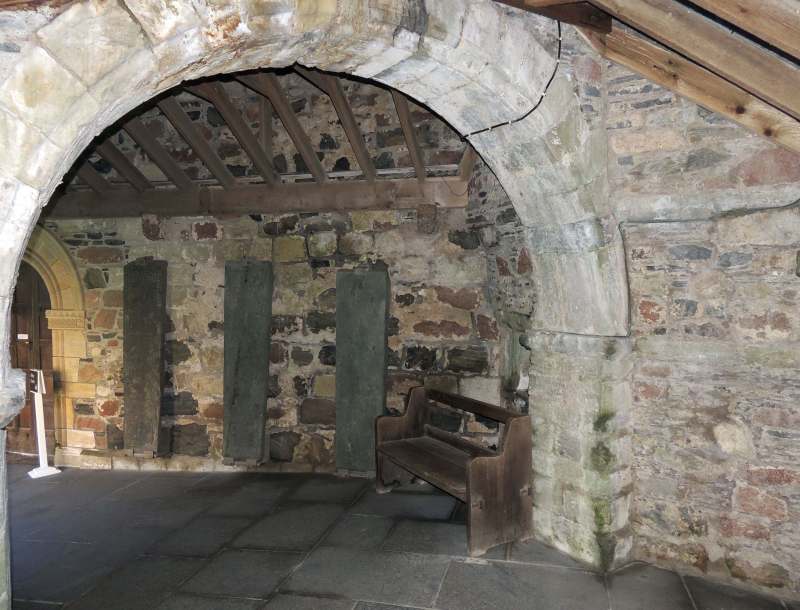 All the time you find commemorative plaques along the walls.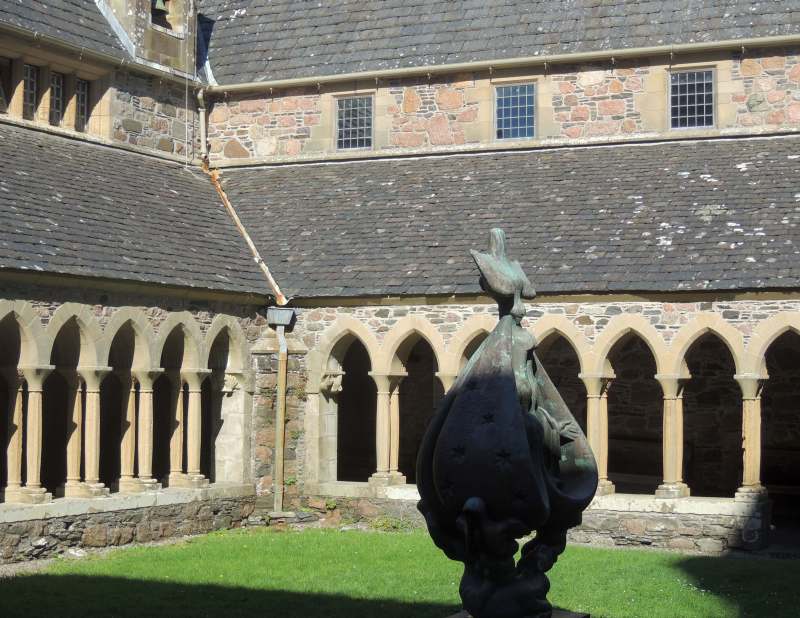 Here were are in the cloistered courtyard.

Delicately chiselled capitals...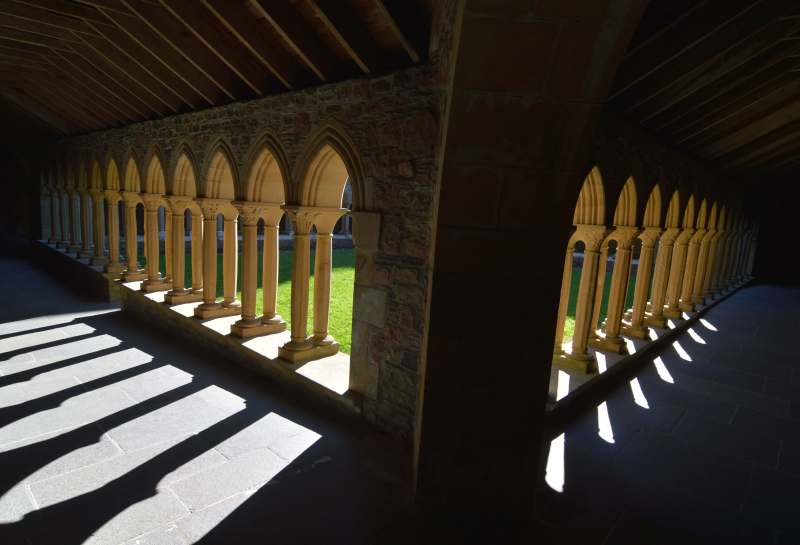 On this level you also find the conference area of the Iona Community...

A sculpture called 'Descend of the Spirit'. Indeed?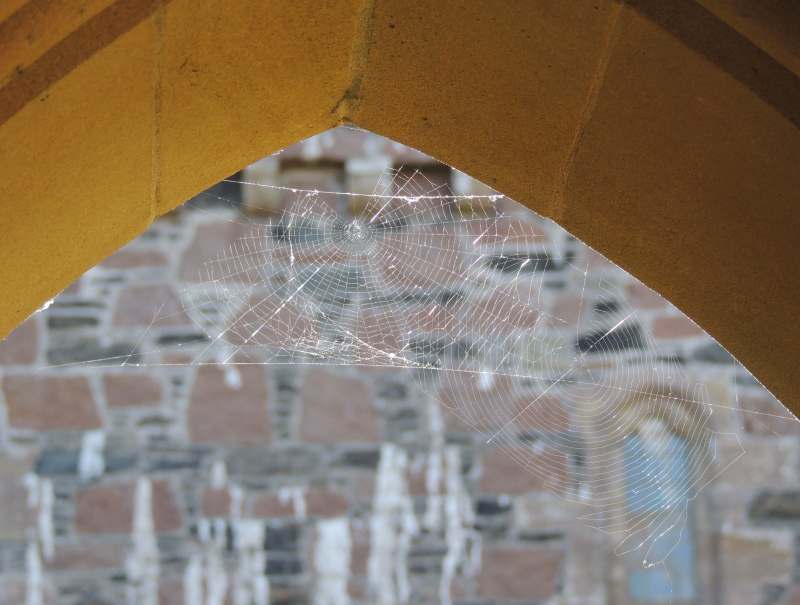 Beside cloister and abbey we find a small exhibition.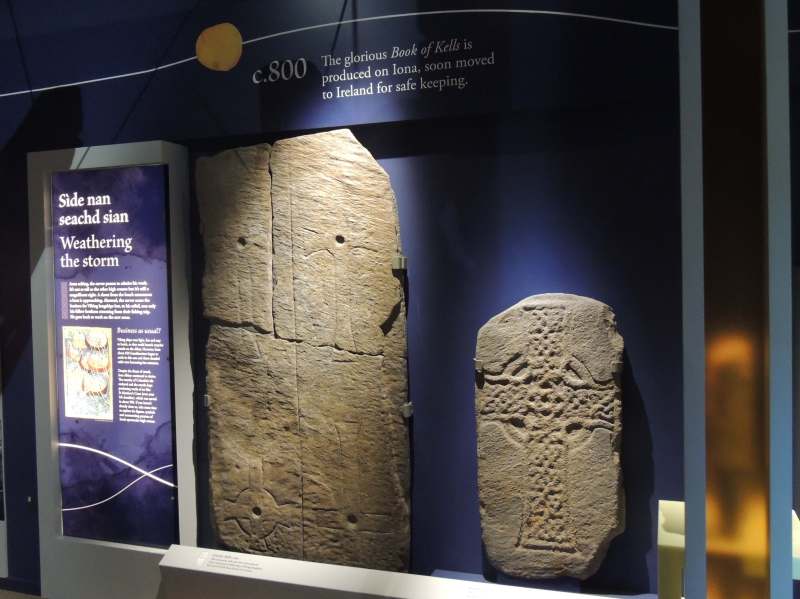 And that's something to look at:

The Book of Kells!

One last glance at the cloister and we proceed to Findlay's Rock, to the head of Iona.
---
Findlay's Rock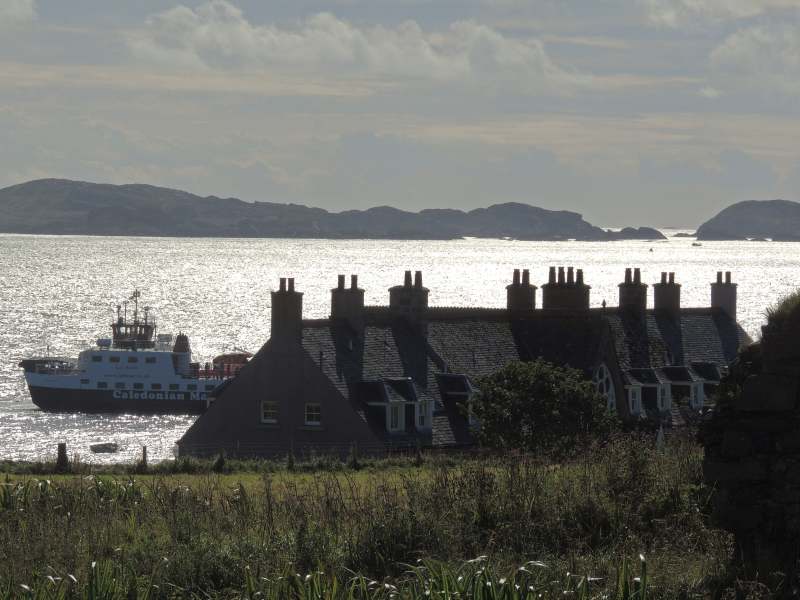 Findlay's Rock is the northern head of Iona.
There is actually nothing special here except sheep, rocks, and beach.
It does not take us long from the abbey. Iona after all is only 3 miles long and 1.5 miles wide.

Soon we reach the Traigh an t-Suidhe (Beach of the Seat).

Over there is the uninhabited isle of Eilean nam Ban.
Looking out to the islands of Staffa, Little Colonsay, Gometra,
Ulva, Lunga, and also Bac Mor, a tiny island looking like a sombrero from the distance. It is also called Dutchman's Cap.
Staffa, zoomed by telephoto. Fingal's Cave can be clearly made out.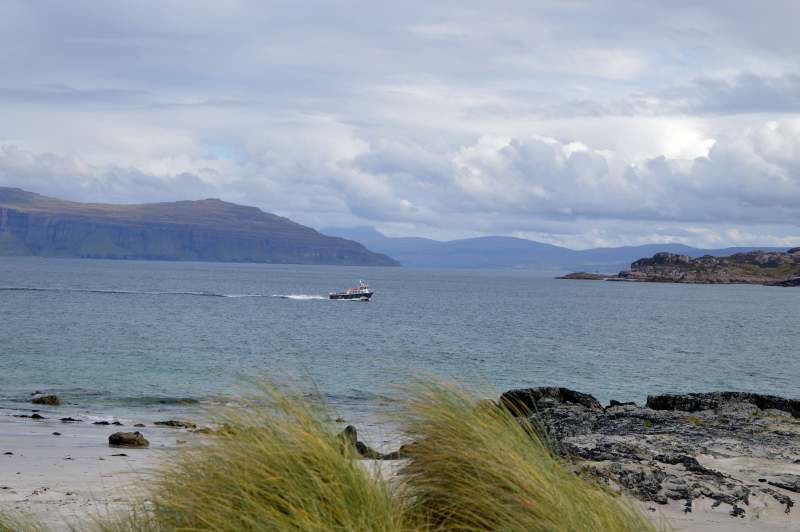 Odd! What makes the snails enter this hollow trunk? 

Back we go. Lonely boats at dusk...

Past the small post office of Iona...
The small vessel leaves the island.
Write comment (1 Comment)

 Mull, Starting the Journey

After a rough journey we reached Newcastle.
The check-in and the start from Amsterdam/Ijmuiden went fine like every year.
This always is an exciting moment..... 
... a few minutes before embarkation starts... 
Here we go. The forecast announced rough sea. 
We gladly reach Newcastle after a stormy night.

Scotland, here we go! 
---
We do not tarry and across the Scottish Border...
...a short stop - like always...
... we continue our way to Perth...
... down the Trossachs.
In June the mountaintops are actually still covered with snow.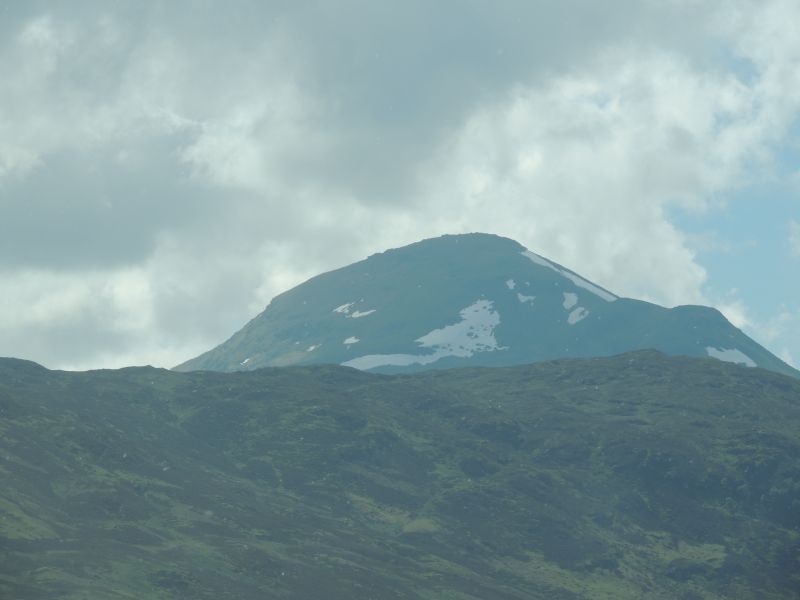 Like last time in Oban, we stop at the Failte-B&B.

Dunollie Castle – closed since 4.00 p.m., what a pity.
Beside the grand view we enjoy an excellent breakfast at the Failte.
Now the time has come – we're going to Mull to face the puffins!
We haven't the least idea that very soon and much too early we shall be back here.

Passing the lighthouse of Lismore...
.. we come to Craignure.
---
Fionnphort
less than 100 people do live here,you find a grocery, a camp site and many fishing boats.
The holy Island of Iona is not far.... 
There are clean beaches next to the harbour....
...and some traffic every now and then...
From Fionnphort the ships to Iona, Staffa and Lunga depart.
This ship goes to Iona.

Sorting the catch of the day.
---
T

he Stone Circle of Glengorm
Not far from Tobermory you find a wee paradise.
First however the road gets narrower and narrower. Cycle Trail is written here...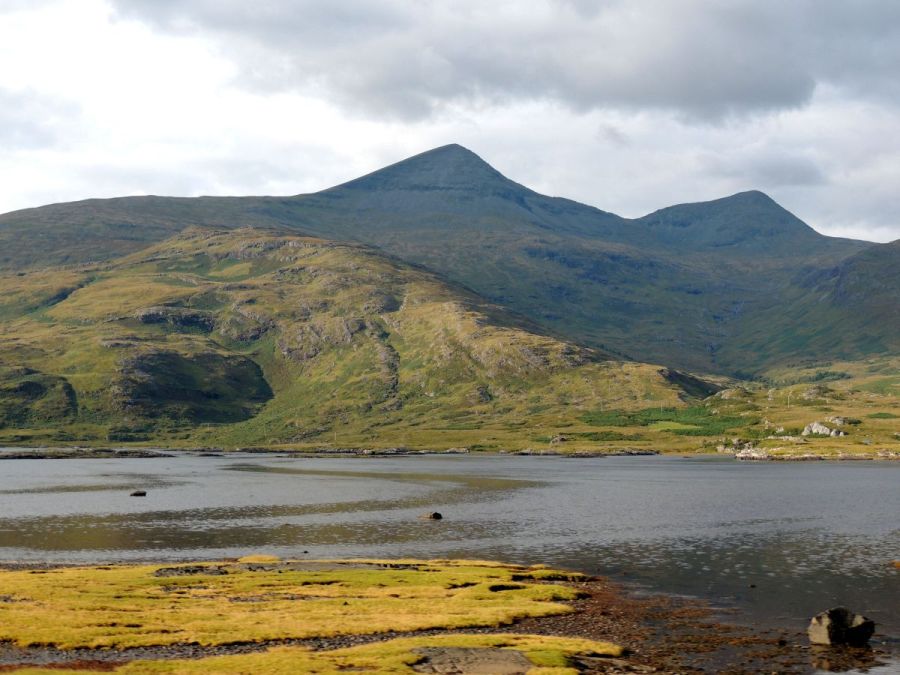 Passing Bloody Bay, we are travelling a heavenly landscape until we reach a park.

Scotland-buffaloes bar the path, then we are there.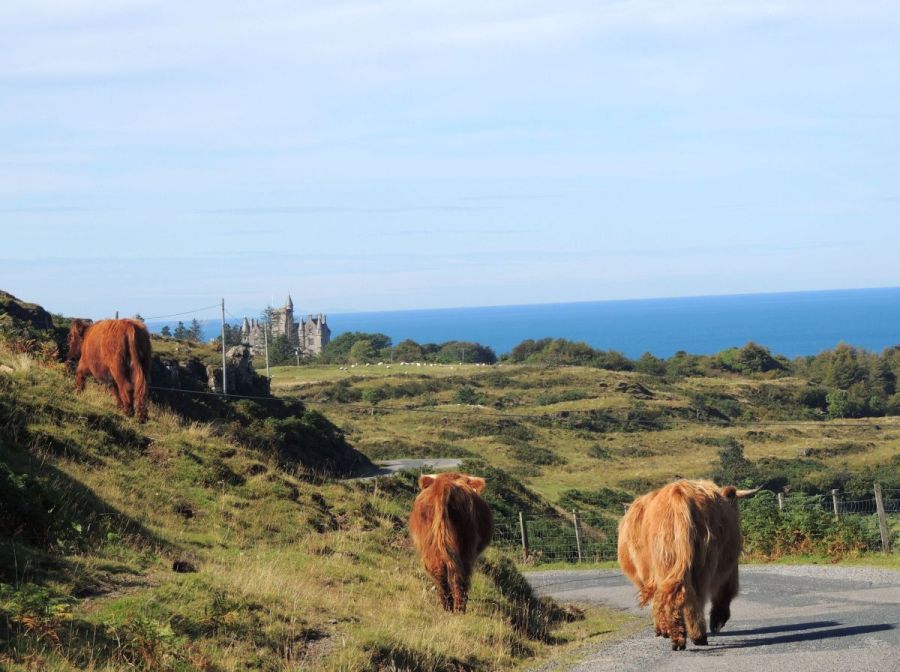 Glengorm Castle, beautifully situated at the Sound of Mull. Ardnamurchan in the background, the most western point of the Scottish mainland.
A park and a small coffee shop - time for a rest...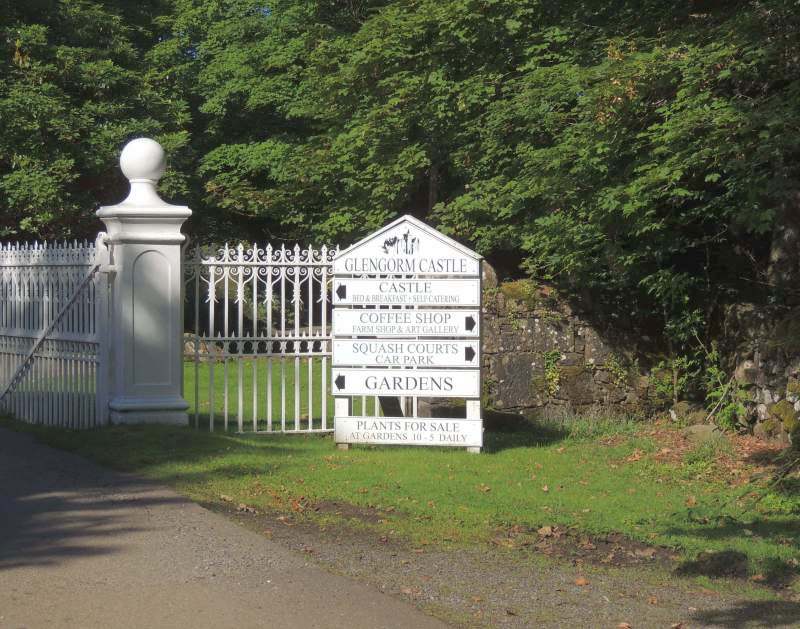 ...enjoying tea, coffee, and cakes.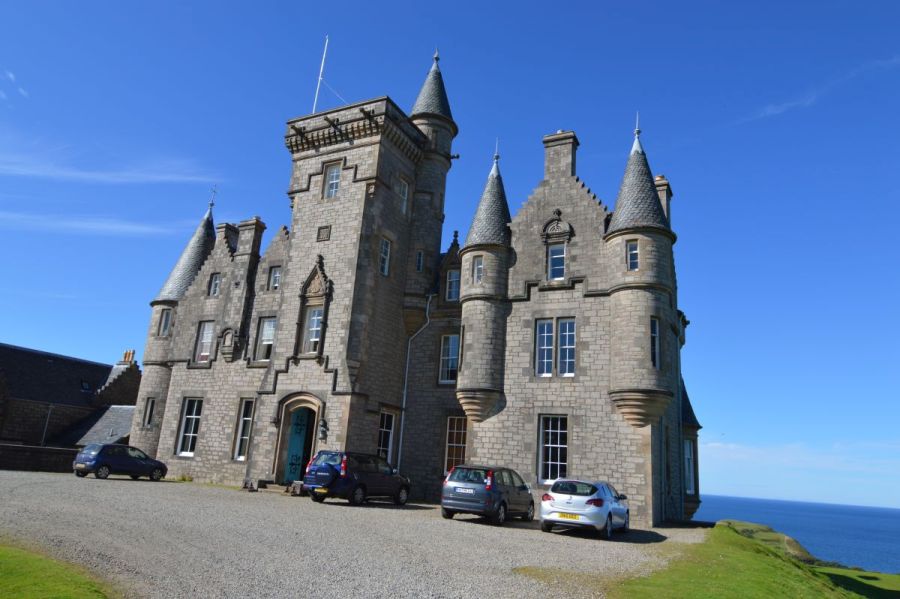 A stately castle, offering B&B at hefty prices.

On we go, passing the castle. We the reach a scenery....
...right away like paradise.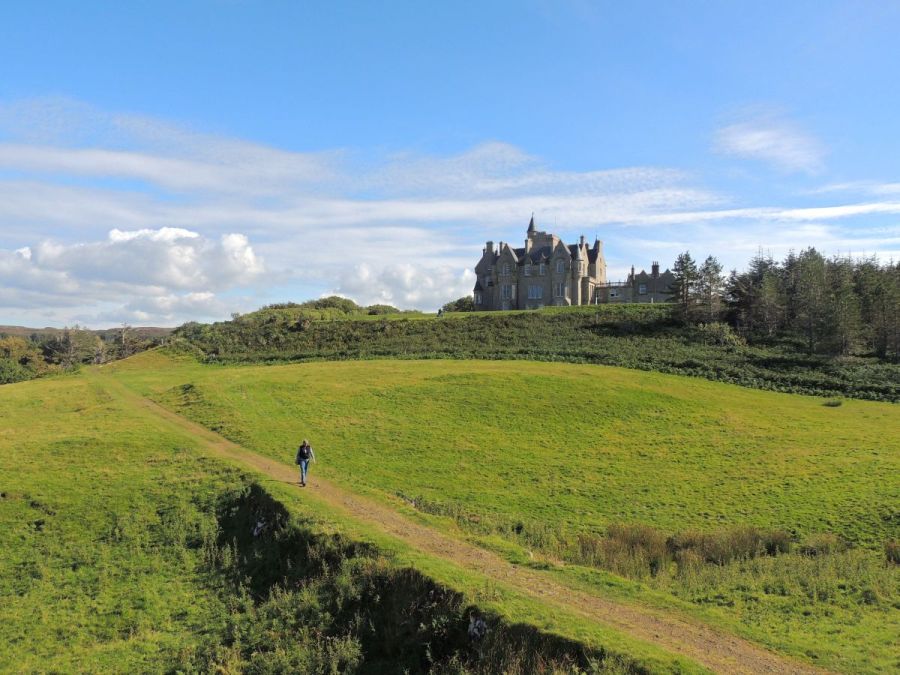 A trail takes out towards our destination and never the saying has been as true as here:

Here really the journey is its own reward. Including 'Charly', the young bull...

... or a sheep, apparently feeling right swell.

Highland Cattle taking a nap in the sun. In the background the Sound of Mull.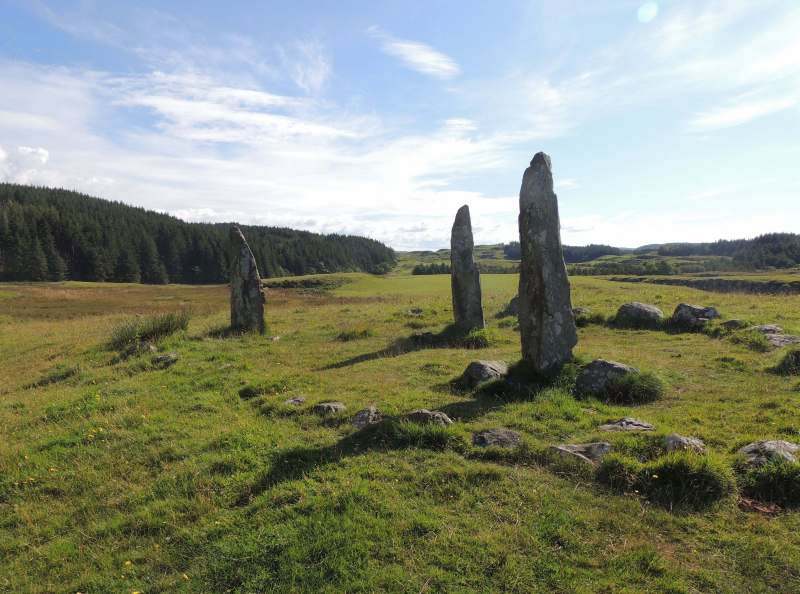 Here we are:

The Standing Stones of Glengorm.

3 well preserved rocks of about 2 meters height.

Everybody who is anybody peacefully resting and grazing.

Visitors are a rarety. The animals are most trusting.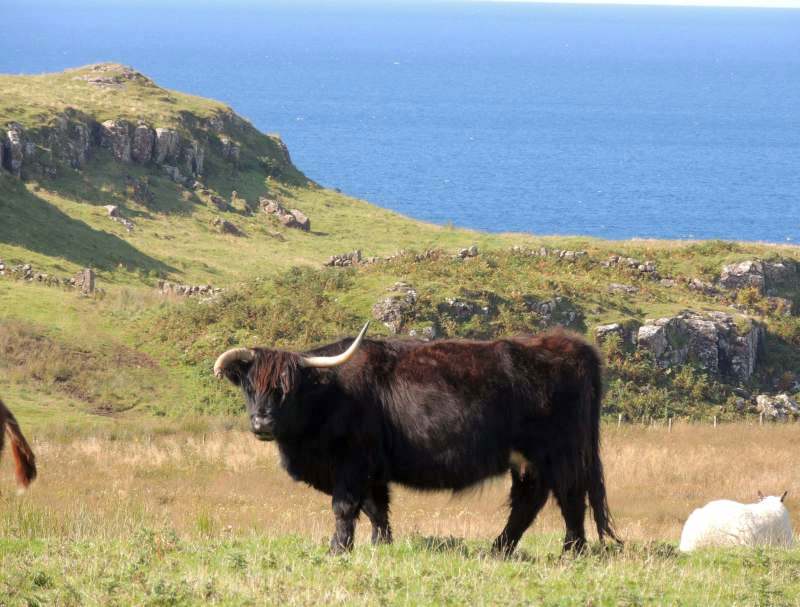 Nevertheless: Better keep a distance from the chief bull.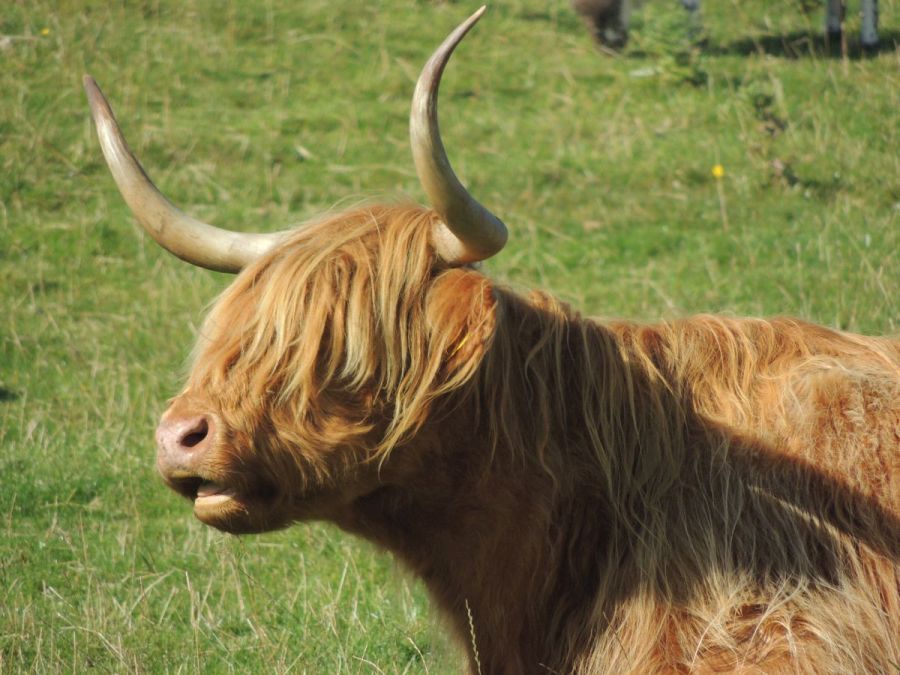 A cute hair cut...

Finally we leave the wee paradise.
---
Duart Castle
'O no, not another castle', I thought when we approached the Isle of Mull. A short way after the lighthouse of Lismore Duart Castle could just not be overlooked at the northern tip of the island. It wasn't for my wife anyhow and so she dragged me there.

Let's say right from the start that this time it was fully worthwhile.
The Maclean Clan owns Duart Castle.
The successors of the clan take good care of it.
You notice that at once. It is far better kept than many a castle...
... in the custody of the state.
Everything looks like someone having lived in here up to yesterday...
... and down we go.
This prisoner was a shipwrecked Spaniard of the 16th century.
By the way: This is a loo.
In the middle of the 17th century the castle was deserted...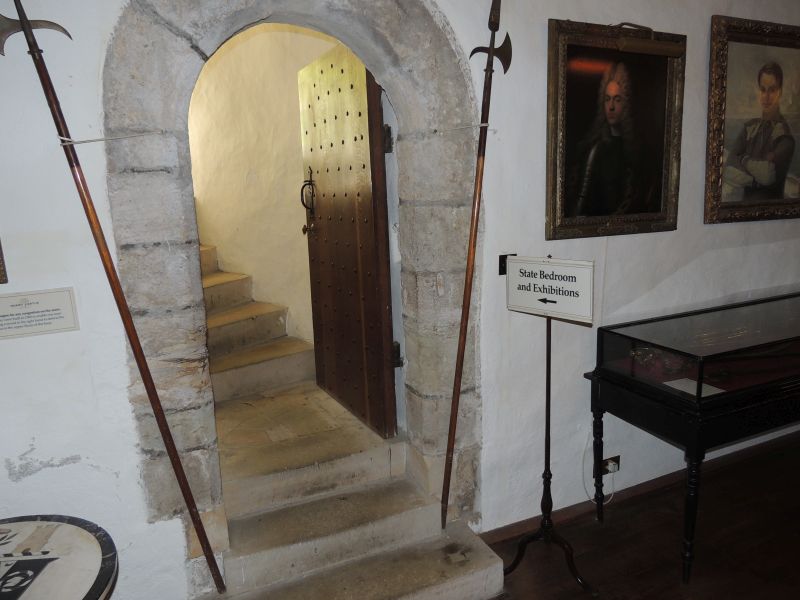 ... and happily went derelict until the early 20th century.
Then the Macleans bought back the castle and had it restaurated.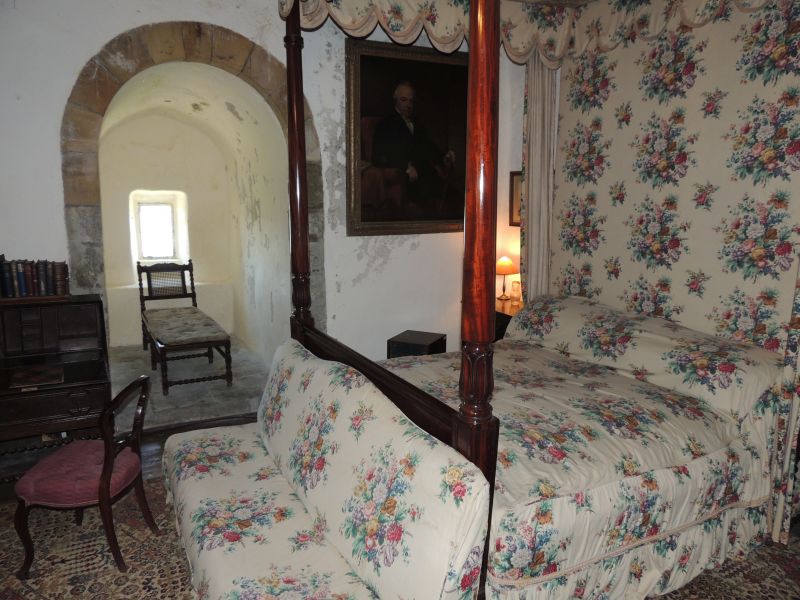 Anthony Hopkins, Sean Connery, and Catherine Zeta-Jones shot movies here.
Over a circular staircase we reach the so called Battlement.
View without limit… and not often does it happen that you can look from one castle...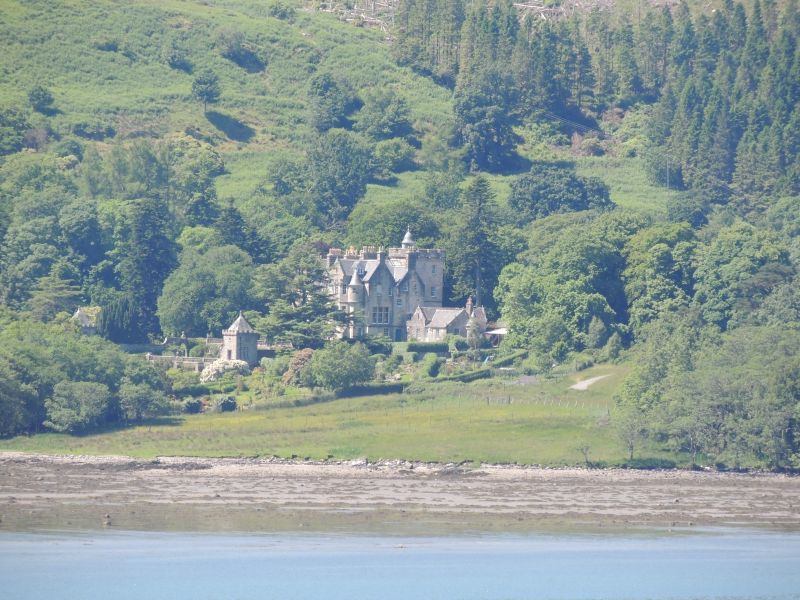 ... across Duart Bay at another castle.
Somehow the lighthouse of Lismore is omnipotent.
The Trossachs, snow is lying on the peaks, further left the Ben Nevis.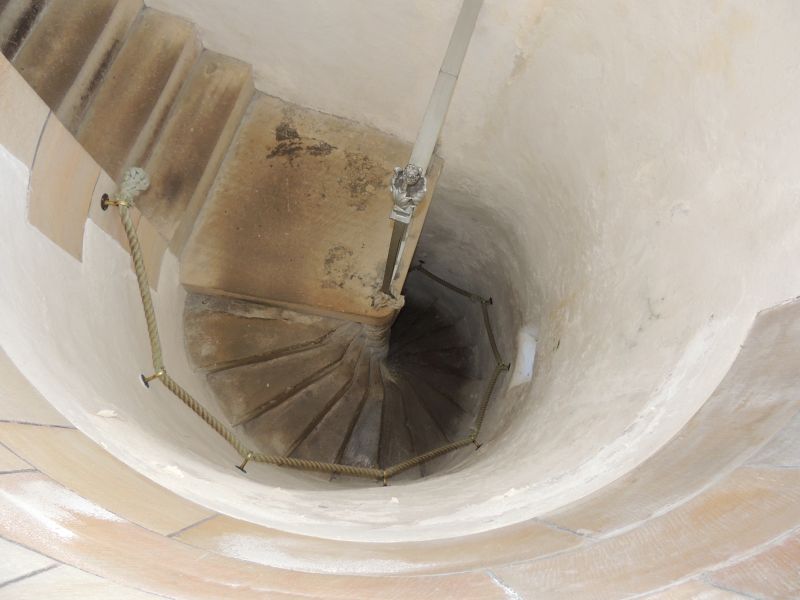 The stairs are turning to the right, making it difficult for attackers to draw their weapons.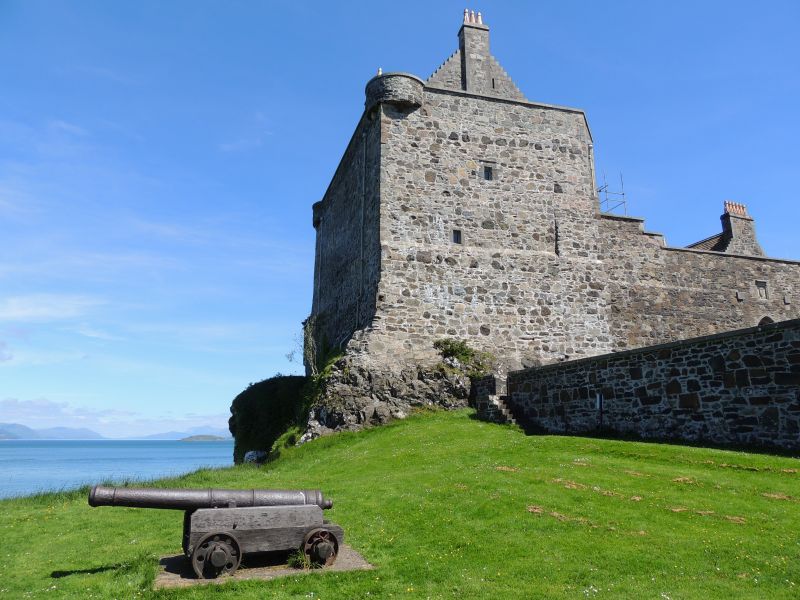 Duart Castle looks bulky but isn't after all.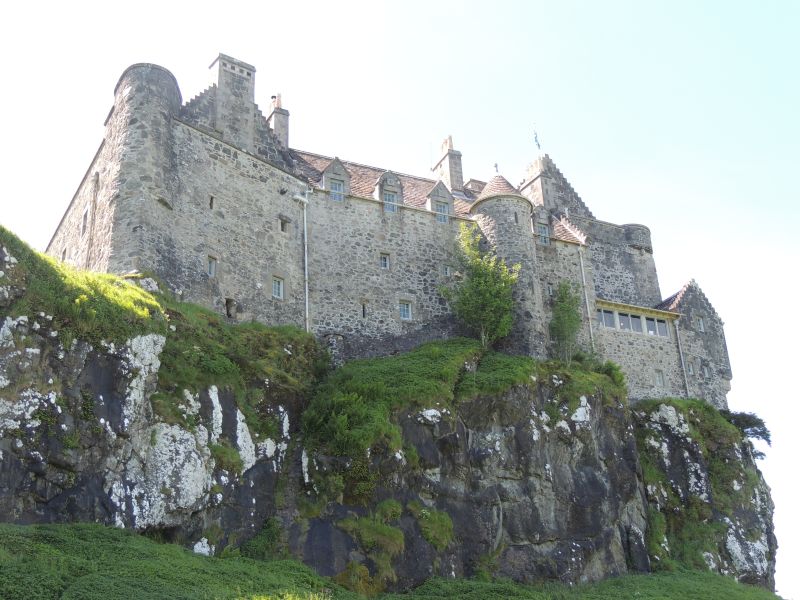 Here you can make out on what kind of rock massive the castle is built.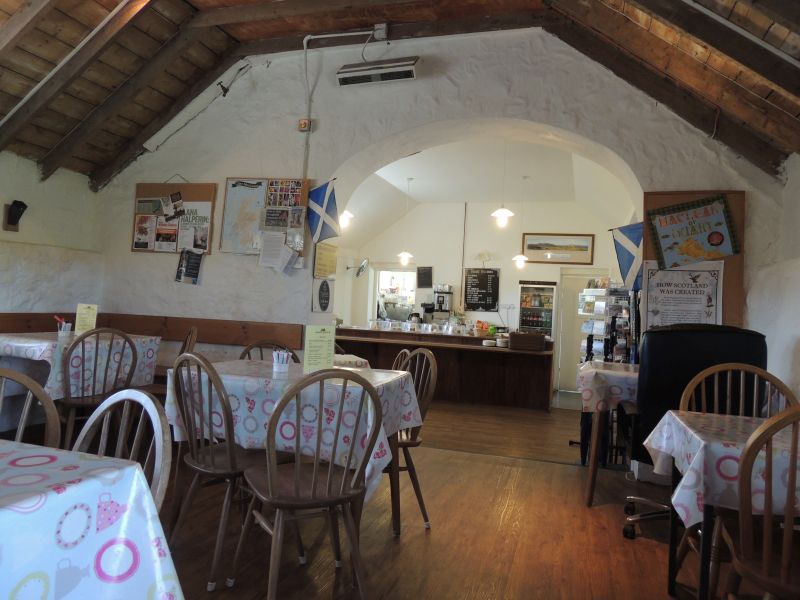 The neighbouring restaurant/coffee shops leaves nothing to desire.
A plain churchyard...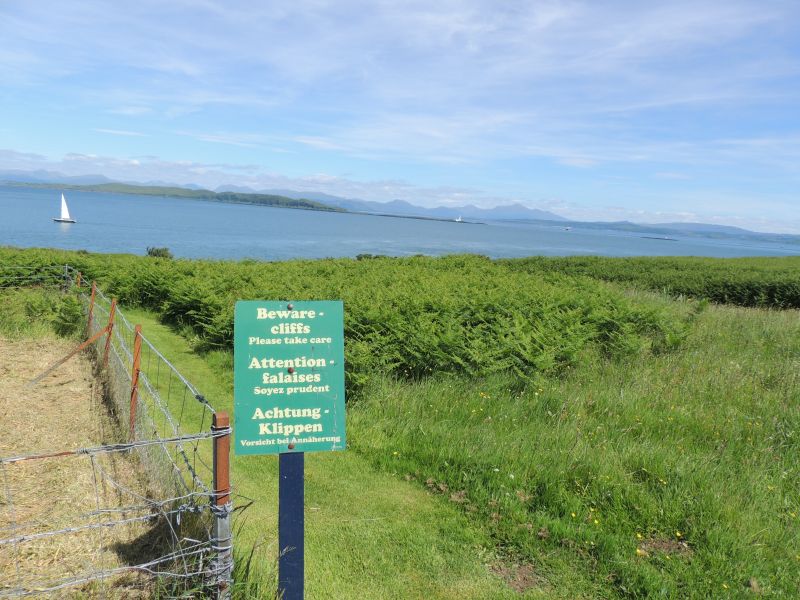 … and steep cliffs.
And back we go...
---
Tobermory?
Now, what was it...
Right, a long time ago when we were on Ardnamurchan with the kids. We had taken the ferry and spent a day in pouring rain in Tobermory.
This time the day starts rather misty...
.. but the sun will be there soon – hopefully.
The ambiance of the scenery is splendid.
We drive along the coastal road via Salen and Craignure.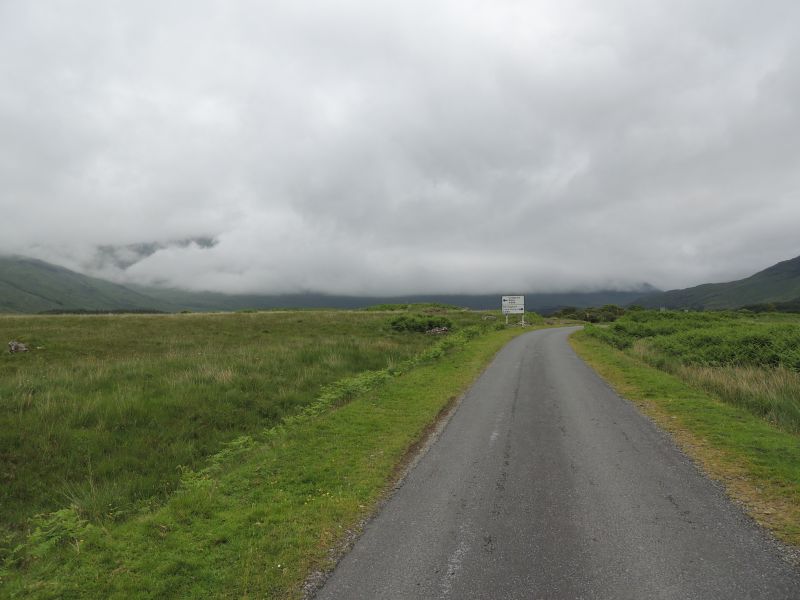 And we have no idea that soon we shall be back to these places.
Some time we leave the 'main road'...
.. and follow a side road.
Driving slowly makes you enjoy the landscape all the more.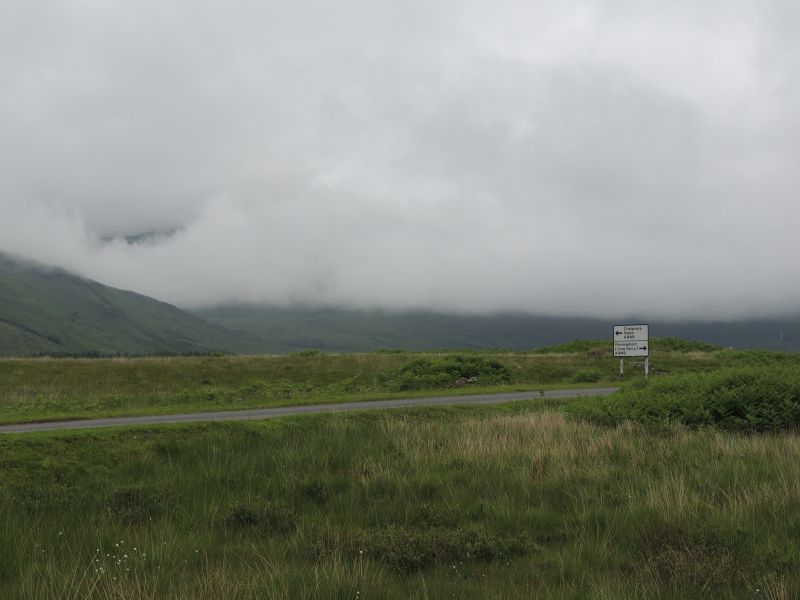 We are going right through the clouds...
Sometimes a sheep lazes around on the street...
... or we pass waterfalls...
.. and more than one narrow bridge.
Only when approaching Tobermory the view gets better.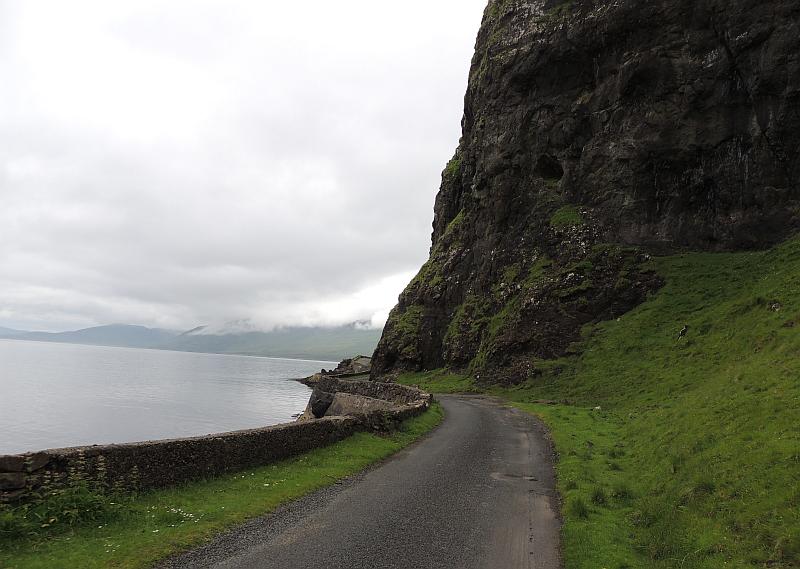 At many a place we sincerely hope that there is no oncoming traffic.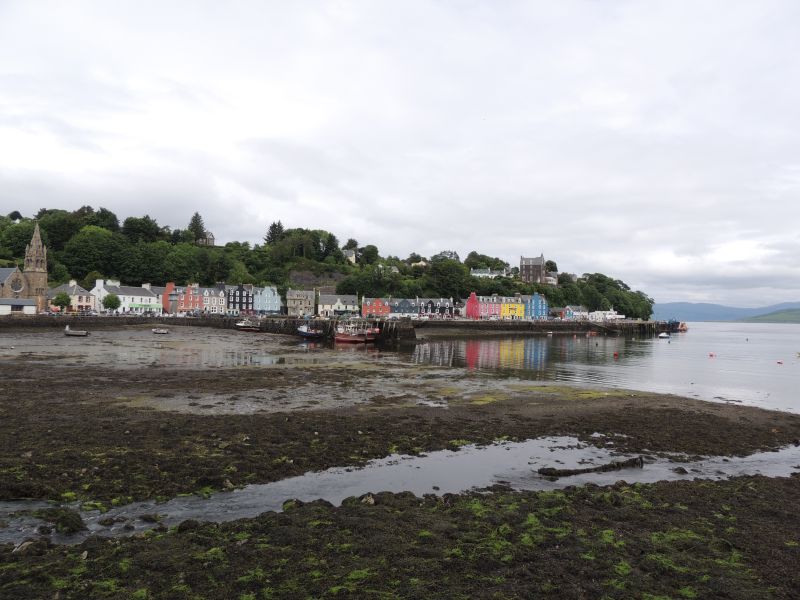 Arriving at Tobermory.
The whisky distillery of course is not lacking...
Admirably colourful houses and small shops all over the place.
Here you will find handmade chocolates.
Tobermory has a population of about 750.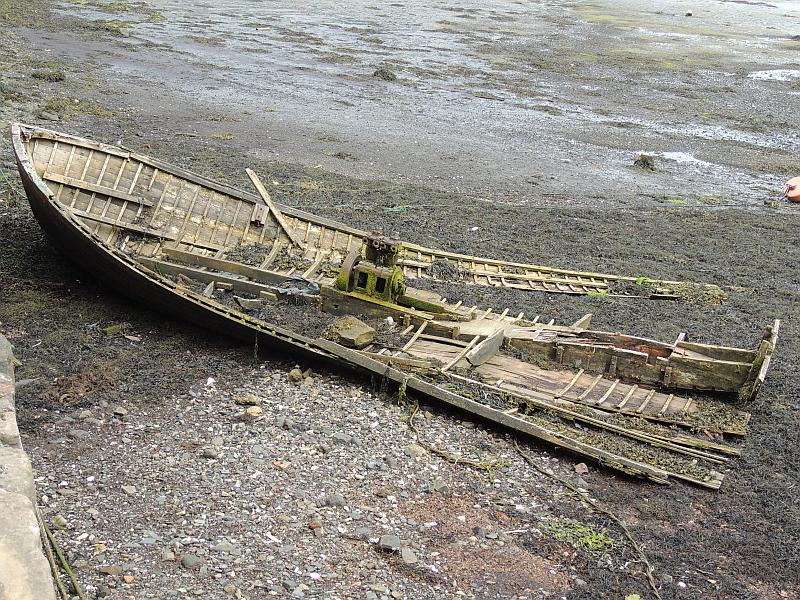 This boat has seen better days...
Glancing at the so called upper town.
In 1905 some bishop had this clock erected.
From 'Cafe Fish' you have a fine view on Ardnamurchan.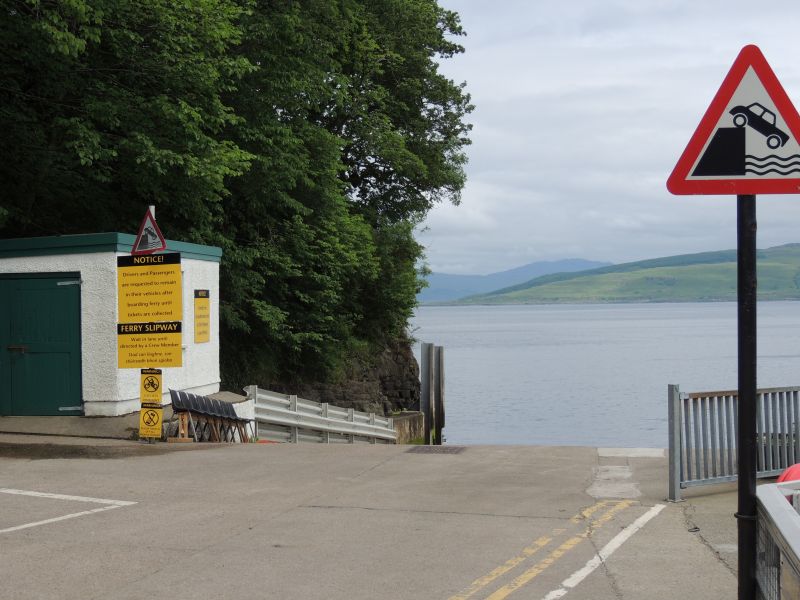 Here the ferry to Kilchoan/Ardnamurchan leaves.
Any number of cute shops in Main Street.
We take a look at some of the shops, then drive back to the south end of the island.
---
Dream Coast with Weaving Mill
By and by our time here comes to an end, thoughts wandering to the northern coast – our next stop.
However, we learned about a weaving mill and consequently set out to Ardalanish.
Sheep are our guides...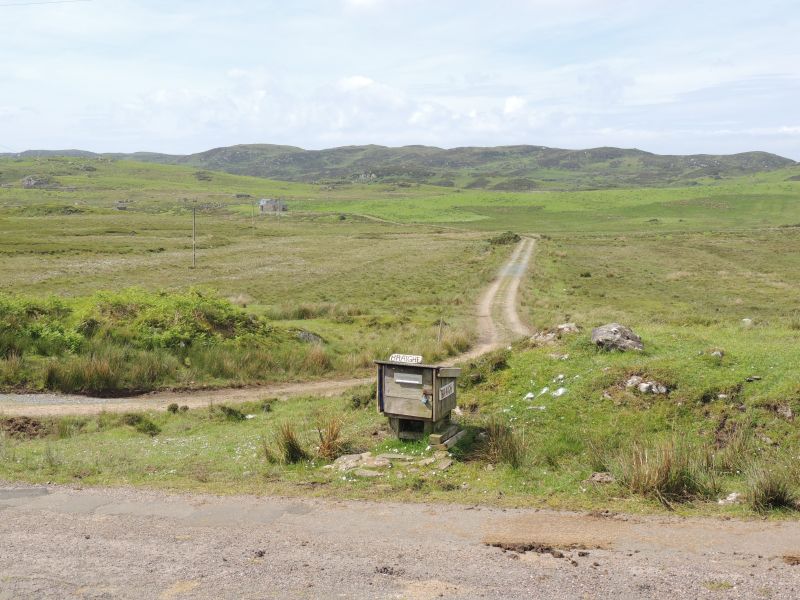 Quite a distance to the letter box...
No doubt – this is the way to the weaving mill.
First of all however down to the beach – another of these dream beaches.
Looks more dangerous than it is...
The whole beach to ourselves.
It's rather warm and we are glad to get into the cool building.
Machines all over the place...
Interesting to see how tweed is produced.
I'd like to have taken along a sheep skin for a friend but the wool...
…comes off the Hebrides as the young woman explains to us.
She shows us all the machines which as matter of fact are still in use.
Martina listens to any number of explanations while I am paying a visit to the tea room.
At last: the coffee is ready!
There's also a small shop – and quantities of cloth.
Then we set out to return home.
---
Beaches and Landscape

There are so many beautiful and interesting things to see on Isle of Mull.
However, here are a few stunning and interesting places.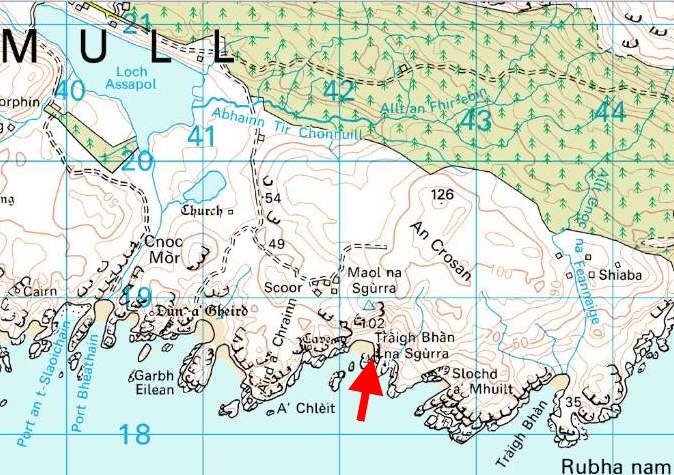 Somewhere after Loch Assapol we leave the car and walk down a rocky road to Scoor Beach.
Lonelyness, mobiles do not work here, no net.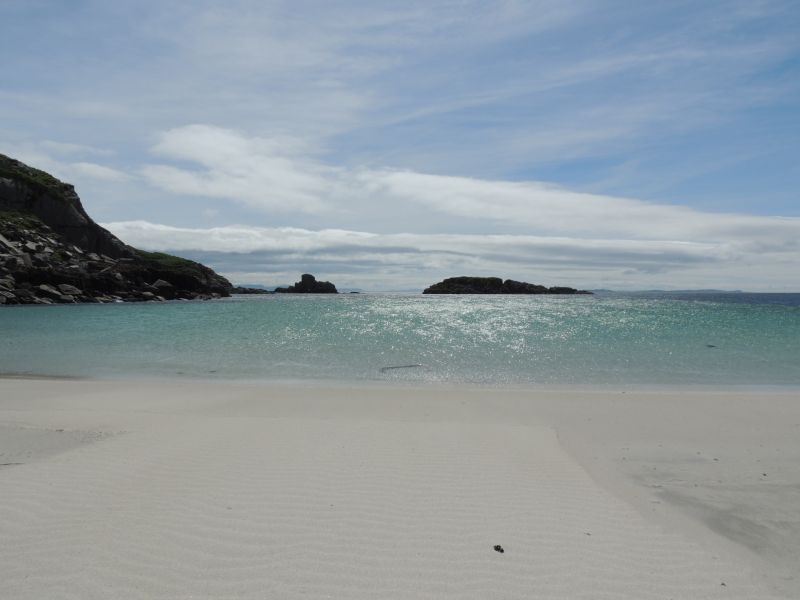 A dream beach, clean sand, clean water - no one in sight.
- more to follow -
Write comment (0 Comments)
Staffa -
The 'Island of Columns'
A cable at the oar is ruptured – the start is delayed.
Somewhat whistfully we say farewell to Lunga and the cute puffins.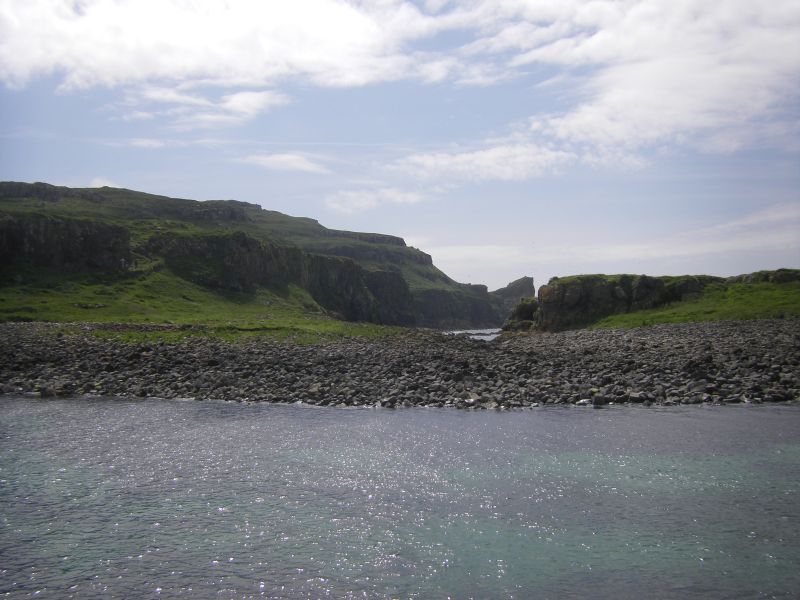 Soon Staffa comes into sight – the 'Island of Columns'.
Here Mendelssohn-Bartholdy is said to have been inspired to his Hebrides-Overture...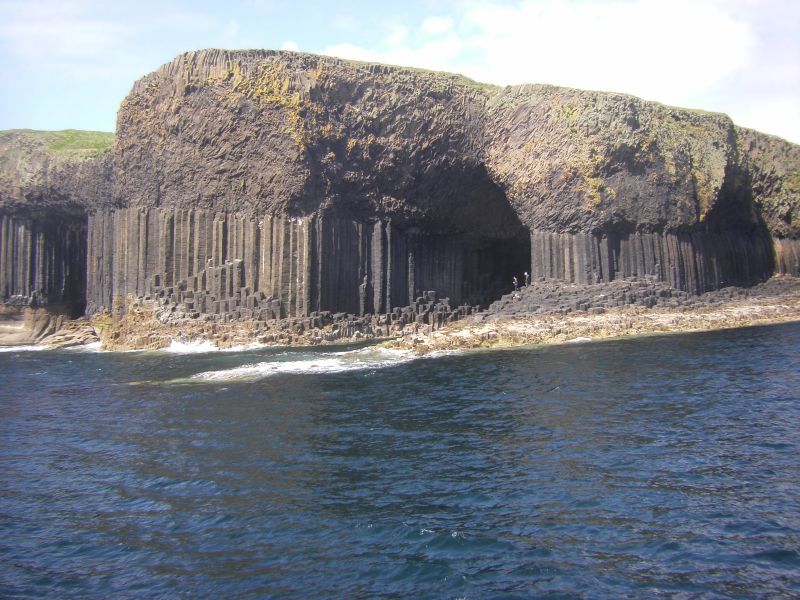 He especially had liked 'Fingal's Cave'. We are waiting eagerly.
In the end we have to change the boat and the former one is sent to repair.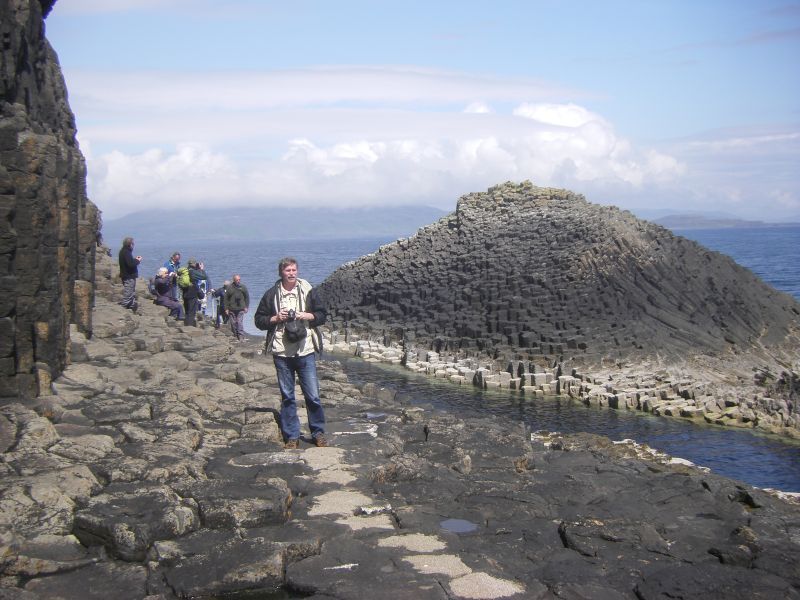 Fascinating – hexagonal basalt columns of solidified lava all over the place...
...created by a gigantic subsurface explosion about 60 million years ago.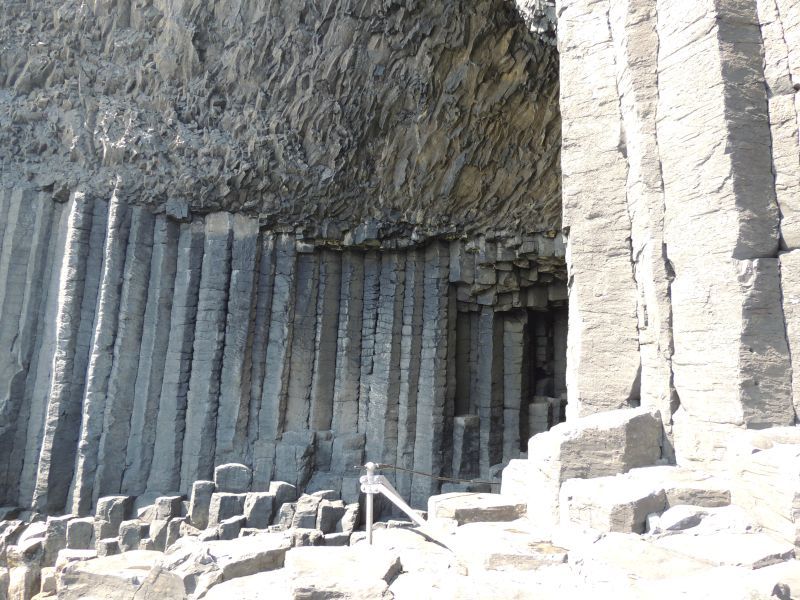 Also here puffins can be found, but first of all we are here because of 'Fingal's Cave -
80 metres long and 10 metres wide, named after the mythological Celtic hero Fingal.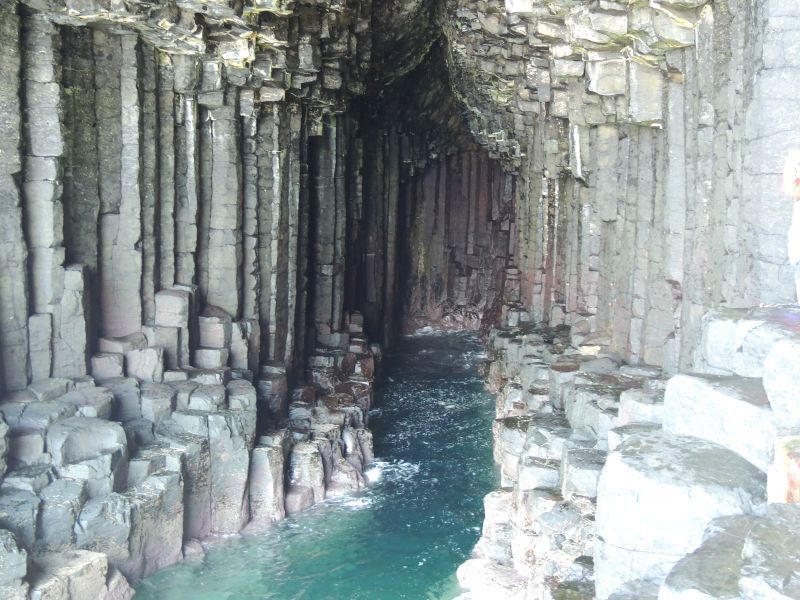 It is hardly credible that all this is natural.
The ceiling, gleaming greenish, seems to be made of mirrors...
The cheerful boatman tells us that once a rich American made a present of this island...
... to his wife. She however was not very happy with it and made a present...
... of Staffa to the Scots, or to be exact to the Trust for Scotland.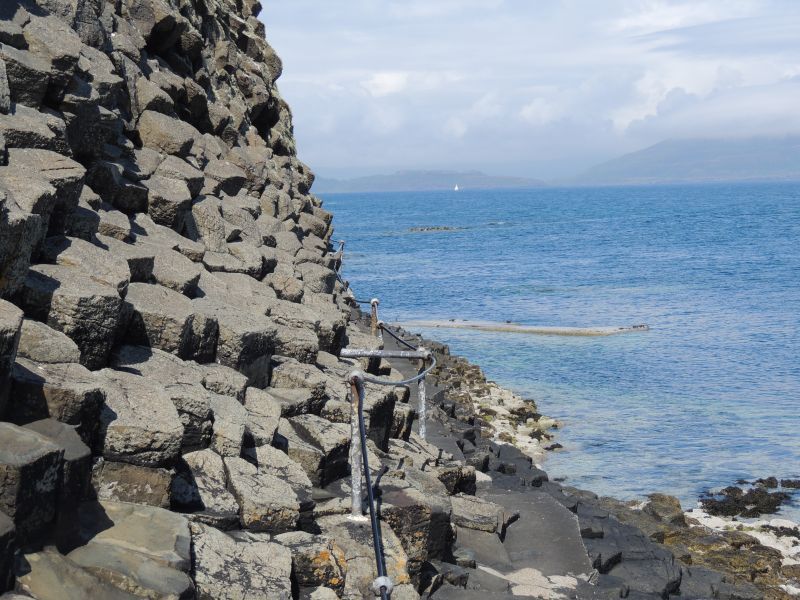 In the background the islands of Gometra and Ulva can be made out.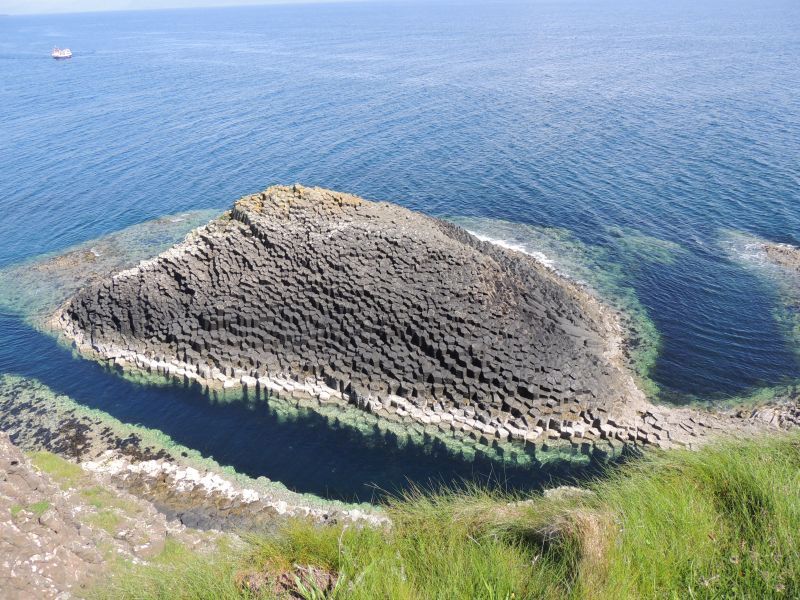 Only further up you can see and realize what a fantastic basalt-creation this is.
Take care, there is no railing!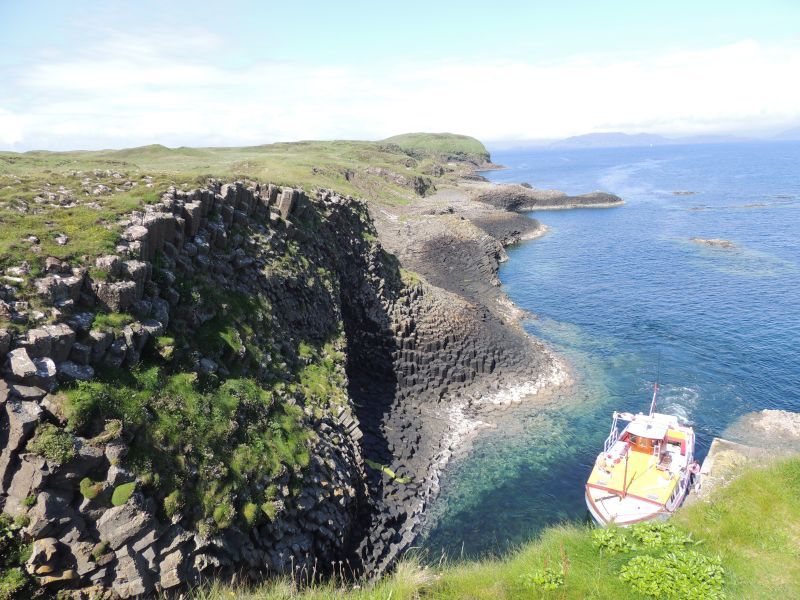 Down yonder the boat is waiting for us. Back we go.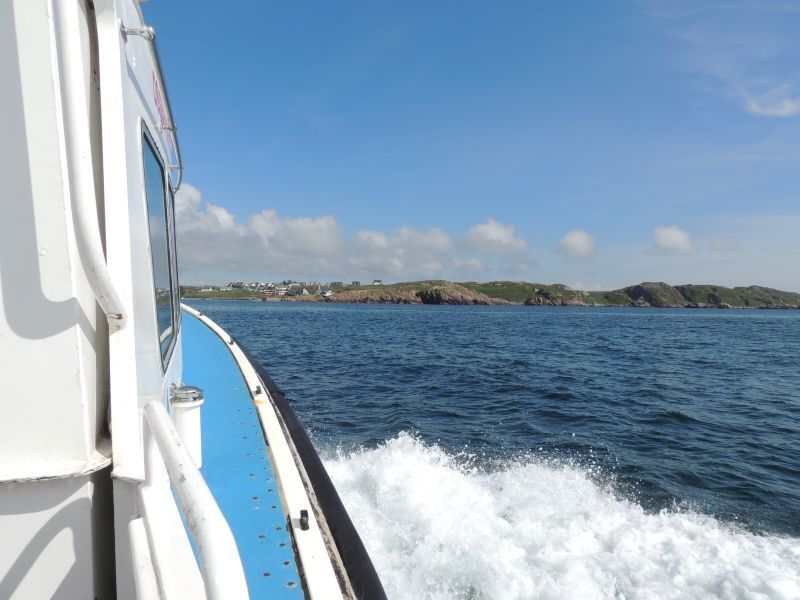 Soon Fionnphort is in sight again.
Write comment (0 Comments)
Subcategories