Perth, in the Heart of Scotland



This sign means that we arrived at Pitlochry...
...the gate to the Scottish Highlands!
Pitlochry is justly called the "Gate to the Highlands". From here all routes are open to the traveller. Furthermore this little town is worth a short stop, pausing for breath before you proceed.



Quaint shops!
Right behind Pitlochry a branch-off can easily be overlooked...



Touching Queen's View into the direction of Rannoch Moore.
For many miles we follow the River Tummel...
...down to Kinloch Rannoch.
In the distance the Schiehallion is hidden under deep clouds.



On we go to Giaur.
A cup of coffee is waiting for us in the tea room of Rannoch Station.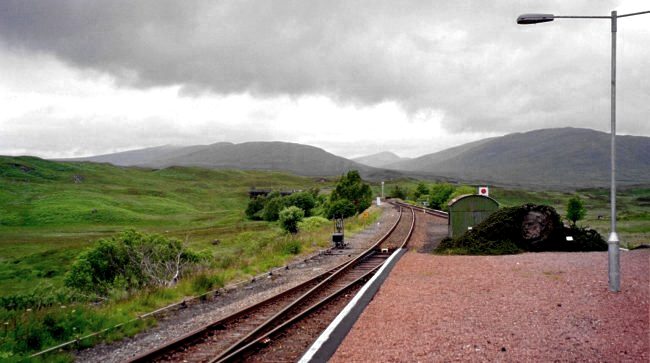 A far croonin is pullin me away




As I take I wi my cromak to the road




The far Coollins are puttin love on me




As I step wi the sunlight for my load



Shur by Tummel and Loch Rannoch and Locharber I willgo
By heather tracks wi heaven in their wiles
If its thinkin in your inner heart braggarts in my step
You've never smelt the tangle O the isles
Oh the far coolins are puttin love on me
As step I wi' my cromak to the isles
.

Its by Shiel water the track is to the west




By Aillort and by Morar to the sea




The cool cressesIam thinkin o for pluck


And bracken for a wink on Mothers knee
Chorus

Its the Blue Islands are pullin me away




Their laughter puts a leap upon the lame




The Blue Islands ffom the Skerries to the Lews




Wi heather honey taste upon each name
(Road to the Isles - Kenneth MacLeod)