Iceland - Island of Volcanoes

If the icy wind makes staying on deck too cold, we any time can follow up the course of the ship at one of the TV-channels until we are thawed and return to the deck.

But on deck we must because we are approaching Iceland, the destination of our voyage. From the distance already the snow-covered mountains can be seen and get closer all the time.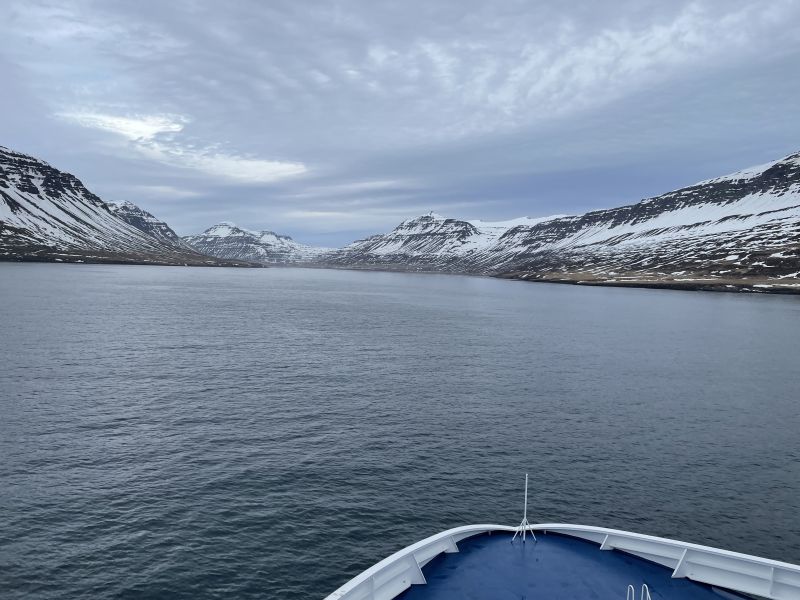 It is sunny, later a little mist comes up but from 8:30 h Iceland is close. We pass a number of waterfalls before after a breathtaking tour down the fjord of Seyðisfjörður the ship punctually at 10.00 h moors at the small Icelandic coast town of Seyðisfjörður.
About 700 people are living here. The long, calm, deep fjord of Seyðisfjördur winds 17 kilometres from its mouth to the head of the fjord where the town with the same name is situated at the foot of the mountains Strandartindur and Bjolfur.
We already notice the old colourful houses of Seyðisfjörður which remind us a little of Tobermory on the Scotish Isle of Mull. The Blue Church of Seyðisfjörður is one of the most famous landmarks of Iceland.

This will be our home for the next days.
Seyðisfjörður ("Fjord of the Fireplace") has a population of 669 at present. Actually a really beautiful place but anyone wishing to live here should be aware of the following: Two years ago after permanent heavy rain and several mudslides all Seyðisfjörður was evacuated.
Ten houses at least have been damaged. Our Cruise Host HeðinIn tells us that 14 houses had gone to ruins. Fortunately no one was injured. Also parts of Eskifjörður, equally at the eastern coast of Iceland, had been evacuated.

Due to the heavy rain Alert Orange had already been on in the region. The first mudslide had come down on Wednesday and consequently 120 people were evacuated. In the night of Friday another mudslide shifted an empty timber building over a distance of 50 metres.
Towards 3 p.m. the next big mudslide went down and damaged 10 houses at least. Moreover there was a blackout. Relief forces had to be taken there by boat for repairs.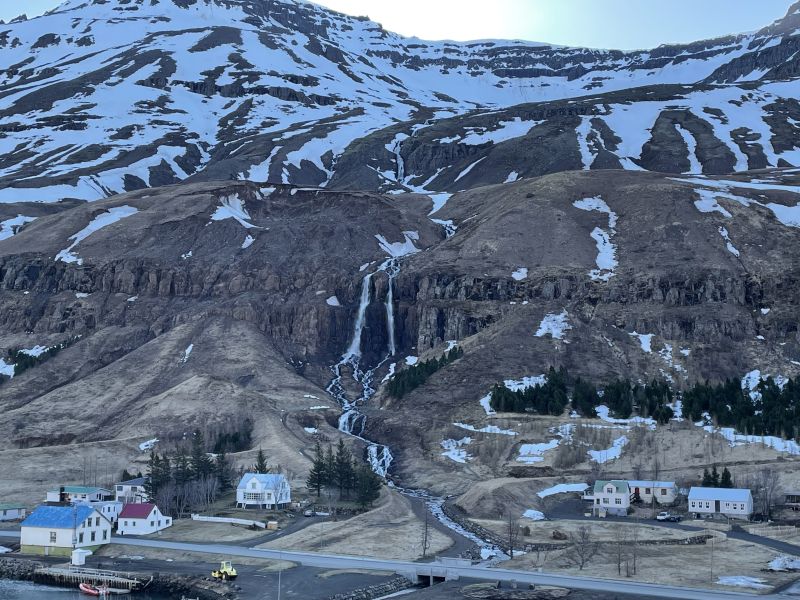 All inhabitants of Seyðisfjörðurs were evacuated. According to a member of the Iceland Weather Service there had been in Seyðisfjörður 570 mm rain within five days. The slopes were soaked with water and became unstable. For comparison: The average rainfall in Hamburg is 738 mm - in one year!

Right after the landing however we start according to the motto: No time to tarry. By coach we cross the mountain pass to Egilsstaðir, with a population of 2,572 the biggest town on the eastern side of Iceland.
The town is surrounded by newly planted trees and also due to its warm climate is called Iceland's Mallorca. We proceed through the Jöküll area and the highlands and reach Hverir at the Námafjall. Small and big mudpots filled with viscous to very liquid, permanently bubbling blue-grey mud. You'd like to put in a finger to test if the mud is really that hot.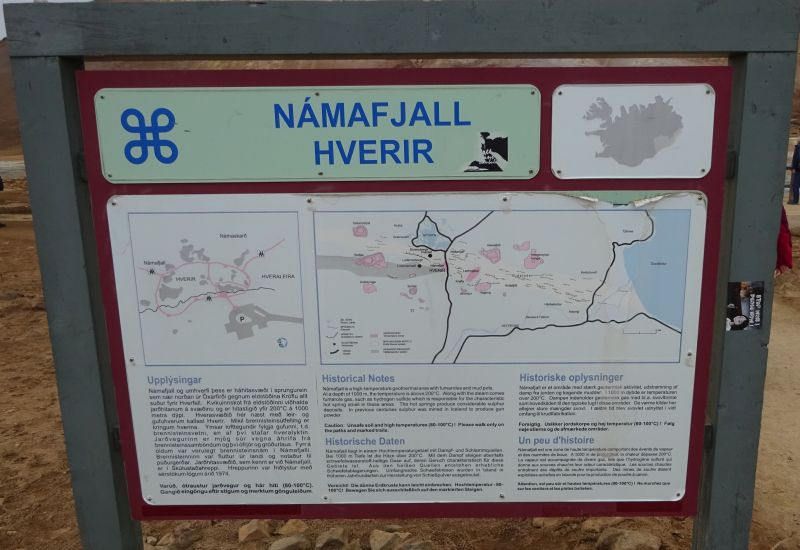 Námafjall (Mining Mountain) (482 m) is a crest in the Mývatn-Area. This is an active volcano.

Stone piles from 1 to 1.5 metres high, steadily produce steam clouds. The stones are crusted with blue-white and sulfur-yellow deposits. These are called fumarole and solfatara.
They erupt hydrogen sulfide, carbon dioxide, and water steam which can be 100-250° C for the solfatara and up to 800° C for the fumerole.


The hydrogen sulfide causes the typical smell of bad eggs which may dominate this area. Some of the lady passengers hold their noses - softies!
In spite of all this we take a lunch break in the restaurant of the near-by hot springs.
We are watching the bathers in the Myvatn Nature Bath who have much fun at 2° C outside temperature. We were so smart to leave our bathing suits on board the ship.

We learn that in this area American astronauts train for the oncoming Mars expedition. Also the Mission Moon has actually started here.

We can easily believe and a little awed walk this reddish, lava covered scenery which in 1967 already saw Neil Armstrong preparing for the first moon landing.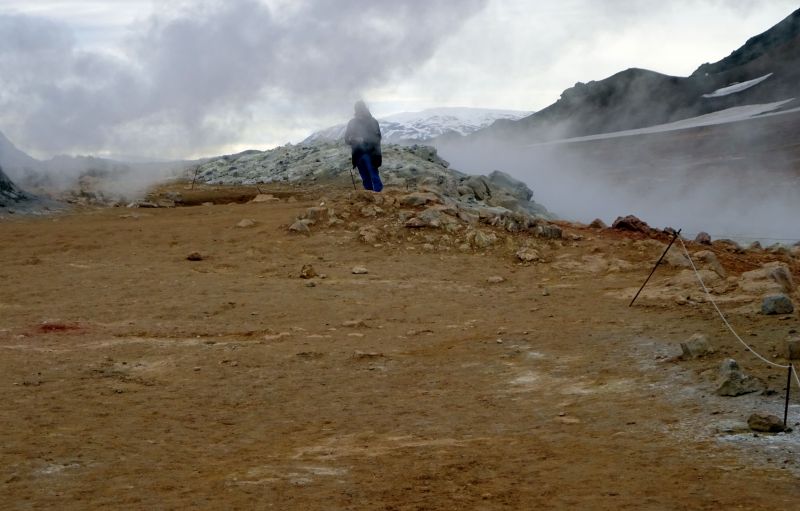 As little as on Mars you will find life or plants here, just lava debris.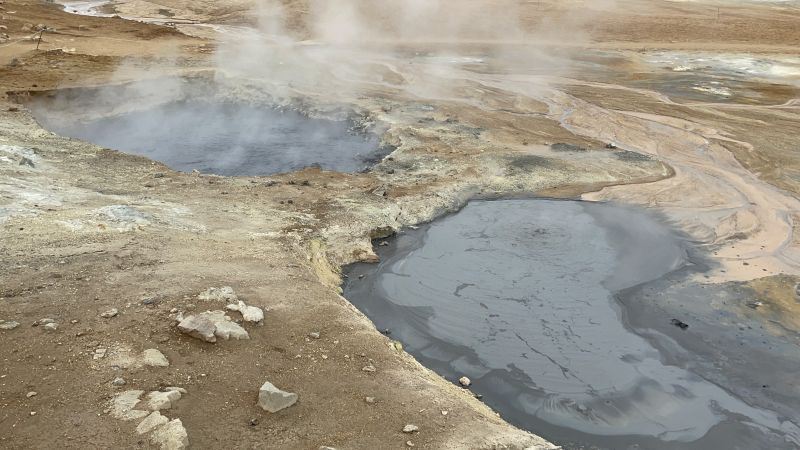 We walk here for quite a while like on another world before we continue to a lava park. Small mounds and rock piles meet in an absolute chaos of rock and debris - a dead spot, all life destroyed by lava, scarred by rockfall.

It looks like God having chosen this place as the dumb of creation and stowing all the sand and rock for which He otherwise had not use.

Or perhaps God just had a bad day when making this. Everything growing here has just to toil through lava rock.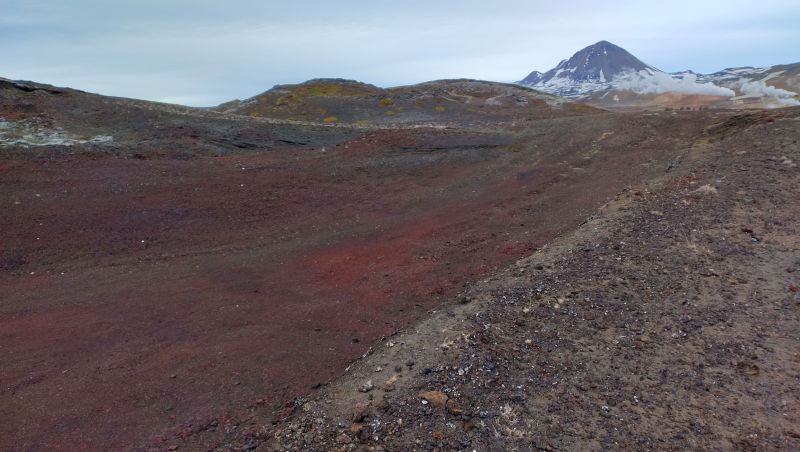 Always in view: the volcano Snaefall.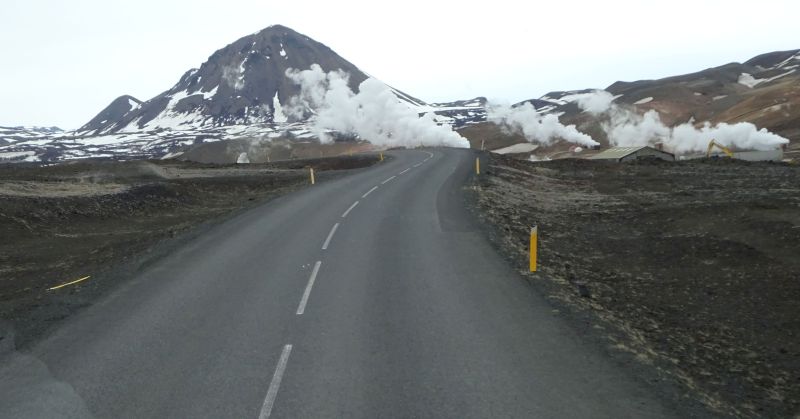 Soon it does not get much better. We reach Dimmuborgir :
Dimmuborgir (dark towns/castles) is a field of dark lava rock just east to the Mývatn lake. The area is crossed by a number of hiking tracks of different length (from a few minutes to several hours) and different levels of difficulty.

Like the ground of Mývatn, the lava park Dimmuborgir was created by the same volcanic eruption when Laxárhraun yngra came up (Laxárhraun yngra shows the bottom of the Mývatn lake and stretches in full length down to the valleys Laxárdalur and Aðaldalur and to the sea near Skjálfandi). It looks like a round lava arc with a diameter of 2 km.
The highest point with 20 metres is in the centre of the arc. Within this arc we find a fascinating flora with a small birch forest which makes the scenerey breathtaking. This region also holds many lava caves and rock formations and is a favourite spot for visitors. Dimmuborgir has some unusual hiking tracks which were especially made for easier exploring this region.


Many folk legends originate in this region and you can easily see why all these rocks can be taken for trolls, elfs, and ghosts - especially at night or in the fog and considering that in former times there were no paths through this rock maze. According to legend the Iceland Santa Clauses ("Jólasveinar") are living in this area - all 13 of them!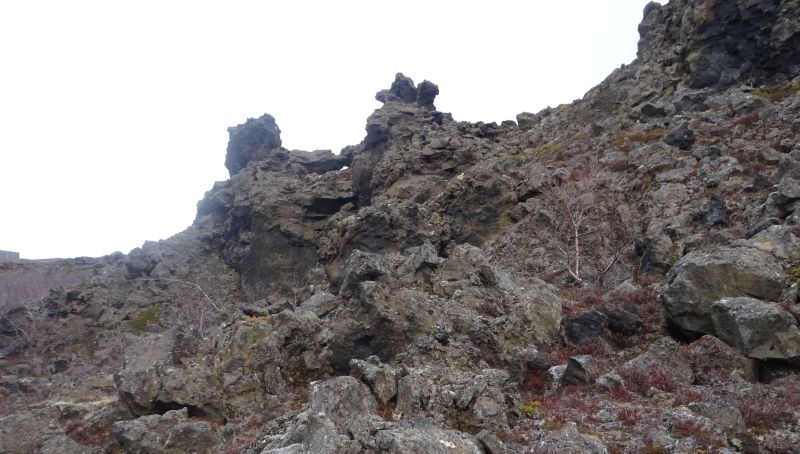 We leave the petrified trolls. Waterfalls, grazing geese, the famous Iceland horses, reindeer, and swans are passing by.

At about 19:30 h we are back at the ship. Follows a stroll in the town and we remember that our guide told us how 14 houses have been destroyed here by an avalanche. We see the relicts of one of those houses. Luckily the inhabitants were not here at the time of impact.

So this was the first day.