Today we go to Aurdalsfjelett, also known as 'Snow Road', followed by a detour to Flam.
Naturally we also might have taken the tunnel to Flam, but equally naturally not much exiting can be seen there.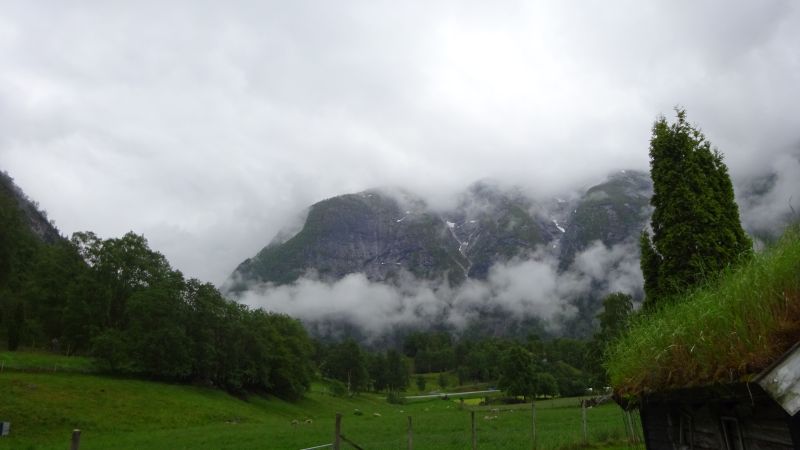 The weather is ghoulish and drizzly with deep hanging clouds. Not much chance for the sun today.

We pass rushing wild waters, wide country and much green.
Now and then a bridge crosses a river, all the time we marvel at the extremely blue colour of the rivers. This is due to the chalky soil which is the basis for a very rich flora with some rare species.

The rivers seem to wind around the rocks. In the distance the first hint of snow can be seen. We shall be there in 1-2 hours.

The weather did not improve but we are almost there: snow at last, and that in summer!

We run through the deep snow, sinking in and in spite of the beginning rain having our fun.

From fjord to fjord we pass a bare high mountain area but there is snow all over still. We are delighted, even if the masses of snow seem to squeeze us.

At a breathtaking waterfall we pause. After getting nicely wet, we return to the dry and drive on.

Since long the road was used as trading route. Herring and other fish as well as salt from the coast was taken inland and vice versa fur, butter, and iron from inland to the sea. Must have been tedious, especially in such weather.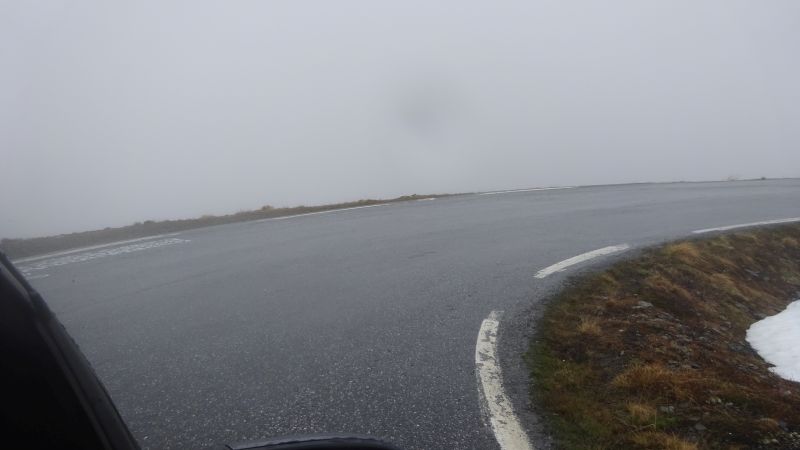 Steep and fast downhill the serpentine. Well, we have to be a bit careful because it still is raining and we do not want to dash down the shortest was to the next valley.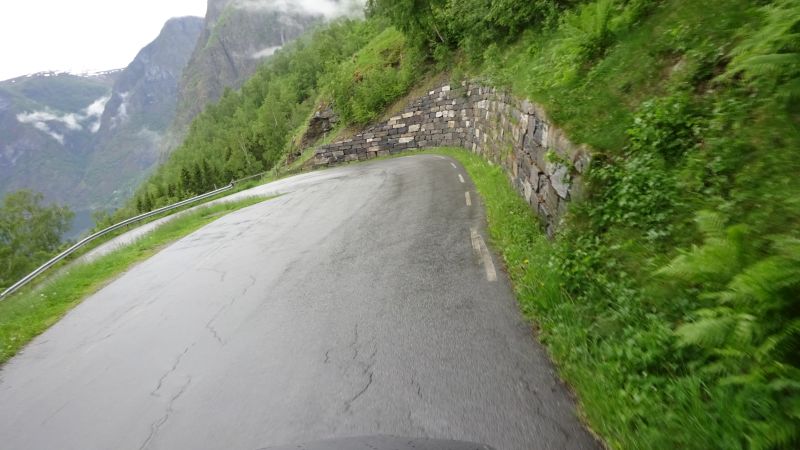 But it isn't far and after a few minutes this snow scenery is behind us and we are back to green areas and back to the forest.

On better days this small viewpoint at the Stegastein certainly has more to offer but we are not nice. Soon we shall be in Flam.

The lovely view to the Sognefjord. We stroll along the shop windows of the short mall at the station.

Time to return. A tour by train is postponed for a few days. Little sense in it in this f... weather.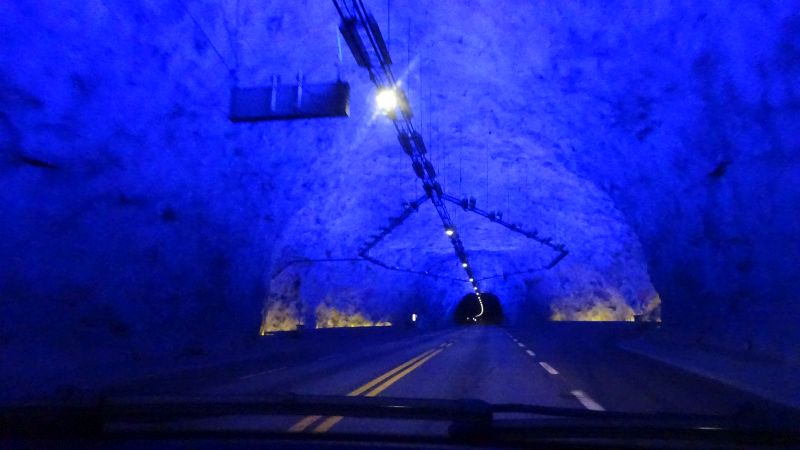 Back we go via the Flam-Tunnel mentioned earlier, the Lærdalstunnel. With its 24.5 km it is the world's longest street tunnel. Now at last we know were the trolls are living...